God is Using the Seeds I Planted
God is Using the Seeds I Planted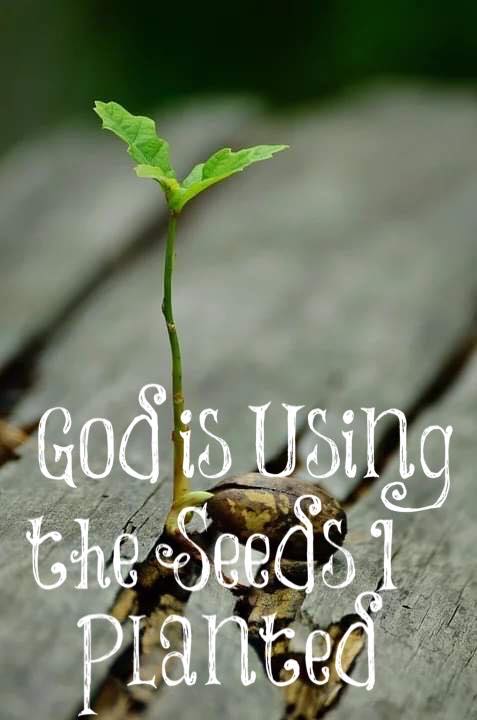 When I began writing for my blog almost nine years ago, I had no aspirations of going big. Here's my first blog post: Correction Versus Criticism. I knew I wasn't a good writer but I LOVED to teach. I always have since I was little. There was a young woman I had been mentoring who was a new believer and she was moving away. I began the blog for her. I wanted to keep mentoring her through my blog. I wanted her to grow strong in the Lord and in His ways.
I started a Facebook page soon afterwards. Ken challenged me to get 100 "likes" which I thought was laughable. When I received 80 "likes," my son-in-law asked in all sincerity, "What eighty people want to learn from you?" I agreed with him. I had no idea since I wasn't a good writer.
I planted a tiny seed and God watered it. I had no idea that years later, a few of my writings would go viral. A few of them made national and international news. I have been asked to give interviews and have live debates with people. I'm not into any of those kinds of things. I simply want to teach women the ways of the Lord as God has commanded that I do.
Some of you may wonder what I did to grow such a large audience. I didn't do anything but write while being consistent with the Word of God. There's no magic formula to it and it doesn't matter if you have two people learning from you or thousands. God will use you, women. Young women need you. They aren't hearing biblical womanhood from anyone. Model it to them. Plant seeds of truth whenever you can.
God didn't ask us to make converts. He asked us to make disciples. As you teach the young women in your life, you are making disciples. They need to know God's Word. They need to study it for themselves; for in it are the ways to abundant life. We are taught how to raise our children in His Word. We are taught how to be godly wives. We are taught how we should dress, act, and speak. All that we need for life and godliness are in His Word.
"A college woman's question underscores the timeliness of Titus 2 discipleship: 'How can I think biblically about my womanhood when I am constantly told that independence is power, to determine my own destiny, pursue my own dreams, and that gender distinctiveness is just a social construct?' My answer: 'Go to the women's ministry in your church and ask godly women to speak the truth of womanhood into your life as a counterpoint to the lies you are hearing. Ask them to spiritually mother you.'" ("Spiritual Mothering" by Susan Hunt) Spiritually mother other women. There is a great need for this and this is God's calling on older women's lives.
Teach your children His ways, young women. Continually plant seeds of truth into their lives. Children have the most teachable hearts. Let them see the goodness of His ways as you joyfully serve Him. Raise godly offspring. There's no greater responsibility than this. Your ministry is in the home. When your children are older, then you can have ministry outside of the home but while you have young children, your ministry is as a help meet to your husband, a mother to your children, and a keeper at home. This is good and it is enough.
It's tempting to want fame and fortune through social media, but this pursuit will take time away from what God has called you to do. There's a reason that God calls older women to teach the young women. We have the time and the experience. Hopefully, we have the wisdom, too. Be content with what God has called you to do. Raising godly offspring is a full-time ministry, but the fruit of it can't be beat. There's no greater joy than seeing your children walk in truth.
The aged women likewise, that they be in behaviour as becometh holiness, not false accusers, not given to much wine, teachers of good things; That they may teach the young women to be sober, to love their husbands, to love their children,  To be discreet, chaste, keepers at home, good, obedient to their own husbands, that the word of God be not blasphemed.
Titus 2:3-5
***If you are an older woman and would love to mentor young women but don't know where to begin, I wrote my book Biblical Womanhood: A Study Guide for this purpose.