God Ordained Homemaking For You
God Ordained Homemaking For You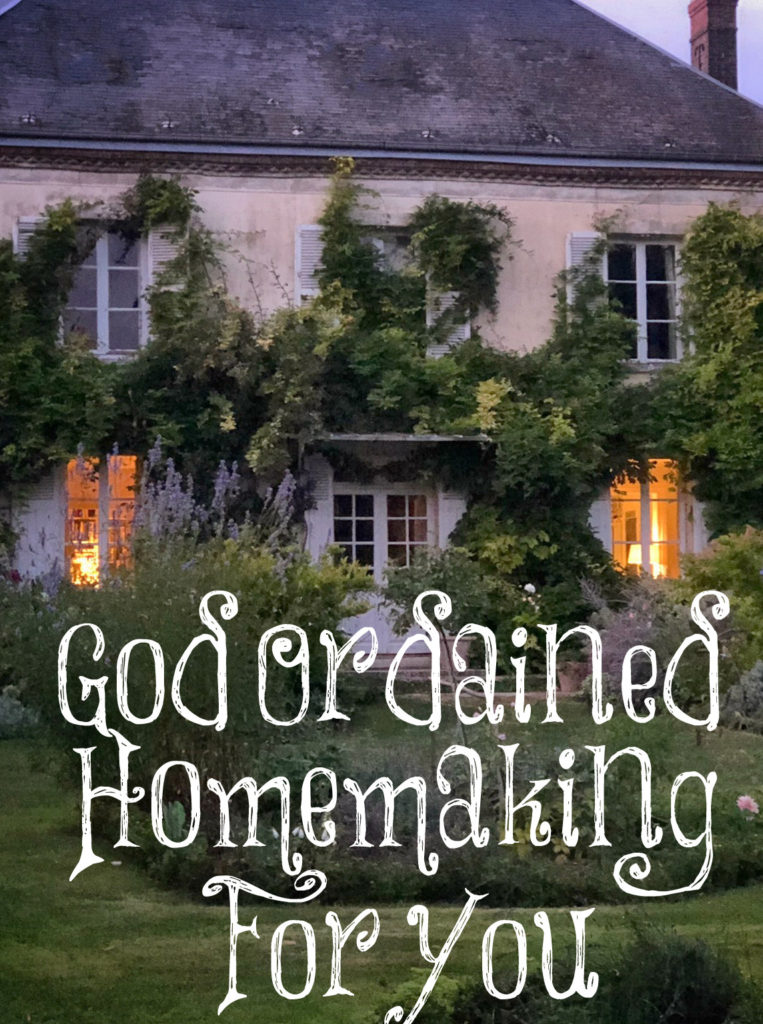 Young women are made to feel that being a homemaker is not enough. They need to be involved in the church ministry. They need to find some way to make money since their worth seems to be tied to a paycheck. They need to be on the go. They need to be anywhere but home.
God has ordained homemaking for you, women. It's right where God wants you to be!
"He maketh the barren woman to keep house, and to be a joyful mother of children. Praise ye the LORD" (Psalm 113:9).
"I will therefore that the younger women marry, bear children, guide the house, give none occasion to the adversary to speak reproachfully" (1 Timothy 5:14).
Young women are to be "keepers at home, good, obedient to their own husbands, that the word of God be not blasphemed" (Titus 2:5).
"The wise woman builds her house, But the foolish pulls it down with her hands" (Proverbs 14:1).
"She looketh well to the ways of her household, and eateth not the bread of idleness" (Proverbs 31:27).
When I was growing up, there was a friend of mine who lived down the street. All of the windows in her home were covered with dark curtains. In order to be in her home, we had to turn the lights on since it was so dark. My friend's parents were rarely home since both of her parents worked. It was a cold and dark house. I can't remember my mom or dad ever closing a curtain or shutter. Every single window in our home was uncovered! My parents even slept with their windows uncovered.
My mom loved being home and making a home for our family. I don't ever remember her being fearful about anything. She lived a life of faith rather than fear. All of our friends loved coming to our home because my mom was there. It was a sunny, warm, and loving home. She loved to feed people and everyone felt loved by her. She was the queen of hospitality!
In college, I lived in a dorm room. I craved and missed a home. On many weekends, my friends and I would go to one of our homes. All of our mothers were full-time homemakers. We would love being in a home. We were fed good food and felt the warmth and love that only a loving mother can provide in a home.
God has ordained homemaking for you, women. Look at all of the verses above. There isn't one verse in the Bible that ordains women to leave their homes every day for the workforce, their children in the care of others, and work for strangers and a paycheck. God wants you joyfully working for your family. He wants you to work hard and cheerfully at home. He wants you to be thankful for whatever home that you have, the food that you have to eat, the clothes you have to wear, and the husband and children He has blessed you with. This is your God-ordained ministry!
As your children get older and you have more time, you can begin ministering to people in your church by bringing them meals, comforting and helping the elderly, and showing hospitality to others. This will be an example to your children of being living sacrifices as the Lord has called us to do (Romans 12:1). Women at home provide many incredible services and help to those around them. When all of the homes stand empty all day long, people suffer.
Never allow anyone to devalue your work in your home, women. If God has ordained this for you, no one should be able to ever discourage you! Find your worth and value in Him and in His will for you. He is good and His plan for you is good. If home is where the heart is, this is the best place in the world to be!
And whatsoever ye do, do it heartily, as to the Lord, and not unto men.
Colossians 3:23