The Proverbs 31 Woman Was a Career Woman?
The Proverbs 31 Woman Was a Career Woman?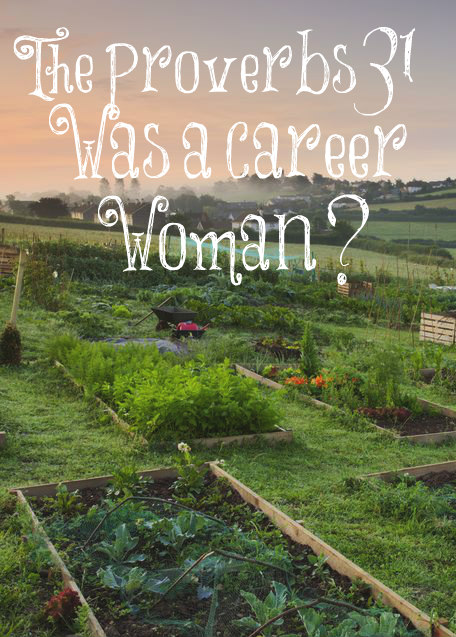 Yes, this is what many want you to believe. They want you to believe that the Proverbs 31 woman was a career woman. They believe she sewed things and was often away from her home to sell them. They want to make you believe she was a realtor who bought and sold property. They also want you to believe she was an agriculturist. I have even heard more than these but these are the main ones.
Let's look at all of these arguments. Women, always go to the Word of God when someone claims something. A woman recently wrote me, "Sure women can preach. Look at the woman at the well and how she went back to the men in her town and preached the Good News!" Now, google "woman at the well" and see what the Bible actually states. It's in John 4:28, 29. "The woman then left her waterpot, and went her way into the city, and saith to the men, Come, see a man, which told me all things that ever I did: is not this the Christ?"
First of all, she didn't preach to the men. She told them she had seen a man and asked if he was the Christ. This doesn't sound like preaching to me! Often the Bible will refer to men "preaching" but it sure didn't in this place nor any place when referring to a woman. The men went to Jesus and then probably heard Jesus preach to them. It's easy for women to make things up from the Bible to support their positions. Don't fall for it! Be a Berean (Acts 17:11) and search out the scriptures to see if what they are telling you is true.
Now, back to the Proverbs 31 woman. Was she a career woman? "She seeketh wool, and flax, and worketh willingly with her hands…She considereth a field, and buyeth it: with the fruit of her hands she planteth a vineyard…She layeth her hands to the spindle, and her hands hold the distaff…She maketh fine linen, and selleth it; and delivereth girdles unto the merchant." These are the verses that people use to argue that she was a career woman.
We must remember what kind of a culture it was back then. There were no sewing machines nor factories. This woman worked hard with her hands. Almost everything back then had to be made with one's hands and from scratch. She bought ONE field and then she planted on it, most likely with her children and others helping her since she was a queen and had servants. This does not make her a realtor, no, not even close.
With the spindle and the distaff, she worked with the wool and flax. She made fine linen. This requires a lot of time and energy. There is no way she could have made enough fine linen and garments by hand and left her home each day to sell them. She may have left her home once a month or even less often to have enough to deliver to the merchants. No, she didn't go someplace to work away from home. She simply delivered the girdles to those who bought them.
Her daughters were probably at her side helping her weave the linen and making the girdles. Running a home back then created a ton of work and left little time for women to be away from it. It's only our modern technology and daycare/public schools that allow women to leave their homes for hours every day, leave their children with strangers, and work for a boss. Remember, she was known for "looking well to the ways of her household" (Proverbs 31:27), not having a career and making money.
God wants women to be keepers at home because He doesn't want them to go from house to house and gossiping (1 Timothy 5:13) or being involved as a whore (Proverbs 7:11). I am positive He saw the day when women would be leaving their homes and their children in the care of others to go into the workforce, so He knew that the command to be keepers at home was relevant for this day and age. He knows that women become restless and discontent doing what He has called them to do, therefore, He gave us the commands to be keepers at home, learn contentment, and do everything for the glory of Him.
Remember, women, God is good and His plan for you is good. Home is where you belong. Keep reminding yourself of the Gospel and what the Lord has done for you! When you remember that you were nothing without Him but now have everything you need for life and godliness, you are reminding yourself of His grace and mercy freely bestowed upon you! Don't allow anything or anyone to steal your joy or keep you from what He has called you to do. As you lovingly care for your husband, children, and home, you are storing your treasures in heaven.
Lay not up for yourselves treasures upon earth, where moth and rust doth corrupt, and where thieves break through and steal: But lay up for yourselves treasures in heaven, where neither moth nor rust doth corrupt, and where thieves do not break through nor steal: For where your treasure is, there will your heart be also.
Matthew 6:19-21