Do I Make Working Mothers Feel Like They are Not Good Enough?
Do I Make Working Mothers Feel Like They are Not Good Enough?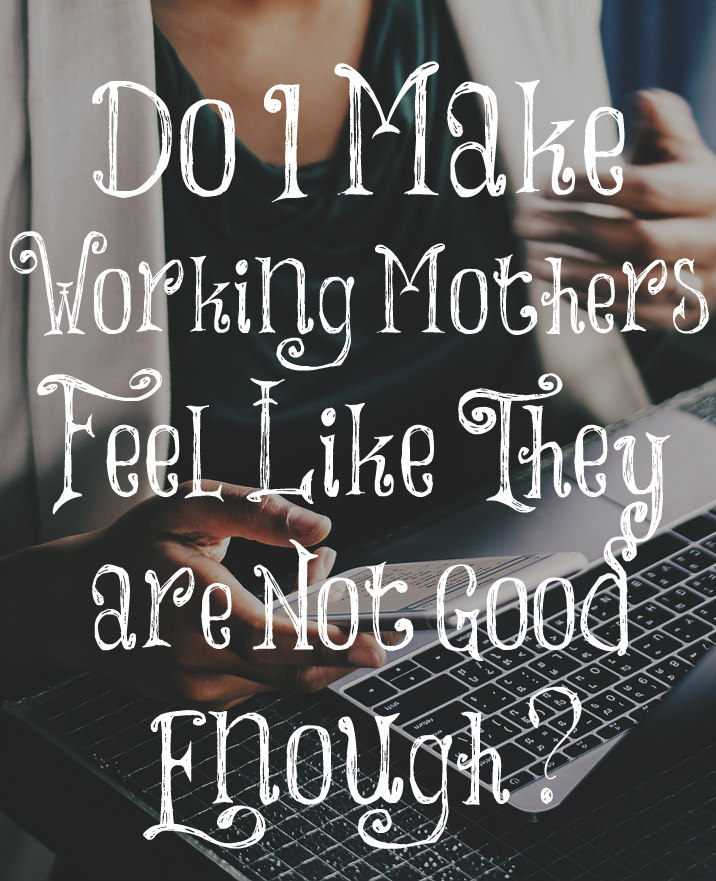 "You sure do know how to make working mothers feel like they aren't good enough. My child is thriving and because I work, she has a roof over her head, clothes on her back, and food in her belly. I don't see anyone else doing this for her!" I receive these types of comments often from working mothers. I asked the women in the chat room how they would respond to comments such as these.
Lindsay: "It just shows how sensitive women are to this issue because they know their rightful place is in the home, caring for their children. We can't shame people unless they agree with us, at some level, that what they are doing is not best. Their own conscience is what makes them feel bad, not our message.
"Sometimes women do have to work outside the home, such as if they don't have a husband who will provide or if their husband wants them to work. But they can recognize that their situation is not best while understanding that it is necessary at the moment. Nobody is telling women that they should stay home even if they have to starve. What is being said is that a wife and mother staying home and caring for the home and children is a woman's proper place, her calling, and the ideal we should strive for. Not everyone has an ideal situation because we live in an imperfect world, but we can still point to the ideal as the best way to live even if that is not our situation right now."
Rachel: "Right? I still have to work for now, but plans are in place to be able to come home in the next three to five years. It's not ideal, but here's the thing – without Lori's teachings, I might not even be trying. I'm not hearing from anyone else how it's good for wives to be at home. And with my new nursing job and the big jump in pay that came with it, I see how easily it would be to lean into the career side, instead of working towards being able to stay home (pay off all debt, pay off house, and get money in savings). A big part of why I even have these goals is getting consistent teaching on the benefits of being home."
Lauren: "I felt this way. When I first started following your page, Lori, I was a working mom. Even though I grew up with many of the very same principles you taught, some of what you said was offensive to me. I didn't understand why you would say some of the things you did because they would hurt my feelings.
And the thing was, I wanted desperately to be home with my baby but my husband wanted me to work, and we both did not believe that financially I could stay home.
"I even remember debating with you on the benefits of women in certain workplaces… like doctors, teachers, etc. And I stuck around. I kept reading your posts, usually prepared to disagree. But then it started making sense. I read the verses you quoted and realized you were simply teaching what you were called to teach. It's hard to continue to become offended when you realize that someone is literally doing what God tells them to do.
"And I knew in my heart the best place for me was to be home but it seemed impossible. I would cry on the way to work and dread each weekend as it closed, knowing I'd have to leave my daughter. And so for me at least, your posts always seemed like salt on an open wound. But I kept reading and kept asking questions, and kept studying my Bible. And it made more and more sense that what you taught was correct, biblical, and exactly what you were supposed to be teaching. It wasn't a personal affront on me or other working mothers. You weren't trying to offend, you were trying to teach us.
"I don't know that this helps you too much in responding to people like this woman, but I hope it at least encourages you that people who don't agree with you might one day. I still don't always agree with you 100 percent on things, but I'm much slower to disagree now. I'm careful to check my opinion against the Bible and not just go with gut instinct or feelings. I appreciate and respect you, Lori, thank you!"
Paige: "I would just tell her that your intention is not to attack women who have to work, but that you are simply trying to reach godly women with the truth of Scripture. If she is still offended after that, she's offended at God, not you."
Jama: "I had this kind of bare minimum mothering. It has damaging consequences."
Paulina: "It's guilt speaking. Even if I found myself having to work because I am a single mother, that would absolutely not change my biblical convictions. I would continue to advocate for mothers being home full-time with their children, acknowledging that this is the correct and biblical way of doing things. It's like with divorce. I'm never going to be offended by the teaching of life-long, biblical marriage being the ideal just because mine didn't work out. I just can't relate to this woman's attitude. Quite frankly, it's immature and emotional. You can support the ideal and acknowledge that it is best, even if you're not currently able to live it!"
 The aged women likewise, that they be in behaviour as becometh holiness, not false accusers, not given to much wine, teachers of good things; That they may teach the young women to be sober, to love their husbands, to love their children, To be discreet, chaste, keepers at home, good, obedient to their own husbands, that the word of God be not blasphemed.
Titus 2:3-5
***For the mothers who see no way to come home full time, be inspired and encourage by Connie Hultquist's testimony. Her husband was in and out of jail for 30 years, yet she stayed home full time with her six children. With God ALL things are possible!