God's Word Trumps Government Mandates
God's Word Trumps Government Mandates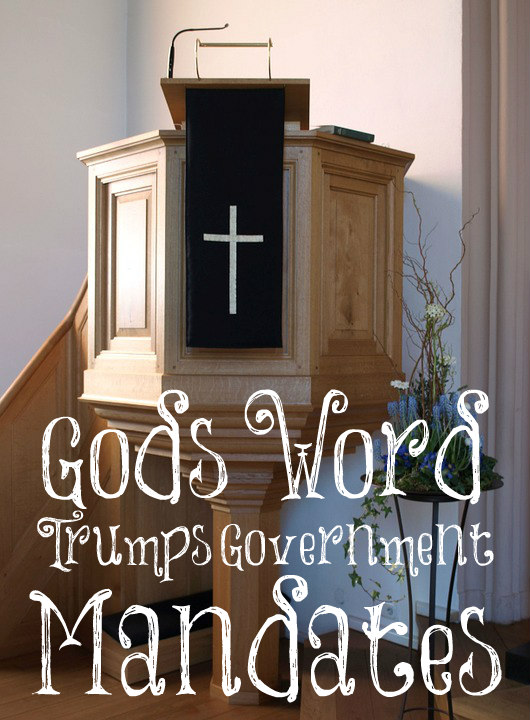 John MacArthur issued a statement about the government forbidding churches to meet: "Grace Community Church has always stood immovably on those biblical principles. As His people, we are subject to His will and commands as revealed in Scripture. Therefore, we cannot and will not acquiesce to a government-imposed moratorium on our weekly congregational worship or other regular corporate gatherings. Compliance would be disobedience to our Lord's clear commands."
When almost everything was closed down, he agreed with the government mandate but as many other things were opening up like casinos, bars, and restaurants, he recognized the bias in the government's mandate that couldn't be ignored.
Throughout the centuries, Christians who lived in countries like communist ones risked their lives by gathering together to worship the Lord. We are to obey God rather than man. When a government conflicts with biblical commands, we obey God. God's Word trumps government and He didn't give any government the right to restrict His clear commands to the Church.
Kyle M., in the chat room, wrote this: "What about Rahab who was listed in the Hall of Faith and she had lied to the authorities (Hebrews 11:31)? What about the apostles who were told to stop spreading the Gospel? What about the Hebrew midwives who refused a lawful order (Exodus 1:15-21)? What about Bonhoeffer and Corrie ten Boom? What about those folks that sat at the lunch counter so black people (like me) didn't have to live under Jim Crow laws? Why can't John MacArthur walk in the steps of Paul and appeal to a higher authority?"
Lorrie B. added this: "There are many instances of civil disobedience in scripture such as Moses' parents hiding him and others not bowing down to Nebuchadnezzar's statue. There is a time and place to disobey the government!"
What about the argument that Christians look bad to culture when we disobey the government's mandate to not go to church? We don't care what the culture thinks about the Church when it is obeying God rather than man. The culture needs the Gospel. If the Church goes along with evil mandates from the government, we are showing the culture that we fear the government more than we fear God.
How about the safety/healthy factor? We do what people are doing in supermarkets, restaurants, and everywhere else which we've been told ad nauseum, so I won't repeat them. If we can fly in airplanes with how close the people are seated, we can go to church and worship our Savior.
Many states have people in leadership positions who hate God. Some would love nothing more than to close all churches down since they hate the light being shown on their darkness and exposing their evil deeds. We don't bow down to those who put evil mandates upon God's people.
I am thankful for pastors such as John MacArthur. During the lockdown, we listened to him each Sunday. He wasn't afraid to call out the wicked ways of the Black Lives Matter movement. He's not afraid of any of God's Word and His truths even though they are highly unpopular these days. He wasn't afraid to call out Beth Moore, a popular female preacher, and tell her to "go home." (God tells women to "go home!") Many were in an uproar about this, but then have said nothing about the government commanding God's people to "go home" instead of attending worship on Sunday.
God isn't looking for a lukewarm Church (Revelation 3:16) that follows the whim of evil governments and societies. He wants a Church that is willing to obey Him and do what He commands. A Church that is willing to take a stand against the wickedness in the culture and be salt and light instead.
Not forsaking the assembling of ourselves together, as the manner of some is; but exhorting one another: and so much the more, as ye see the day approaching.
Hebrews 10:25