Happy to Say "I am a Wife and Mother!"
Happy to Say "I am a Wife and Mother!"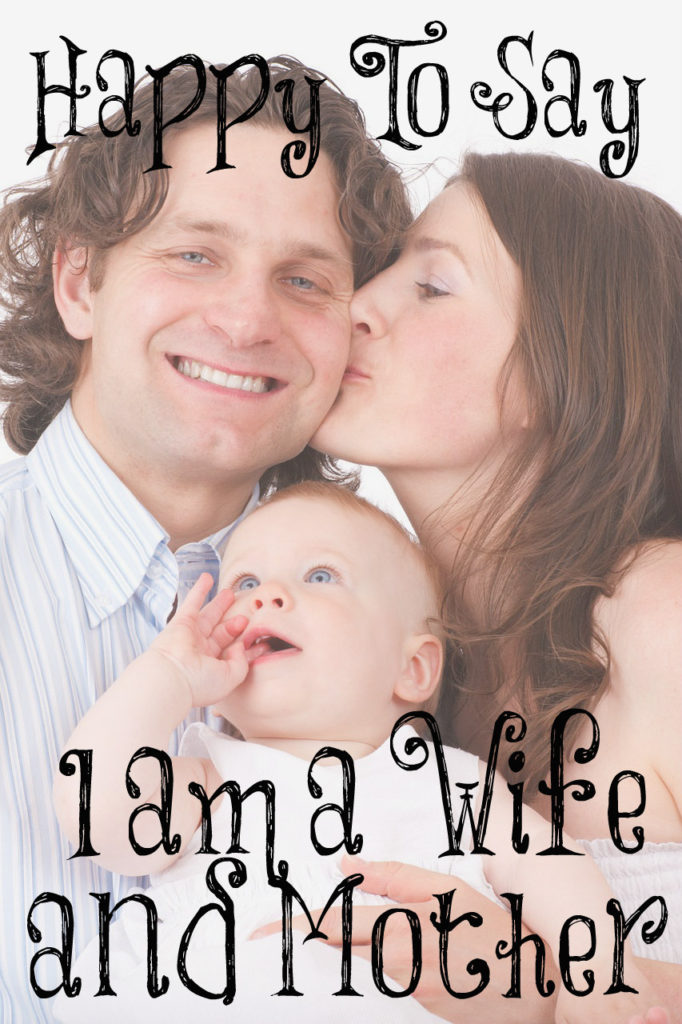 Once in a while, I listen to Dennis Prager on the radio. I enjoy him because his values are the same as mine and he is kind. Yesterday, he shared that he asked one woman what she does for a living and she pondered for a minute and answered, "I am a domestic engineer." He went on to say how badly he felt that women today can no longer simply answer, "A wife and mother" but needs to make up some fancy description to describe the most important job in the world – raising children into adults.
Anyone can take the place of an astronaut, an engineer, a doctor, or name any other career out there, but no one can take the place of a mother in a child's life. If you are married and have children, no one can take your place and your time and energy should be going to caring for these important people in your life, not given to strangers who could replace you in a blink of an eye.
Dennis also brought up something that happened in the Australian Parliament. A senator nursed her baby while the Parliament was in session. She has no problem showing her breasts to men while she is nursing her baby. Why not? Men can go shirtless and there's no problem with it. Since men and women are now equal in every way, according to feminism, this shouldn't be a problem, right? Wrong. They fail to realize that men will always have an attraction for women's breasts. God made them this way: "Let her be as the loving hind and pleasant roe; let her breasts satisfy thee at all times; and be thou ravished always with her love" (Proverbs 5:19).
Then I hear of Ivanka Trump trying to convince her father, our President, to create another enormous government program to pay for childcare for mothers so they can have careers and not worry about the financial situation. All of these are lies that our culture keeps screaming at us and trying to pull us away from the life that God has planned for us!
God made you a woman for a reason. He gave you a womb to bear children. He gave you breasts to nourish your baby and satisfy your husband. He made you soft for your baby to cuddle with you and your husband to enjoy. He made you the weaker vessel and your husband stronger to provide and protect you. He made you love beauty so you could use your desire for beauty to make your homes places of beauty for your families and all who enter. It's all a part of His wonderful and perfect plan for you.
The job the Lord has given you at home is holy, women. Since God has created you to be keepers at home, being a keeper at home is set apart and as you clean, cook, and care for your family, you are doing it in service to the Lord and as an act of worship to Him. This culture is trying to tell you that these things don't matter and you were called to more "important" things but it's not true. It's all a lie from the enemy of our soul who tries to continually encourage women to blaspheme the Word of God (Titus 2:5).
Whether therefore ye eat, or drink, or whatsoever ye do, do all to the glory of God (1 Corinthians 10:31). Raise your children to the glory of God. Clean your home to the glory of God. Cook nourishing food for your family to the glory of God. Dress modestly for the glory of God. Make love to your husband to the glory of God. All of this pleases Him and this is all that matters.
"God sanctifies our work. Feed the hungry. Give drink to the thirsty. Clothe the naked. Hey! I do that everyday! Who knew that I could be completing the corporal works of mercy right in my own home?" (from the article "Asking for a drink," Soul Gardening, A Mother's Journal).
Why do people today call us radical for following God's plans for us? It's not. They are the ones who have radically veered from the ancient paths set for them from the beginning. We are on the right path – the narrow path that leads to life! Never be ashamed to say that you are a wife and mother for this pleases the Lord and know that all of your work, if done for the Lord, in your home and for your family is not in vain.
Therefore, my beloved brethren, be ye stedfast, unmoveable, always abounding in the work of the Lord, forasmuch as ye know that your labour is not in vain in the Lord.
1 Corinthians 15:58