Falling For a Sick and Perverted Lie
Falling For a Sick and Perverted Lie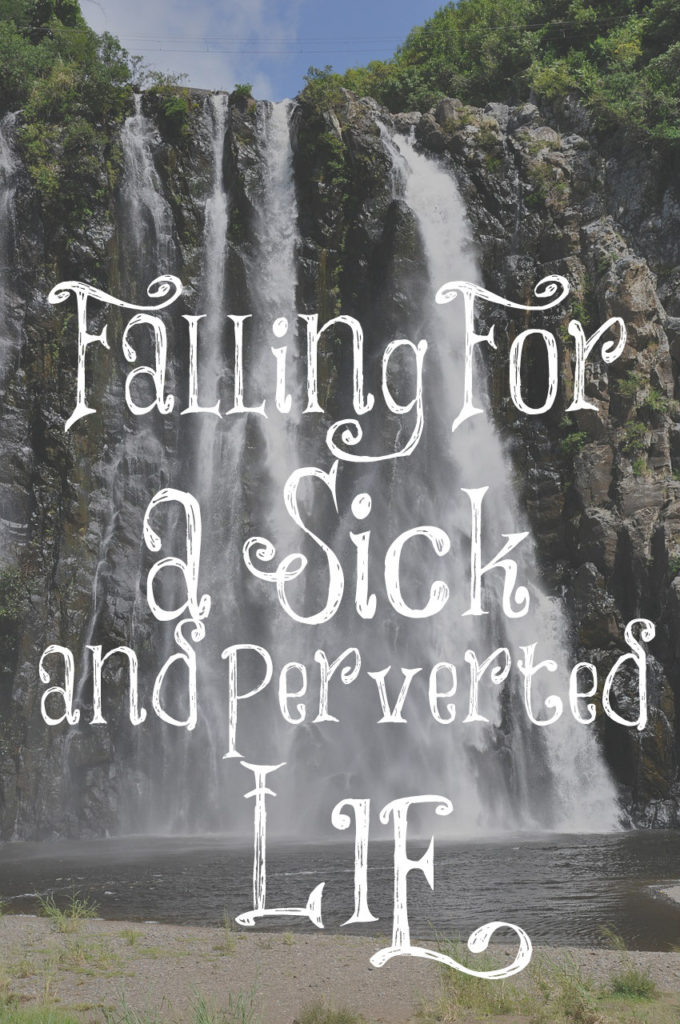 In December 2014, I heard of a popular "Christian" mommy blogger so I went to her blog to see what she had to say. The first post I read was about being unsubmissive to her husband and being proud of it. I wrote a blog post about it without naming her called Baby Needs to Be Put in a Corner! (I even used this post in my book.)
After listening to a great sermon from her pastor, she did this: After he finished, I stood up in my pew and clapped and cheered and WOOT WOOTED and pumped my fists and well, my church is not that kind of church. And so Craig {her husband} said, "SIT DOWN HONEY. HONEY, sit down." So then I stayed standing even longer than I WOULD have because Craig is not the boss of me and nobody puts baby in a corner and submitting to your spouse is not really something we focus on much in the UCC."
A few days ago, this "Christian" woman married another woman after divorcing her husband. This is tragic for her husband, but mostly her children. Women, you must be so careful who you are learning from. There are too many popular female preachers/teachers/bloggers that are leading women astray with their witty and fun-loving writings but they are false teachers in disguise. They tickle women's ears instead of speaking truth.
On the male/female hour of the Dennis Prager radio program yesterday, Dennis said that when a man marries a warm, kind, and affectionate wife, he wants her to stay that way and not change but most of them do change for the worse, unfortunately. One man called and said his wife became a "Christian" after they got married and their marriage got worse. She got so involved in Bible Studies and was reading her Bible every night so she no longer talked to him. Dennis Prager responded by telling him that the Bible Studies should have taught her to love her husband more not less. The man said they didn't because she's divorcing him.
If churches and all Women's Bible Studies were teaching women to love their husbands, there would be few to no Christian divorces but they don't. They fail to teach women what God commands they teach – to love their husband and all this includes (being submissive, kind, reverencing, serving, and pleasing). When churches fail to teach truth, false teaching abounds and the Church grows weak.
Marriage is the most ancient of institutions on earth. It was created by God in the garden. "Marriage as an institution has endured from the first man and the first woman until now. It will endure until mankind in this flesh lives no more on the planet…mankind was made for marriage, and marriage was made for mankind, by the plan of an infinitely loving and wise God" (John Rice).
This woman who divorced her husband to marry a woman and the other woman who became too "religious" for her husband will never find true joy nor peace because these only come from the Lord. They falsely believe that they are finally being "true to themselves" and finding the happiness they seek but they have fallen for a sick and perverted lie from the enemy of their soul. "The heart is deceitful above all things, and desperately wicked" (Jeremiah 17:9) without Christ and living in obedience to Him. These women have both caused great damage to their children and to the name of Christ.
Stay in the Word. Listen to solid Bible teaching. Attend and support a church who teaches truth so you will be grounded upon the Rock of Jesus Christ and not on the shifting sands of false teachers.
Take heed unto thyself and unto the doctrine. Continue in them, for in doing this thou shalt both save thyself and those who hear thee.
Ephesians 4:16