The Harm in Worldly Finery
The Harm in Worldly Finery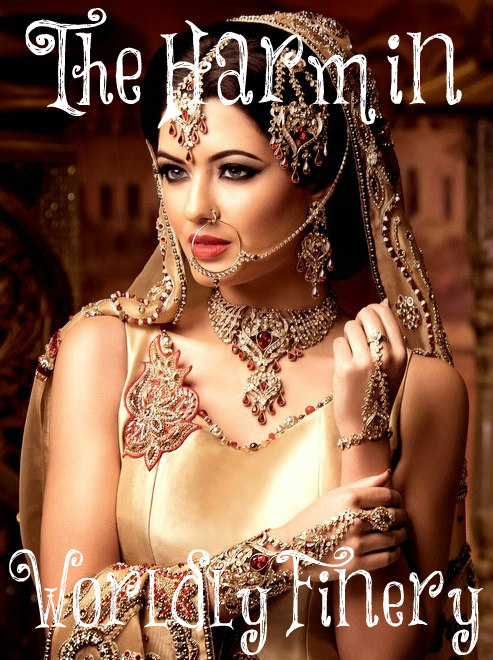 "Moreover the LORD saith, Because the daughters of Zion are haughty, and walk with stretched forth necks and wanton eyes, walking and mincing as they go, and making a tinkling with their feet: Therefore the Lord will smite with a scab the crown of the head of the daughters of Zion, and the LORD will discover their secret parts" (Isaiah 3:16, 17).
These women were the opposite of modest. They were proud and evil. Matthew Henry wrote this about them. "Let them know that God notices the folly and vanity of proud women, even of their dress. The punishments threatened answered the sin. Loathsome diseases often are the just punishment of pride. It is not material to ask what sort of ornaments they wore; many of these things, if they had not been in fashion, would have been ridiculed then as now. Their fashions differed much from those of our times, but human nature is the same. Wasting time and money, to the neglect of piety, charity, and even of justice, displease the Lord. Many professors at the present day, seem to think there is no harm in worldly finery; but were it not a great evil, would the Holy Spirit have taught the prophet to expose it so fully?" 
God makes it very clear to us throughout His Word what He values and what He hates. We know He hates pride and now we know that He hates worldly finery. There are many verses in the Word about the love of money and how we are not to serve money but God alone. "And he said unto them, Take heed, and beware of covetousness: for a man's life consisteth not in the abundance of the things which he possesseth" (Luke 12:15).
Part of pride and loving money is using it to draw others' attention towards ourselves. He commands that women be shamefaced ("In like manner also, that women adorn themselves in modest apparel, with shamefacedness and sobriety; not with broided hair, or gold, or pearls, or costly array" – 1 Timothy 2:9) which means "having or showing a moderate or humble estimate of one's merits, importance, etc.; free from vanity, egotism, boastfulness, or great pretensions." This not only speaks about our clothing but everything else in our lives and is the complete opposite of the daughters of Zion. Strive to be modest in all areas!
Besides being modest in how we clothe ourselves; modesty means being modest in how much money we spend on ourselves. We don't need the latest and greatest fashions since this world isn't our home. We are strangers and aliens just passing through and there are more important things to spend our money on than fancy clothes and the vanities of this life. Besides, how many clothes do you really enjoy wearing? I have heard that 10% of the clothes that people own are worn 90% of the time!
We went to Wisconsin this past summer and were planning on staying there for two and a half weeks so I packed enough clothes for that in one suitcase, along with makeup, vitamins, food, pillows, and only brought two pairs of shoes. We ended up staying almost seven weeks and I did great with the amount of clothes I had. It was so easy to decide what to wear each day and we had so fewer clothes to clean! Many of us have way more than we need and so give away everything you don't use or wear and stop buying stuff.
We are to be "free from ostentation or showy extravagance" in everything! This includes in the homes we live in. Instead of spending a fortune on making our homes into model homes, God calls us to be generous and help those in need. Our homes don't need to be constantly updated to look exactly like the homes you see remodeled on the television. (I know many of you do a lot of it on your own and frugally. It mostly comes down to a heart issue. Where is your heart? Are you using your money to keep up with the Jones or to bring glory to the Lord? Does your gorgeous, expensive home sit empty all day or is your home a place of ministry to your family and others?) If you have a roof over your head, food in your refrigerator, running hot water, a comfortable bed, and clothes on your back, you are wealthier than most of the world and even the kings of old. Be thankful and content living modestly in your home.
Modesty also means "having or showing regard for the decencies of behavior and speech." Act decently in all that you do since others are watching you, especially your children; speak decently to everyone since no unwholesome word should ever come from our mouths (Ephesians 4:29). Don't flirt with other men but be faithful to your husband.
Live contently on a limited or moderate amount of money your husband makes. Save money by showing self-restraint in eating a modest amount of food. Don't be a glutton and waste food, plus being harmful to your health. Be modest in your exercise. Yes, exercise is beneficial and needed but it doesn't have to be in the extreme. Be modest in the amount of sleep you get. You don't need a ton of sleep or you will become lazy and waste precious daylight to get your work done (Proverbs 24:33). Be modest in how many clothes, makeup, perfume, and stuff you own. Don't store your treasures (worldly finery) on earth since they can draw your heart away from the Lord and the things of this world will all burn one day. Store your treasures in heaven where they belong!
Lay not up for yourselves treasures upon earth, where moth and rust doth corrupt, and where thieves break through and steal: But lay up for yourselves treasures in heaven, where neither moth nor rust doth corrupt, and where thieves do not break through nor steal: For where your treasure is, there will your heart be also.
Matthew 6:19-21