He Won't Take Out the Trash!
He Won't Take Out the Trash!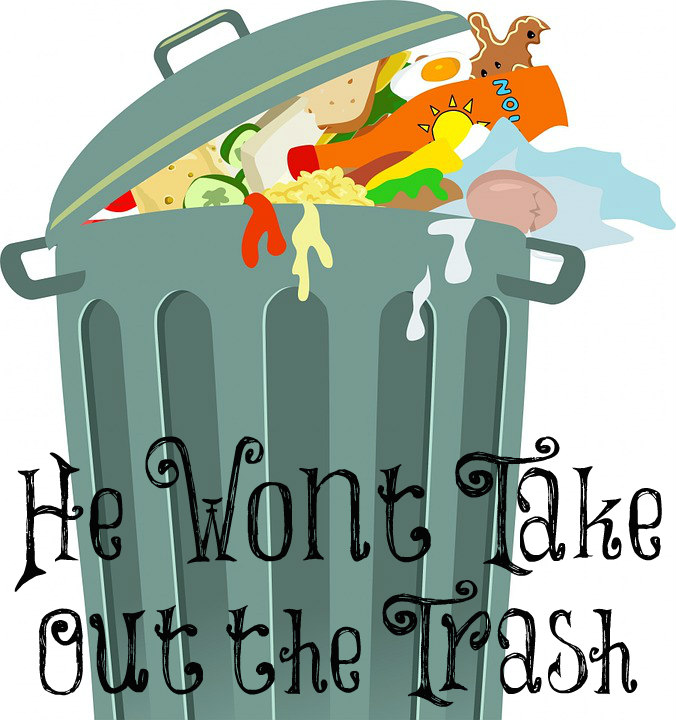 "I'm from the South and it's almost as if women are trained to henpeck their husbands. I was taught this by my mother, grandmother, and aunt, by example. I don't know why this happens because it not only makes the men feel depressed, it also depresses the women. I try not to do that; however, I don't know how to get things across without henpecking. For example, my husband will never take out the trash unless I ask him. And I'm an extremely headstrong, dominant personality and he is not really a leader or teacher type. He is more the engineering type. I love my husband and we have a great relationship though I could be 'nicer.' Any words of wisdom?" (Virginia)
This was asked on my post "Become Lifelong Students of Your Husband." There were some great replies to her which I am going to share with you.
"I just take out the trash myself. I expected my husband to when we got married because my father always did. When I asked him why he didn't take out the trash my husband looked at me like, 'Are you handicapped?!' So, I have taken it out for over 20 years and it isn't so bad. In fact, right now we don't have trash service so I have to take it to a dumpster. Sometimes I look forward to taking it out so I can stop at the thrift store, etc." (M)
Instead of getting offended and angry with her husband, she obeyed him and found good that came from it! Instead of tearing her marriage down because her husband wouldn't take out the trash, she decided to take out the trash and build up her home.
"Oh, I totally understand this! I have a fairly dominant personality as well, and there have been times when I have had to take charge. I was raised by a woman who, in later years, would tell my father that she wouldn't have to nag if he had listened the first time.
"A meme I saw on Facebook the other day said: 'If a man says he'll fix something, he'll fix it. There's no need to remind him every few months!'
"In my marriage, I no longer ask my husband to do anything, if I can help it. If I want the trash taken out, I either do it myself or I tell one of the kids to do it. This doesn't mean my husband does nothing around the house – he's very domesticated as his mother raised him to be – but it means there is no more bitterness with me feeling annoyed that I have to keep asking him to do stuff, and him getting annoyed at my nagging.
"It's not something I have been consciously doing for long so I still slip up, but it's making a huge difference to the peace in our home." (KAK)
She has decided that instead of nagging a husband to do something, she will do it herself since she desires a peaceful home over being a contentious wife. She is pleasing the Lord as she serves her husband.
"Hi Virginia, my situation is similar to yours. Ever since finding Lori's blog and delving back into God's Word, I have been working on holding my tongue at the (yes, engineering-type) husband, and just keeping silent (not silent-treatment, just a pleasant absence of hen-pecking!). It's not always easy for me (I, too, was brought up watching my mother 'nag' and my father getting moody over it – and we're northerners!), but the more I practiced it, the easier it got, and God rewarded my efforts!
"For example, I would just do normal chores without commenting or complaining about it, and over time my husband became much more attracted to me. He would not only express appreciation over little things (which he never really did before), but even became more physically intimate over what seemed to me the smallest matters – and I don't think it had anything to do with me completing the task, as I had done it many times in the past (hello, clean clothes in the drawers, not exactly news!), it's just that I did it without grumbling!
"It's been so encouraging, and totally worth keeping my mouth shut, just to see the difference in my husband's attitude, which of course affects the vibe of the whole house and family. I was so floored by it, I told my mom all about it and she was so impressed, SHE started trying the same thing after years of hen-pecking through 50 years of marriage! Give it a try and stick with it in prayer, and God will bless your efforts, too!" (D)
It's NEVER too late to begin obeying God by serving your husband. As you serve him, you are serving the Lord! Henpecking and nagging never make a marriage better. No, they only serve to build up a big wall between husband and wife, thus tearing the marriage apart.
The above comments in quotations were written by women. This last one was written by a man.
"Different husbands lead (and delegate) in different ways. Some husbands will just tell their wives what they expect of them, what they desire, what they prefer, and what they don't prefer. For example, they want their wife to be responsible for taking out the trash. Other husbands will let their wishes, preferences, and desires be known through indirect comments and/or through their actions. M's husband expressed his wishes with a 'look' and M got the message, submitted to her husband, and has experienced blessings (from God and her husband) for doing so every day since.
"Virginia, your husband is expressing his desire and delegating that task to you through his actions. If he wanted (and felt that it was his responsibility) to take out the trash, he would be doing it without you asking… over and over and over again like a continual dripping (Proverbs 27:15-16). Because he is not doing it, even after you have indicated to him (how many times?) that you feel that it is his responsibility, his actions are showing you that he wants it to be – your responsibility. Even though he might not have said those words, his actions are 'speaking' loudly and clear. Words of wisdom? Submit to your husband's demonstrated wishes and (without a word or a look or a huff or a sigh, preferably when he is not even there to see it). Take the trash out yourself.
"Feminism has taught (rolling pin to the head and no sex in the bed) many husbands to hold their tongues and not say everything that they would like to say, but a husband should not always have to speak to lead, delegate, or make his preferences known.
"Many women complain that their husbands don't lead but if a wife makes herself a student of her husband, (mouth closed, eyes and ears open) she will find a lot of unspoken (or mildly spoken) leadership and direction is already there."
For after this manner in the old time the holy women also, who trusted in God, adorned themselves, being in subjection unto their own husbands.
1 Peter 3:5