The Great Cost of Fornication and the Beauty of Virginity
The Great Cost of Fornication and the Beauty of Virginity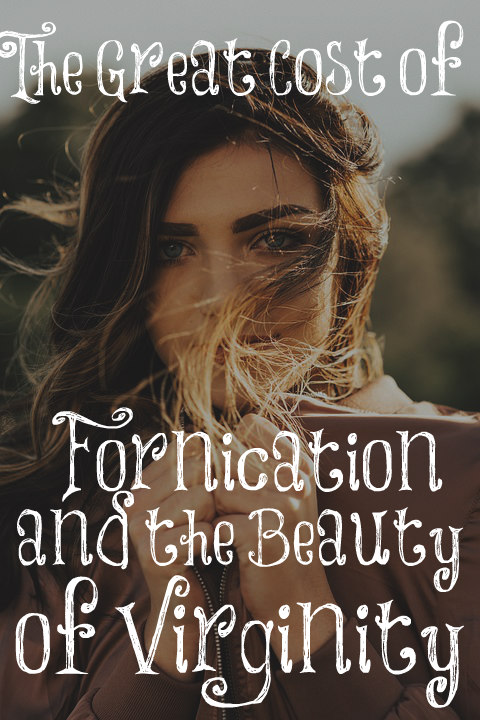 Virginity isn't popular in our culture, no, not even among Christians. Contrary to popular opinion, God takes it seriously and warns us strongly against the sin of fornication (sex outside of marriage consisting of a husband and his wife). Remember, He destroyed two cities due to fornication. Then in Revelation, we are told about the "great whore, which did corrupt the earth with her fornication" (Revelation 19:2). Fornication corrupts.
All of His commands to us are for our good; they are good, and acceptable, and perfect (Romans 12:2). They aren't to cause us to "miss out" on anything, women. He's our Creator and knows best. If you are young and a virgin, I encourage you to remain this way until your wedding night. You will NEVER regret it, but you will regret it if you don't. If you are a believer in Jesus Christ, you will always be thankful for the choices you make that are in obedience to God's commands; for they are good.
Here are some good reasons, by the women in the chat room, why staying a virgin until marriage is good:
"If you're not a virgin, you carry that garbage into your marriage bed and it is hard to handle! This is said from experience, sadly. That's one thing out of everything in my life I wish I could change."
"For one, retaining one's virginity means there will be no risk of infecting one's spouse with a sexually transmitted disease. Also, there will be a stronger bond, being that you have not united your body to anyone else's."
"Being a virgin is good because: 1) There is no standard for 'perfect' sex, and you get to explore sex together without comparing each other to someone else; 2) There is no baggage from past relationships or one night stands to haunt you, or for Satan to use to make you feel guilty and dirty; 3) There is no insecurity that stems from past break ups or a man who cheated on you; 5) There is less likely to be a desire to control or manipulate your husband using sex; 6) The most important reason: your innocence before a holy God; 7) There are no STDs and no history of abortion.
"My husband and I talk often about how we wish we had been virgins for each other, and we will never get that back. I praise God that we are new creatures in Christ."
"I believe it makes it easier to remain faithful to one's husband: faithful before marriage and faithful after. I seriously could not imagine being intimate with any other man than my husband. That has never appealed to me for even a moment."
"I would give anything to be rid of the memories of other men. I've repented, of course, and l've asked my husband to forgive me, as his help meet, but I wish I could have given him all of me untarnished. And still, thanks be to God for His mercy, unfailing kindness, and redemption."
"There's a lot of good reasons, but the main one is that God commands it. He is the Creator of sex, sexuality, and relationships, and He knows how they work best. Not only does following His commands show honor and obedience to Him, but it shows Him that we trust Him in all things.
"In addition, there is something different about sexual sin that impacts us in a way that other sins do not: 'Flee fornication. Every sin that a man doeth is without his body, but he that committeth fornication sinneth against his own body' (1 Corinthians 6:18)."
This comment is from Robert Zeurunkl (a letter he wrote to his children) on this post: "There will be a lot of people who will tell you, 'Oh, if you repent, Jesus will restore you.' Well, yes, and no. He will forgive, and He can restore your position as a son or daughter. But He will not (because He cannot?) undo the past and make it so that you never did a thing, and He won't make you forget it either. You will carry that knowledge for the rest of your life, and it will be a thorn in your side.
"Paul addresses this in his admonishment to us to 'Guard our hearts, for out of it flow all the issues of life.' God designs our memories such that they are permanent. What goes in, stays in. Paul reminds us of this with his admonishment. Guarding your heart is the work of protecting it by 1) daily meditating on the word of God, so that it renews our mind, and 2) keeping and conducting ourselves according to the principles that God says are for our good.
"The joy you have, every single day, for the rest of your life in waking up every day knowing that 'I am my beloved's, and his [her] desire is towards ME [only]…' is worth and beyond many earthly riches."
Nevertheless, to avoid fornication, let every man have his own wife, and let every woman have her own husband.
1 Corinthians 7:3
God's plan for us to avoid fornication is to get married! Putting off marriage for higher education and careers is not His perfect plan for us, women. Since so many are doing this, fornication is rampant in the universities and among the young people even in the churches. So what if you're poor when you first are married and have to struggle. There is no sin in this but there is sin in fornication. Most young people burn. It's time to start rethinking getting married young and accepting it as a good thing.
Whoso findeth a wife findeth a good thing, and obtaineth favour of the LORD.
Proverbs 18:22