Become Lifelong Students of Your Husbands
Become Lifelong Students of Your Husbands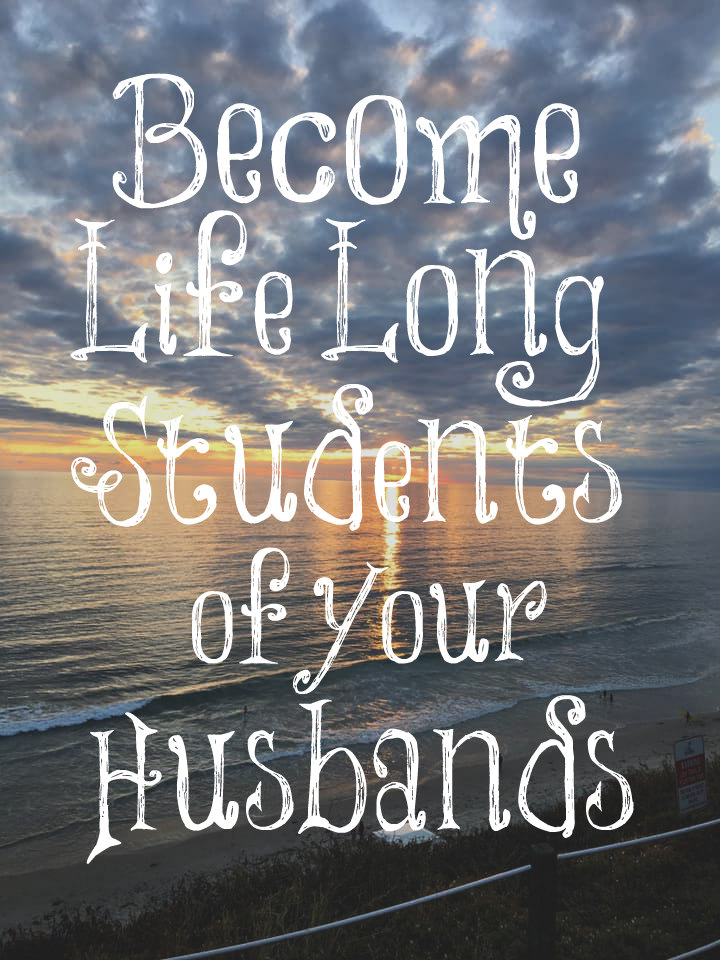 Once in a while, a wise man or a woman will make an incredible comment on one of my posts which deserve a post of their own and this is one of them. This comment from "Mother Dearest" is from my post Many Women Seem to Enjoy Tearing Down Other Women's Marriages. Enjoy!
Today's unregenerate woman is a clamorous glory-hog that cannot imagine enduring a moment of only being seen and not heard. This busy body gads abroad on social media, by phone, and in person, minding everything but what God has called her to do. She's quick to speak her mind always, rather than listening to other people's perspectives and dare I say, perhaps even learning from them.
However, the thing that stirred up the opprobrium that you so graciously shielded us from is three-fold: first, the original commenter acknowledged that her husband has a preference, i.e. he would like to enjoy some silence when he gets home from work. Feminists do not allow men to have preferences. Only women can have preferences. If men are allowed preferences, soon they will start preferring debt free virgins who have no tattoos and who knows what else they will prefer next? A clean home, well behaved children, delicious and nutritious meals, and a vibrant marriage bed??? God forbid!!! So NO PREFERENCES for men.
Secondly, the original commenter demonstrated that not only does she take zero issue with her husband's preference, she endeavors to give him what he wants and all the feminists cry, "Boo!" because their prideful hearts seethe at the thought of a wife looking to please her husband. Why, she's letting team woman down! What about all the feminists of old who laid down their dignity, their fertility and their eternal life, so that wives today can defy their husbands? She's being ungrateful by obeying God and her husband.
Thirdly, and most egregious, is that the husband in question gently prompts his wife to be quiet when she talks more than he deems appropriate. How dare he tell her what to do? Feminists are a law unto themselves and they answer to no one, least of all a husband. That is abusive in their books because women know better than men from a feminist perspective. They prefer a cowering passive husband who prefers nothing, and puts up with their selfishness. They are quick to point out that husbands are called to love their wives as Christ loves the church, but don't let husbands wash their wives with the water of the Word; that is out of order!!! (See also 1 Peter 3:4-5: Your adornment must not be merely external–braiding the hair, and wearing gold jewelry, or putting on dresses; but let it be the hidden person of the heart, with the imperishable quality of a gentle and quiet spirit, which is precious in the sight of God.)
Thank you, Lori, for always encouraging every woman to submit to her OWN husband. Naturally, whereas every wife's heart attitude ought to be the same i.e. submissive, it's obvious that the practical outworking of submission for every wife will be as diverse as there are husbands. Just because one woman's husband requires something different from her compared to another is not tantamount to abuse.
For example, I am not on Facebook, Twitter, or other forms of social media because my husband is of the view that my day is too busy. My husband also likes to know which blogs and books I read and often recommends books for me to read because he takes responsibility for my spiritual growth and likes to protect me from spiritual falsehoods. I am definitely a much better Christian for being married to my husband because he takes the time to point out areas in my life that need amendment and no, I am not abused.
Also, my husband grew up in a broken and unhappy home that was largely silent/quarrelsome with a distant unapproachable father so he longed for a cheerful home and a close relationship with his children. He purposed to marry a "happy" girl. I know how much this means to him so I don't have mood swings, raise my voice at him, or give him the silent treatment ever. I quell tantrums in the children and teach them Proverbs 15:1. I speak highly of my husband to our children and everyone else and make provision in the week for family bonding activities.
My husband and children are very close which makes him so glad. We pray and sing together in our home and even in times of trial, I do my best to cheer everyone up because my husband prefers a happy atmosphere in the home. He calls me his MVP because I delight in doing what he wants which is my God given calling.
Let me urge all wives to be lifelong students of their husbands. Get to know what he wants and what his likes and dislikes are and don't listen to detractors because you will give an account to God for your submission to your own husband.
The heart of her husband doth safely trust in her, so that he shall have no need of spoil.
Proverbs 31:11