His Heart Trusts Her – Proverbs 31:11
His Heart Trusts Her – Proverbs 31:11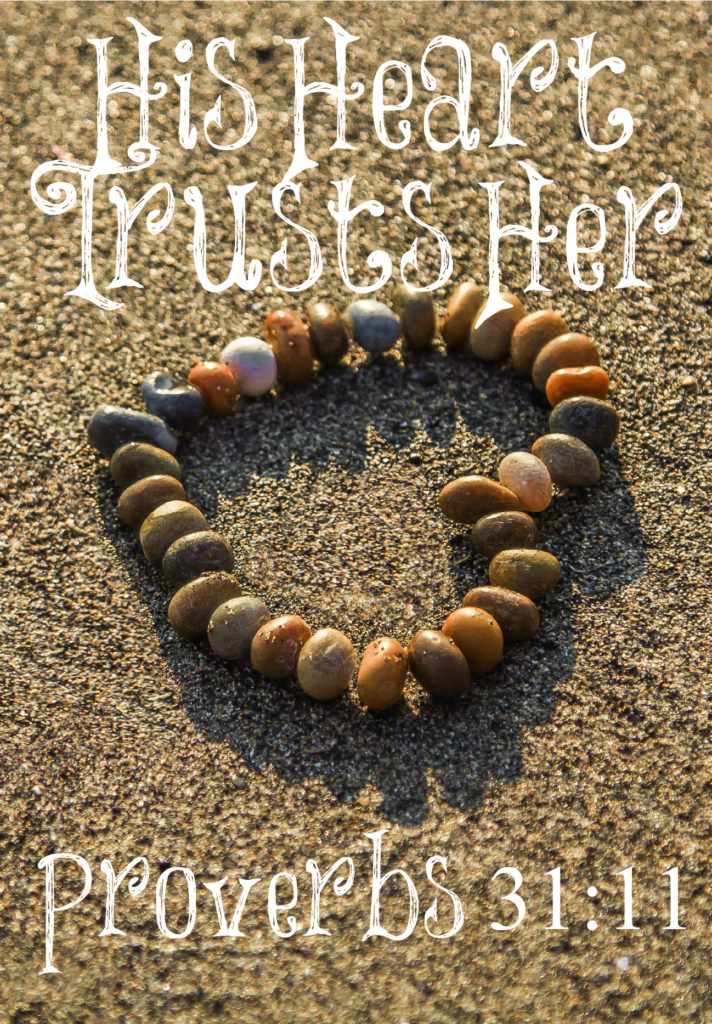 A virtuous woman's husband trusts her. He trusts her with his finances. She carefully lives within his income and does what she can to never shame him about how much money he makes or puts him into debt. She will go without all that she wants (not needs) in order to please him. If finances are tight, she makes her food from scratch, gardens, then cans her produce or whatever she can to make ends meet. She takes care of her clothing so it will last and teaches her children to do the same. She doesn't care about the latest styles but is content with what she is able to afford.  She is careful to buy just the right amount of food that her family will eat so there isn't anything to throw away that is wasted. She doesn't waste her money on a bunch of expensive junk food with no nutritional value, unless he loves junk food.
He trusts her faithfulness to him. She dresses modestly and never does anything to attract other men's attention.  She doesn't flirt with men on Facebook or other places. Her heart is her husband's alone. She is careful to guard her affections and does not even give a hint of inappropriate behavior. She is faithful to him in her thoughts and actions, thus he has no reason to be concerned. She is available to meet her husband's sexual needs and loves doing this for him.
He trusts her in his home to keep it clean and tidy. She looks well to the ways of her household. She makes sure that the children are learning to help around the home and do their part in keeping it clean. They learn to put their clothes away or in a hamper when they are dirty, not on the floor. She isn't lazy but works hard in her home. She keeps up on the laundry so he has clean clothes to wear. He loves to bring company in his home knowing that his wife will make him proud.
He trusts her to raise his children to respect him as their father, to discipline and train them properly, and to make sure they know the Word of God. Since he has to work hard to provide for the family and she is home with the children all day, he trusts she will do what is best for the children, take good care of them, and obey him when he asks them to do something.
He trusts that when he asks her to do something, she will follow through on his requests. She does it as soon as she can instead of continually putting it off and then eventually forgetting. Doing what he asks of her is her priority since she is his help meet and she understands the importance of this role.
He trusts her to fix meals for his family and feed them well. She doesn't forget about dinner and then has to go buy fast food at the last minute. She makes sure she has the ingredients to make the foods he loves best. If he needs a lunch to take to work, she makes a good one for him. The other men wish their wives would care about them enough to make lunch for them and have dinner ready for them when they get home. His wife makes sure to care for his needs and he is a blessed man.
Does the heart of your husband trust you?
The heart of her husband doth safely trust in her,
so that he shall have no need of spoil.
Proverbs 31:11