How Come I Don't Scold Men?
How Come I Don't Scold Men?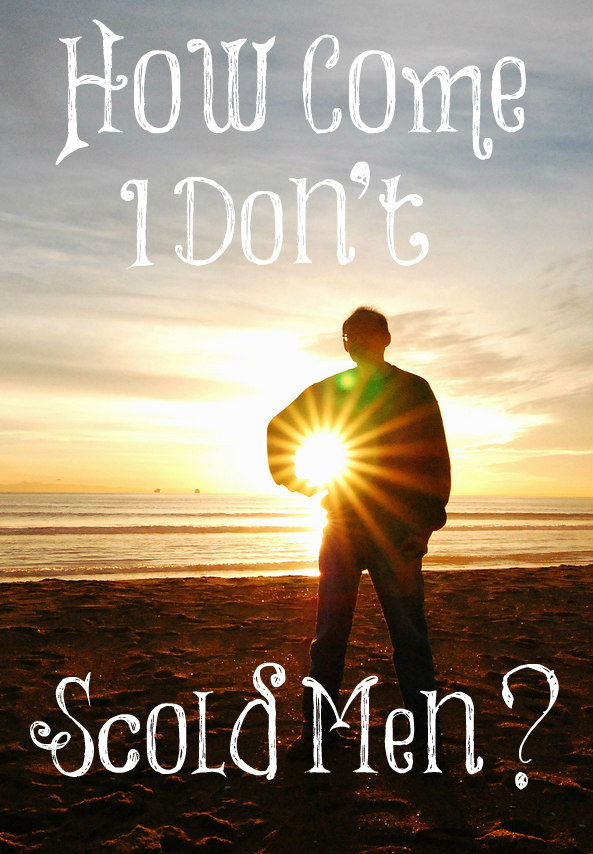 Most of you know that I receive comments that scold and ridicule me about what I teach. I received this comment yesterday from Pamkitten (at least this is what she calls herself). I thought I would answer her in a blog post.
"Women fight against this because 1) women are tired of the arrogant way some of you push Scriptures to tell women and beat them over the head about what they are supposedly are doing wrong."
 If you aren't interested in learning what the Lord requires of women, you don't have to read my blog. No one is forcing you. You have a choice to not read it. There are many blogs out there that I am sure you agree with.
"2) You write articles and lists all over the Internet to scold wives and don't write articles to scold men for what husbands do wrong"
I teach women Titus 2:4, 5 as the Bible tells older women to do. I am to teach young women to love and obey their husband, love their children, be sober, chaste, discreet, good, and keepers at home so they won't blaspheme the Word of God. This is not easy to do in this day and age, but wise women want to be encouraged, exhorted, rebuked, and learn how to be godly women. But unfortunately, many young women today get offended easily and hate the Truth.
I don't teach nor scold men since I am told to not teach men (1 Timothy 2:12). Pastors, elders, and deacons are the ones to teach men and they do tell men how they are to treat their wives. Feminists regularly scold men! If I told women how their husbands should be acting, however, it would just make the women more dissatisfied with their husbands. Besides, women can't change their husbands and make them act like they want them to act or how they are supposed to act. They can only work on themselves and become kind, gentle, submissive, and loving wives.
"3) preach the Scripture as readily and as easily to husbands, about laying down their lives for their wives and living with their wives in an understanding way, and honoring her,"
Like I said above, I am not supposed to teach men anything and there are many preachers who preach this to men but most are afraid to teach women to submit to and obey their husbands because of women like you. Unfortunately, feminism has invaded the Church and made it uncomfortable for many pastors to teach anything in the Bible that is directed towards women. When was the last time you heard a sermon at a church about wives being obedient to their husbands, dressing modestly, having a gentle and quiet spirit, and being keepers at home? I have been to church my entire life and have never once personally heard a pastor preach these things from the pulpit where I attended.
God knew how easily offended young women get so He gave this ministry to older women. Older women don't care as much if they are greatly disliked by young women because it costs them nothing to teach them (they won't lose their salary or job like pastors can), they have walked this path of womanhood for many years, and heaven is closer for them, so they know clearly what is at stake for marriages, families, and children.
"That's why women protest much. There is something wrong with this approach. And how do you know what submit ye to one another, really means.  Do you all realize that a husband does not have absolute control over his wife. Do you know that there really ARE areas in her life that he cannot control? Then maybe you don't really know the full meaning of the Scripture that says submit ye to one another.  Whose to say you are right and others are wrong?"
There isn't one verse that specifically commands husbands to submit to wives like there are wives submit to their husbands. Not one, but at least twelve that show the wife's relationship under her husband.  A husband can only have control over his wife if his wife submits to him and allows it. I take the Bible literally, Pamkitten. If I'm wrong, I will have to answer to my Lord someday, so I try very hard to be biblically accurate. Besides, if you believe the Bible means to submit one to another, meaning husband to wife and wife to husband, I sure hope you are holding up your end of the deal at least and submitting to your husband even if he is not submitting to you, since you will one day stand before God and have to give an account of your behavior, not your husband's.
Therefore as the church is subject unto Christ,
so let the wives be to their own husbands in every thing.
Ephesians 5:24