How Does Marriage Benefit Her?
How Does Marriage Benefit Her?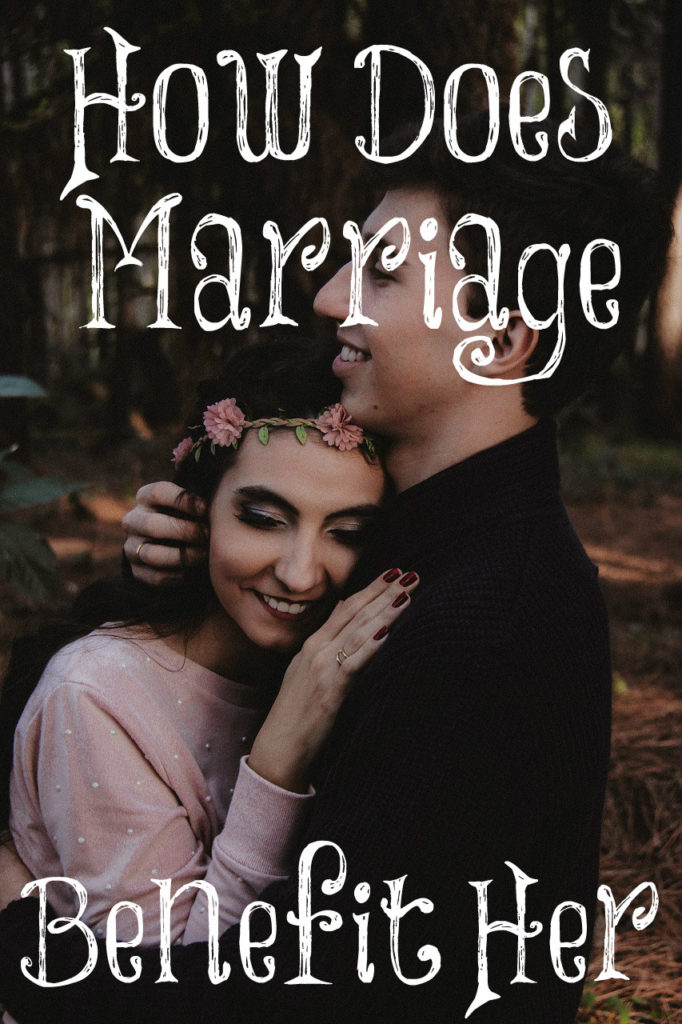 "As a woman, how exactly does marriage benefit me? I'm not trying to argue; it's my honest response. I have a degree and a salary and I'm being called to give that up to take care and clean up after someone all the while letting him lord me in any way he pleases. I have my own apartment, paid off car, retirement plan, health insurance, etc. and I'm being told that giving all of that up is more beneficial for a woman than a man. I'm really sorry but I'm honestly looking for answers to this. I want to be convinced of how marriage will be financially better for me if it's going to financially ruin men."
This was recently asked on an old post of mine called Men Giving Up on Marriage. I will tell you how marriage will benefit you, Carolyn. When you marry a godly, hard-working man, you won't need a degree and a salary. He will be the one out in the world working hard to provide for you while you get to be in your own home and hopefully with your precious children. Instead of working for a boss every day and submitting to his will, you will have the privilege of making your husband's life better and submitting to him; you know, the one you chose to love until death do you part.
You will most likely live in a home, have a car or two, a retirement plan, and health insurance because of your husband's hard work for you and your family. You may have some children by your husband, if the Lord blesses you with them, that you can be home to watch their first smile, snuggle, and laugh with them, clap when they take their first step, and all of the other many wonderful blessings that come with having children. These children will be blessed to have a father who loves them deeply and is involved with their lives.
You will get to live by your own schedule instead of your boss' schedule. If it's a pretty day out, you can take your children to the park. If you're sick, you can rest on the couch while the children play around you. If you get real sick with a brain tumor like I did, your husband will sit by your side in the ER making sure you are being well cared for.
You can meet a friend for coffee and help those in need since you'll be more available. You'll have plenty of time and energy to go shopping, cook healthy meals from scratch, and keep your home clean and tidy. You will teach your children all of the wonderful ways of the Lord and watch them grow in the wisdom and knowledge of Him. There is NO greater joy than to see your children walk in truth.
You'll have a man around to help you with things that you are unable to do. He can carry and move things that are too heavy for you. He can fix things that you are simply unable to fix. He will protect you since he is much stronger than you. If an intruder were to come into your home, he would be the one to go after him. He will help you to see when you are being deceived by someone since men are usually not as easily deceived as women. There's no way you would ever want to divorce this man even though he won't be perfect because neither are you!
You'll watch your children grow up and get married. Oh, the weddings are so much fun and a time for great celebration! Marriage is God's perfect design for us and He is our Creator! One of my sons-in-law was an officiant at a wedding this past weekend and this is what he said to the bride and groom during the wedding:
"Most days of your marriage are going to look, on the surface, rather mundane… But I want you to see what's under the surface. Something far from mundane. Rather a bold and courageous defiance against an enemy that wants you to feel doubt and discontentment. A defiance against a prevailing misunderstanding that God's plan for marriage doesn't work anymore. Under the surface, your faithful obedience is resounding with the majesty and glory of God's truth. Let this truth surface as often as you can. Let the world see the profound power of the type of love that can come only from the God of the Bible. This is gospel-centered love, in a gospel-centered marriage. This is covenant love."
When your last child is married off to a godly man with this gospel-centered marriage and covenant love, you will rejoice! These married couples will become close friends of yours and family times will be your most favorite thing in the world to experience. When they're all gathered around the table together with you, you will have tears rolling down your cheeks as you praise God for His many blessings.
You won't grow older alone. The grandchildren will come over and it will be like having children all over again! They'll tell you that you're the best grandma ever and want to cuddle with you on your chair. They will make you laugh and you'll have the joy of children in your life. You'll take them on walks with you, color with them, watch them play outside, and read to them.
In your old age and near death, your children, grandchildren, and maybe great grandchildren will come to visit you on your sickbed. They will tell you how much you've meant in their lives. They will thank you for pouring your life into their's. They will hug and kiss you each time they leave and you will feel God's blessings raining down on you as your prepare to meet your Savior face-to-face.
There's so much joy living life according to God's plan. Having a husband to love and care for is not a burden but a blessing. As you pour your life into him and grow old with him by your side, you will rejoice that the Lord has been so good to you. It's His blessings that are far superior to man's blessings. His blessings are husbands, children, family, friends, and everything that is eternal. Nothing man has made including money can compare with this. I pray the Lord opens your eyes to the truth and beauty of His perfect ways, Carolyn.
House and riches are the inheritance of fathers: and a prudent wife is from the LORD.
Proverbs 19:14