Homeworking is the Biblical Lifestyle for Christian Wives
Homeworking is the Biblical Lifestyle for Christian Wives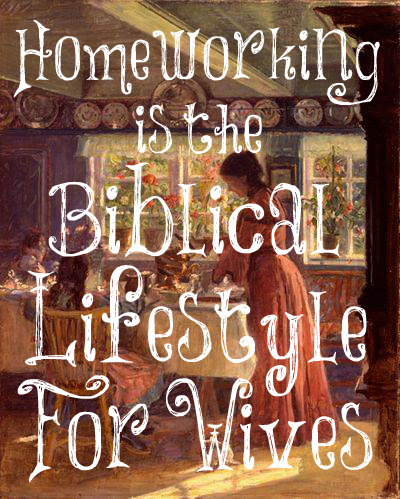 Here are a few paragraphs from Mary Pride's excellent book The Way Home
The movement toward outside careers is NOT a Christian invention. The American materialistic feminist tradition favoring women's economic independence and socialized domestic work gave it birth in the nineteenth century. Like all religions, it has a Great Assumption. Christianity's Great Assumption (which unlike other religions' is verifiable by historical evidence) is that the Bible is true. Feminism's Great Assumption is that woman is the measure of all things.
Homeworking is the biblical lifestyle for Christian wives. Homeworking is not just staying home either (that was the mistake of the fifties). We are not called by God to stay home, or to sit at home, but to work at home!…To call only women who leave the home working wives amounts to saying that women who stay home don't work! This psychological word game is at the root of our modern career movement.
Careerism is based on an inferiority complex, as follows. 1) Only men's work has worth. Women's traditional work is useless. Therefore, 2) I must get a job to prove I am somebody. If all the action is out in the men's "economic-opportunity sphere," well then, we'll have to crowd into that end of the bus.
Homeworking means working at home. We are not supposed to be the breadwinners – that's the man's job. But we are to make an economic contribution. You probably already make more money for your family than you realize…I calculated that every dollar saved by homeworking wife amounts to three earned, because you don't have to pay tax, tithe, day-care, transportation, and a whole host of other expenses on money you save. Do you bake whole wheat bread or make your own yogurt?
The money saved on medical bills from proper nutrition is no small change, and the amount you save by cooking from scratch can also be quite substantial. It's not uncommon for a homeworking wife to save her family thousands of dollars a year on their food bills alone. And wives who teach their children at home instead of paying for Christian school can save $10,000 a year or more, depending on family size.
Picture a housewife coming home with bags of food, having stopped off at the supermarket first, then the health food store (because yeast and other bulk items are cheaper there), and the produce market (for fresh fruit and vegetables), and you've got it. This the the picture of the Proverbs 31 woman is trying to convey.
Wives who join food co-ops, who trek out monthly to a nearby farm to buy eggs, honey, and grains in bulk, who carefully sift over the radishes before putting any in their shopping basket, who have learned to stretch a dollar farther and buy better food with it – these are the women this passage describes.
She looks well to the ways of her household, and eats not the bread of idleness.
Proverbs 31:27
Painting by Laurts Tuxen