How Young Women Can Prepare For Marriage
How Young Women Can Prepare For Marriage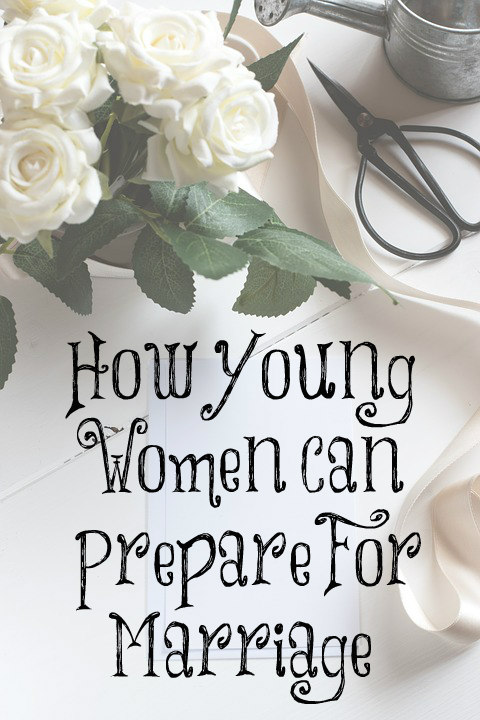 How can young women prepare for marriage? It's not easy in our culture today since public schooling and colleges sure don't prepare young women for this. Most churches don't even prepare young women for marriage. Many mothers haven't been taught how to be godly wives so they have no clue how to prepare their daughters for marriage. So how can young women prepare for marriage? Here are some suggestions from women in the chat room.
"Learn how to keep a clean home, have a decent set of recipes she can make and build up cooking skills from there, and manage money well."
"Study and meditate on scriptures that teach submission and women's roles. She can hear God's heart and not the world's."
"Guide them on what characteristics to look for in a spouse."
"I call tell you how NOT to do it – don't test out veganism or raw vegan and be very vocal about it in church. I legit scared away all the eligible young men away because they didn't know what to feed me if they invited me over, or thought I wouldn't cook for them. It was horrifying to be 21 and watch all my potential husbands slip out of my hands! :)"
"Develop her own spiritual maturity and learn to apply skills in the home setting. It's important to learn how to be humbly independent while waiting for marriage. I could have done so much better at this before marriage. I really didn't seize the opportunity to learn and grow."
"Look for godly married women; vet them (some women are sneaky fakes) and ask questions."
"I was pushed towards college but in my heart I knew I wanted to be a wife. I was the girl at my desk in food and nutrition class (which was presented as 'when you work in the food industry' not 'when you prepare food for your family') copying recipes from the back of the book to save for a future husband. Other practical things that you can do, build a skill base and practice, and honestly, it sounds old-fashioned, but start a hope chest.
"Also, something I wish I had done earlier – get good at using a computer, word documents, Microsoft office programs, etc. If your husband needs these kind of things in his job you're better prepared to help him if he needs, for lack of a better term, a secretary. Also, can be a good organization tool."
"First a foremost, be grounded in Scripture and focused on the Lord. This is the most important thing for anyone in any stage of life. Be discipled by wise, older women. Read solid books on marriage and develop a biblical view of marriage and children. Hone in on wifely 'skills' like cooking, cleaning, organizing, keeping a home, and so on."
"Knowing what I know now, I would have spent more time helping moms I knew with their kids, and sought out friendships with women a little further along in life than I was. I also would have properly vetted the company I kept, and made better use of my time when I was younger. All the time I spent hiking, biking, and exploring was fun, but if I had spent more time building on the skills I need now, I'd be better at the work I am doing currently and it would be better for our family.
"Not that my life was all fun and games. I worked a lot. In that regard, I would have sought out work that was either business based or human development type in education; it would transfer well to helping a husband with his own business or raising kids.
"Lastly and most importantly, I would have continued going to church every Sunday. I would have kept more relationships with Christian women; relationships are easier to build when one is younger and has more free time."
"Saving money (while unmarried) possibly by a home-based business or something home related: cleaning, cooking, sewing, gardening, mothers' helper/babysitting, specific crafts (soap making, card making, knitting/crochet, etc.). Friending an older godly wife/mother, more cooking and baking, learning basic home repair, basic car maintenance, and anything that would help take some work off her husband's plate at home. Studying what the Bible teaches about love."
"Serving their own families! My oldest daughter has five younger siblings, all under six years of age, so she's getting lots of 'practice' for when she marries. Even if she doesn't have children right away, helping care for preschoolers and toddlers definitely teaches living a sacrificial and selfless life, which is good for marriage! I'm also training her to keep a home by teaching her basic housekeeping and cooking skills. I also have her read Lori's posts and Above Rubies."
The most important thing young women can do is to grow in the wisdom and the knowledge of the LORD. Allow Him to transform you into a godly, feminine woman. Practice acting feminine. Don't allow feminist thought to dictate your behavior. Learn how to control your tongue, emotions, and feelings. Don't allow them to control you. This will be a huge asset to a future husband!
Determine to not argue with people anymore so you won't argue with your husband. (Don't be a quarrelsome wife!) Learn about modesty and what dressing modestly looks like. Vow to be chaste until marriage. Set boundaries up before you begin to meet godly men so as not to defile your future marriage bed. Discipline yourself for the purposes of godliness and learn contentment. Study nutrition and learn how to keep your family healthy. Pray daily for your future husband and that your marriage will glorify the LORD and bring honor to Him.
Whoso findeth a wife findeth a good thing, and obtaineth favour of the LORD.
Proverbs 18:22