Preaching the Offensive Parts of Scripture
Preaching the Offensive Parts of Scripture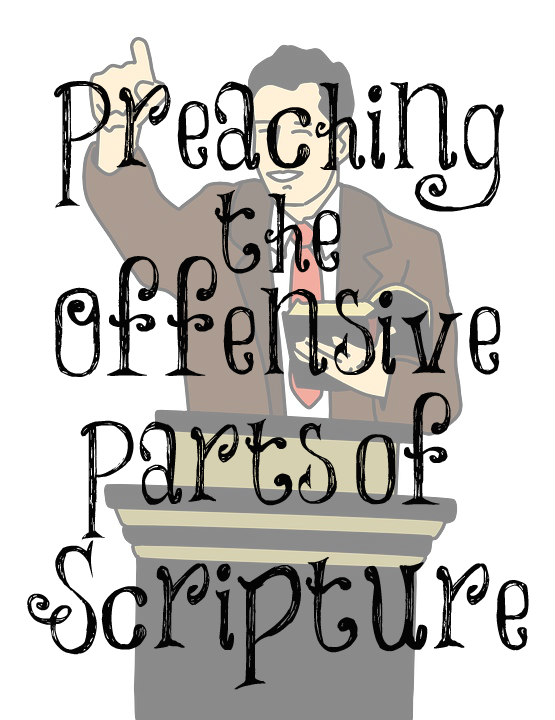 "God has laid out His standards. They're not negotiable. And I'll tell you this, if the church doesn't wake up soon and obey the Word of God, all is lost. We don't need to fall victim to this stuff. You don't need a Master's Degree to figure out what it means to love your husband, love your children, and work at home. How hard is that? By the way, there are no qualifiers there, no caveats, no footnotes. It's just what it says. Go home, submit to your husband, have children, raise them in godliness, take care of your house. And that's what older women are to teach younger women, they're to teach it not only with their mouth, they're to teach it with their life" (John MacArthur).
I love preachers like John MacArthur who aren't afraid to teach the "offensive" parts of Scripture. I love God's Word. I love His ways. I don't try to water down what Scripture clearly states. I know it offends many. I don't need to know the Hebrew and the Greek and the cultural setting to believe it just as it is written. I know what it means to love and submit to my husband. Am I perfect in it? No, and I never will be on this earth but I am a whole lot better than I used to be! (Ask my husband!) Yes, I love my children and still do. I always will and now I get to love on their children. I have been a worker at home now for 33 years and I know exactly what this means. My work is at home. I keep my home. This is my God-ordained ministry. I don't try to find all of the "career" women in the Bible in order to negate this command. I am an older woman so I teach young women these things. I try to model it to the young women around me. This is a wonderful ministry that God has given to older women.
"Why do they [feminist] care? You tell me, why does some feminist woman care whether you're a homemaker? Why does she care? I'll tell you why, because her agenda isn't her agenda. It's the agenda of the enemy; it is an anti-God agenda intended to destroy the credibility of the church because if you can get women who claim to be Christians to abandon the home, then you can pick up a Bible and stick it in their face and say, 'You say you believe this? I don't think so. And therefore it must not be believable because you know what it says and you're not interested in believing it and you claim to be a Christian.' The agenda is…they don't care…they don't know what they're doing but they don't care really whether you work, Satan cares to discredit the Bible, that's the issue. That's the level of the attack. See it for what it is and don't become victimized" (John MacArthur).
The best way for us to adorn the Word of God is to obey it. Our lives should be very different than those around us. If culture is going one way, we should, most likely, be going the other way. But some women can't be home full time. What about them? My job isn't to control women or to figure out every women's life situation and circumstance. My job is to teach them what God's will is for them. All I know is that chaos has ensued since women left their homes for the workforce. There are few good things about it but mostly negative. I know that children need and want their mothers full time. I know that women can't do it all well. We were never supposed to try to "do it all." Do you want to discredit the Bible or do you want to take a step out in faith and trust God by obeying Him?
I love what Pastor John MacArthur preached in this sermon that I have quoted from. Not many pastors are willing to teach these things. The feminist movement has scared them. They may lose the support of the career women in the churches if they tell them to go home. I don't worry about losing their support. I care more for the children who are being raised by strangers and being educated in the godless public schools most of their childhood. I care about the remnant of God's people and that they be steeped in the wisdom and the knowledge of the LORD instead of in the ways of the world.
All scripture is given by inspiration of God, and is profitable for doctrine, for reproof, for correction, for instruction in righteousness.
2 Timothy 3:16