Why Men Want Their Wives to Work
Why Men Want Their Wives to Work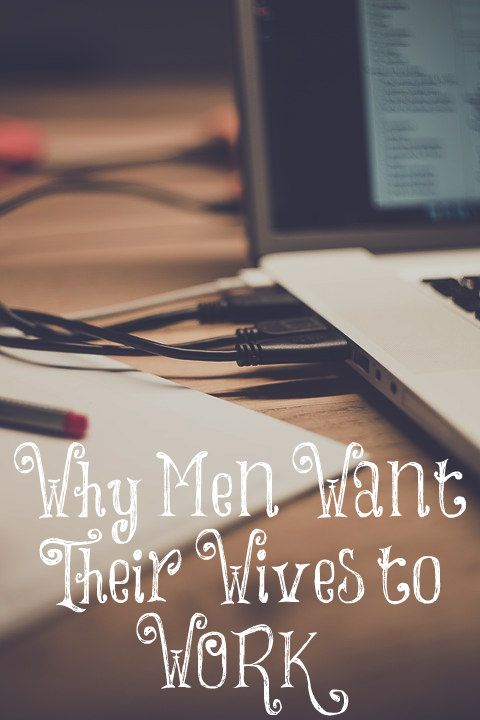 "Many men now want their wives to work for the paycheck they bring home so they can buy more stuff." This is a comment I made on my post The Backlash of Women in the Workforce. Here are a few men's comments to this.
Many men "want" their wives to work outside the home ("want" isn't really the right word here, but there is no other suitable substitute) for a variety of reasons. Among them:
1. They've been brainwashed by decades of feminist social engineering into believing that a wife not working full time outside the home is a freeloader not contributing to the household.
2. Related to number 1, they realize that their own ability to adequately provide for a family on their income alone has been deliberately undermined and destroyed by the existing feminist order, which has saturated the workplace with women, thus driving wages downward to levels incapable of supporting a family. For this reason, they're determined that their wives should "live the 'feminist dream'" and work full time ("you and your feminist sisters have made your – and our – beds hard, now sleep in them!").
3. They know how miserable, "unfulfilled," and "oppressed" their wives will feel having to stay at home and raise the children they've spat out because they felt some vague societal obligation to do so ("I gave birth to them, isn't that enough?! … What, you want me to RAISE them too??!! Are you nuts???!!!"). These men know that they'll be in for nothing but misery, contentiousness, and marital strife if they "oppress" their wives by making them stay at home, so they make them go to work in the (vain and misplaced) hope of ensuring some domestic tranquility.
4. Sadly, most husbands today don't seem to give significantly more thought or priority to their children's long-term spiritual and emotional well-being than do their wives. Children, in the modern western world, and for both sexes, are a commodity, an abstraction, and ultimately a burden, not joys or treasures to be delighted in, cared for, and nurtured to grow up in God's image. Making mom stay at home to raise them is just not an option for most dads, for all the reasons cited above.
Needless to say, all that I've cited above describes most "Christian" marriages and families every bit as much as secular ones. Did it not apply, we would see a STARK difference in the typical Christian family dynamics rather than the typical dysfunction that makes most "Christian" marriages and families completely indistinguishable from their secular counterparts.
Ryan from Montesquieu gave his opinion on this post about the importance of men being the providers:
Many women do not appear to understand how it encourages a man to have to go and support a wife and children. Tens of millions of men married poor, and the love they developed in marriage, and for their wife and children inspired them to work and achieve far greater than they otherwise would have. When women go to work, it emasculates the man.
When he's no longer the provider and protector, he often gets in trouble. Where there is no love in a marriage, there will be love outside of it.
The lack of faith, in God to provide, is a huge fault, too. So many women and men have the familiar refrain, "We can't afford children." Actually, anyone who understands history understands a nation can't afford not to have children. We are in the richest nation on earth, and the majority opinion is women can't afford to have children. Something is seriously wrong with people's priorities. These same people can afford to watch television and waste time doing that, can afford to take vacations, can afford luxury homes and cars, can afford expensive Christmas gifts, can afford to pamper themselves, and can afford to drink prodigious amounts of alcohol. But, when it comes to kids, "We can't afford much kids." Tragic miscarriage of a divine purpose for selfish and faithless reasons.
But if any provide not for his own, and specially for those of his own house, he hath denied the faith, and is worse than an infidel.
1 Timothy 5:8