Inventors of Evil Things – A Contraceptive Mentality
Inventors of Evil Things – A Contraceptive Mentality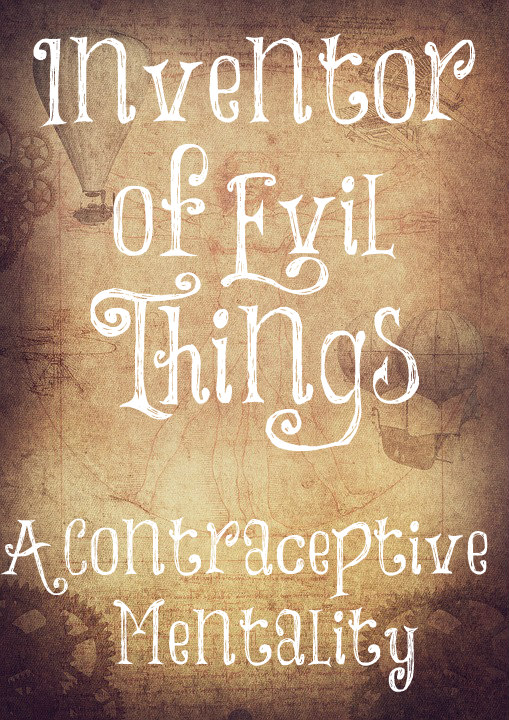 Most of us have been raised with a contraceptive mentality, even those of us who have been raised in the church and in Christian homes. Right before marriage, we are asked what contraceptive we're going to use as if getting pregnant on the honeymoon would be a terrible thing. Then after we've have two children, we're expected to begin preventing any more children since this contraceptive mentality causes us to think of children as an inconvenience and disruption to our lives.
The Apostle Paul, in Romans 1, explains to us that everyone knows there's a God. "For the invisible things of him from the creation of the world are clearly seen, being understood by the things that are made, even his eternal power and Godhead; so that they are without excuse" (Romans 1:20) yet many "hold the truth in unrighteousness" (they know the right thing to do but refuse to do it), thus God turns them over to "a reprobate mind" (Romans 1:28). Reprobate means "devoid of all true knowledge and judgment." They no longer can discern between good and evil.
Then in verses 29 through 32, the Apostle gives us a list of what activities those with reprobate minds participate in: "Being filled with all unrighteousness, fornication, wickedness, covetousness, maliciousness; full of envy, murder, debate, deceit, malignity; whisperers, backbiters, haters of God, despiteful, proud, boasters, inventors of evil things, disobedient to parents, without understanding, covenantbreakers, without natural affection, implacable, unmerciful: Who knowing the judgment of God, that they which commit such things are worthy of death, not only do the same, but have pleasure in them that do them."
Do you notice that they are "inventors of evil things"? What are some of those inventions of evil? I believe birth control is a big one. With birth control has come promiscuity like we have never seen before. Even the majority of Christian young people are having sex before marriage and thinking that there's nothing wrong with it. Being able to prevent pregnancy, the bearing of children has become a "choice." Therefore, the evil thoughts have come that couples should only have children who are "wanted" and that fertility is a bad thing. From this thinking has come millions upon millions of babies who have been slaughtered in their mothers' wombs.
Just a few generations ago, the typical family size was six to eight children. This was before birth control was widely being used in America. No one thought anything about having a large family. They knew children were blessings and gifts from God. Now, if a couple is pregnant with their fourth or so child, even Christians will ask them if this is their last, as if having children is a bad thing. The entire thought process of having children has been degraded to the point that children are inconveniences and troublesome instead of as blessings as God tells us.
 I encourage you to measure everything to the Word of God instead of this wicked culture. Just because everyone else is doing something doesn't mean that it is good. God loves children. He tells us to be fruitful and multiply. He desires godly offspring from us and children who walk in truth. Live lives of faith instead of fear. Trust God to be your provider and please, young women, never take your fertility for granted.
As arrows are in the hand of a mighty man; so are children of the youth. Happy is the man that hath his quiver full of them: they shall not be ashamed, but they shall speak with the enemies in the gate.
Psalm 127:4, 5
***If you have a chance, I encourage you to watch Abby Johnson speak about contraception and what Planned Parenthood's goal is for your children. "For so long, women have been told by doctors that the only way to 'cure' their fertility is to break it…Everyone in our society sees fertility as a disease." Abby is happily pregnant with her eighth child!