Women Making More Money Than Men Hurts Marriage
Women Making More Money Than Men Hurts Marriage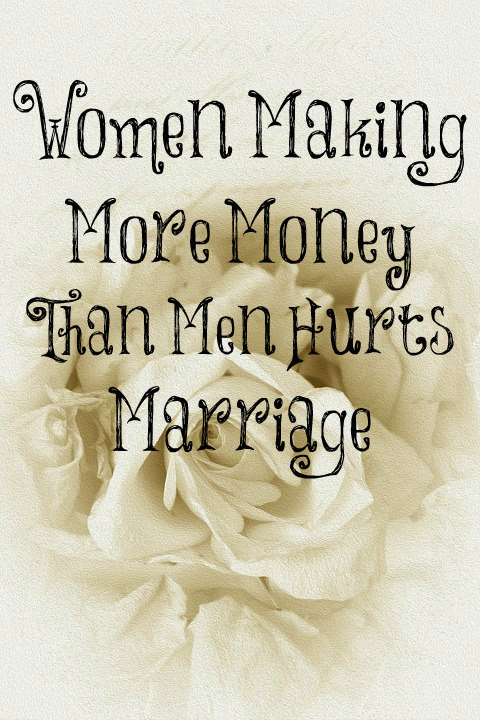 God never intended for women to seek out and conquer men's role in cultures. God has different and perfect plans for women and they aren't the same as men's. A transgender from Texas has won the girl's state championship for wrestling two years in a row. Feminists claim they are equal to men in every single way so they fought to be men. Now, some men are pretending to be women and proving that the feminist's claim is simply wrong. Men and women were created differently for different roles and reasons. We all do better when we stay within our God-given roles.
From an article titled When Wives Earn More Than Their Husbands, Marriages Struggle, "Earlier (and typically widely reported) studies have linked female breadwinners with negative marital consequences. Women making more than their male partners – even just $5,000 more a year – increases the likelihood that they'll divorce, a 2015 University of Chicago study found. This echoed earlier studies suggesting that women's higher earnings increased divorce risk…Women who feel like they're in a higher echelon than their partners were more likely to feel embarrassed or resentful of their husbands' lower status and more likely to be unhappy about it and consider divorce, the authors wrote.
"'We're talking about identity and power here,' says Kate Balestrieri, Psy.D., a clinical and forensic psychologist in Beverly Hills, California. 'Oftentimes men are socialized to think they need to take care of a family, and often that means thinking they need to be financial breadwinners.' If a man feels that way, he might feel like less or a man or threatened if he thinks his partner is taking better care of the family, she says."
Women have attained everything they have "fought" for and all it has done is ruin marriages and culture. God created men to be the providers: to work hard and provide for their families. They are the ones who need the jobs that women are taking over. Most men fall into depression when they cannot find work because they were created to work and provide just as infertile women are deeply depressed when they can't have children since they were created to bear children. Men are also called to be head of their wives and leaders of their families. How can men feel that they are leaders of their families if their wives are making more money when they are the ones called to be the provider? It's all so backwards and never God's purpose!
Feminism has taken women far from God's calling on their lives and how can we expect anything but chaos as a result. How do we respond to this? By obeying God in all areas of our lives because He is good and His plan for us is good. As mothers go home to nurture and teach their own children (raise the next generation) and depend upon their husband's provision, they are being salt and light in a wicked culture. Whenever we obey God and live godly lives, we are being an example to a lost culture of God's goodness to us and that His ways are perfect. Culture needs bright lights more than ever right now because most are lost and floundering. Yes, mothers, as you are caring for your children in your homes and loving your husbands, you are being bright lights to a dark culture.
Ye are the salt of the earth: but if the salt have lost his savour, wherewith shall it be salted? it is thenceforth good for nothing, but to be cast out, and to be trodden under foot of men. Ye are the light of the world. A city that is set on an hill cannot be hid. Neither do men light a candle, and put it under a bushel, but on a candlestick; and it giveth light unto all that are in the house. Let your light so shine before men, that they may see your good works, and glorify your Father which is in heaven.
Matthew 5:13-16
***I have started a page on MeWe which is similar to Facebook but there's no ads, no spyware, nothing like Facebook "jail" if your content isn't politically correct, and so far, I am liking what I see. I am NOT closing down my Facebook page but will be active on MeWe for those who aren't fans of Facebook! Here's the link: https://mewe.com/p/thetransformedwife