God Never Promised a Convenient Marriage
God Never Promised a Convenient Marriage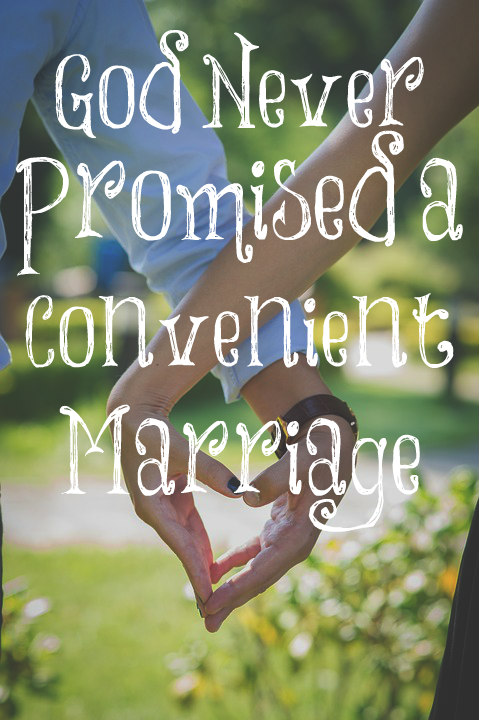 On Saturday morning, I decided to go through the new comments on my old blog Always Learning and either approve or delete them. I seldom do this but I found one written by Pat on the post titled "Should Husbands Ever Discipline Their Wives" (and no, it's not about domestic discipline, as many know today). It was so good that it was worthy of a post of its own!
"It's amazing to me after looking at all these old yet current comments, just how many people simply do not know the word of God like they think. It's sad that in this day and age, there are more and more people who just want to rebel: rebel against God, rebel against their spouse, rebel against a better and more structured way of doing things. God NEVER promised anyone a convenient marriage. If Jesus didn't have it easy then what makes so called Christians think that THEY will? But it can be more gracious and bearable if you simply do what you're supposed to do and called to be.
"Where there is no structure, there is no room for order and God is in fact a God of order. All of the people who have commented negatively on this thread should keep that in mind. Just as Adam was made the leader in the garden, and Jesus was and IS the head of the church, so too is the husband the head of the wife. Scripture plainly says this.
"If a woman can submit to a job, submit to a friend, submit to a cause, submit to a store, submit to a credit card, submit to her pastor, and submit to a TV show that she KNOWS she shouldn't be watching, then she surely can submit to a husband that loves her, takes care of her, and provides and protects her. STOP with all these second grade excuses. Everything I just mentioned, women in general submit to on a regular basis. Regardless of what anyone tells you, no marriage under God can survive for too long, or thrive for too long without structure and order. That's not to say that the husband is to be a dictator, no. There's people who go around thinking and believing that God never told the woman or wife to love her husband. But the book of Titus clearly says the opposite.
"And people in general have forgotten or are too busy to notice that the war between Heaven and hell rages on and we are in the middle of it. Truly following Christ comes at a cost and not many of us are willing to pay that cost, as evidenced by the continued rebellion going on in the body of Christ. When are we going to get it right? When are we going stop with the excuses, get out of our own way AND God's way, stand still and be renewed? There are men and women who say they don't like structure or that they shoot from the hip. But the very universe was BUILT AND DESIGNED off of structure and it functions off of structure. The human body functions off of structure.
"But you mean to tell me, that husbands and wives or in this case wives can't submit themselves to their own husbands when it's God who's telling them to do so? So if he tells you he's going to buy you those new pair of shoes you were looking at if you fixed him a sandwich, how fast would it take for you to fix it? But to honor him, respect him, AND your calling, that's too much, huh? As long as there is rebellion and pride, no marriage under God will be very secure."
Then a woman named Kathy wrote that a wife's submission depends on how good her husband is and if he is loving her as Christ loves the Church. (I hear this often.) Pat responded, "No, not necessarily, Kathy. Sometimes it doesn't matter how good of a servant leader a man or husband is. If that woman or wife doesn't want to submit then she's not going to submit. If a woman or wife is rebellious, then there's nothing that a husband can actually do about it. This is ultimately between her and God. In that type of woman's mind, she sees submission as a form of weakness or more common, control. It only amplifies her real relationship with God as a result. When you're that stubborn or that bullheaded or that rebellious, it's not going to matter. And rebellion is ALWAYS the real reason for lack of submission."
Wives, submit yourselves unto your own husbands, as unto the Lord. For the husband is the head of the wife, even as Christ is the head of the church: and he is the saviour of the body. Therefore as the church is subject unto Christ, so let the wives be to their own husbands in every thing.
Ephesians 5:22-23