Is Dating Better Than Courtship?
Is Dating Better Than Courtship?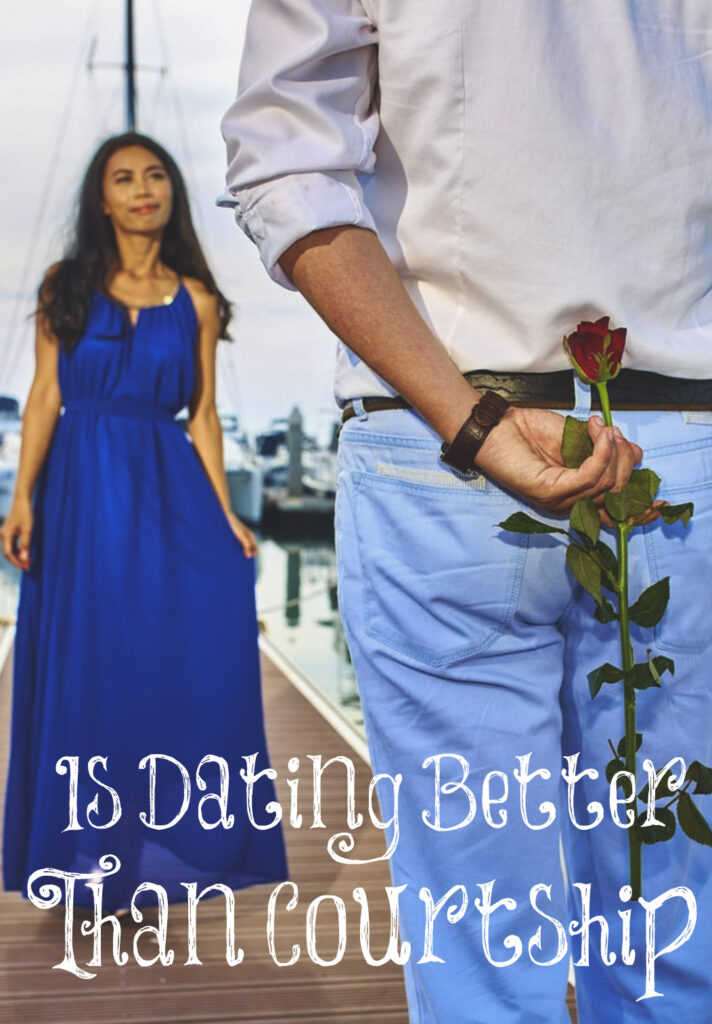 Jinger Duggar said in her interview with People Magazine, "I've seen more people honor God and live a very beautiful life who have dated, and sometimes even better than courtship. I could be so consumed with that – with having a chaperone, with not kissing before you're married, and not holding hands before you're engaged. All of these things that I had set up for myself that now I kind of laugh at."
I grew up in the dating era. I saw dating as a way for couples to fornicate, have abortions, and heartbreak. Dating has led to the divorce culture. The vast majority of dating couples did not remain virgins, and many who were technical virgins were not sexually pure. Can a dating couple remain sexually pure as God requires before marriage? Absolutely but it's not easy and most don't have the self-control to stop some type of a sexual relationship once kissing begins; for it is better to marry than to burn.
From an article called A Brief History of Courtship and Dating in America:
"When one tries to understand how dating has changed over time, and most importantly, how we arrived at the system of courtship and dating we have today, one must realize the monumental cultural shift that occurred during the 1940s, primarily due to World War II. The courtship experience and ideals of those who grew up before World War II were profoundly different from those of teenagers in the postwar years, and the differences created much intergenerational conflict.
"Out of necessity, this cultural confusion has forced Christians to re-evaluate from where we are taking our cues — from the secular culture at-large or from a wise contemporary application of what is taught in Scripture. In many Christian communities there seems to be movement toward rediscovering, or creating anew, some sort of script that conforms itself to the way God created man and woman to relate to each other. New types of courtship systems where family, friends and church communities are involved in the relationship provide support and godly counsel to individuals in a relationship."
What does God's Word say about all of this?
"Now concerning the things whereof ye wrote unto me: It is good for a man not to touch a woman. Nevertheless, to avoid fornication, let every man have his own wife, and let every woman have her own husband…But if they cannot contain, let them marry: for it is better to marry than to burn." (1 Corinthians 7:1,2,9) God knows it's not easy to remain pure once a couple begins touching each other.
How are men commanded to treat young women they're not married to? "…the younger as sisters, with all purity" (1 Timothy 5:2).
"I charge you, O daughters of Jerusalem, that ye stir not up, nor awake my love, until he please" (Song of Solomon 8:4).
"Marriage is honourable in all, and the bed undefiled" (Hebrews 13:4). Most defile their marriage bed long before they are married.
"Flee also youthful lusts: but follow righteousness, faith, charity, peace, with them that call on the Lord out of a pure heart" (2 Timothy 2:22).
Aged women are to teach young women to be chaste (Titus 2:5). Chaste means to be pure from ALL sexual activity before marriage and then complete faithfulness to one's husband once married. God demands our purity. Foreplay and sex are designed for the marriage bed only. Kissing gets the motors running and can easily lead to a lot more. Kissing causes a couple to burn which God commands couples marry rather than burn sexually.
Jinger's parents taught their children boundaries to protect their sexual purity. They were good boundaries. Many of us watched the children go through the courtship process. It was beautiful and romantic! There was no making out or regrets for them which most of us who dated have. If she thinks dating is better than courtship the way her parents taught her, she's wrong for the vast majority of couples who spent their teenage years and early twenties dating and being sexually promiscuous.
Teach your children that God demands sexual purity, not just virginity, before marriage. Help them set boundaries for themselves when they are with members of the opposite sex. In the olden days, couples had to be on their parent's porch or in their homes with their parents around to be together. They couldn't be out alone for hours at a time. Let them talk freely on the phone or FaceTime but the less time they are alone, the safer it is for them. The hormones in the youth are strong!
In this highly sexualized culture, it's more important than ever before to teach your children the beautiful ways of the Lord and help them protect their sexual purity by not giving into the dating culture that is destroying many lives. Many of us wish we were more protected and had more boundaries in the years of our youth, not less. Teach your children to FLEE youthful lusts, not play around them. It's playing with fire.
Flee fornication. Every sin that a man doeth is without the body; but he that committeth fornication sinneth against his own body.
1 Corinthians 6:18
***My follow up post: Courtship Has Boundaries and Accountability. Dating Has Neither.