Jinger Duggar Threw Her Parents Under the Bus
Jinger Duggar Threw Her Parents Under the Bus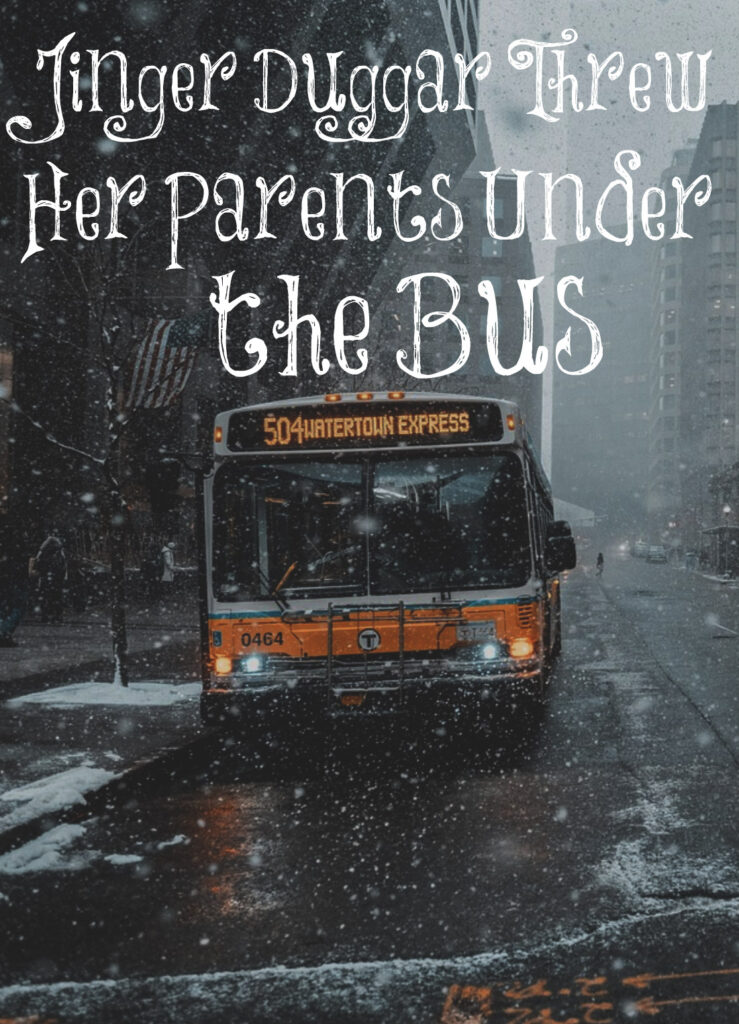 Jinger Duggar is coming out with a new book about her "harmful and damaging" childhood" which had "lasting effects" which caused her to be "fearful and confused who Jesus was." She was interviewed by People Magazine. I took notes so I could make this post true to exactly what she said. She gave no praise or thankfulness to her parents, only condemnation in how they raised her. Her sister, Jill, and her cousin, Amy, are the only ones who praised her on her Instagram. Both of these women also came out against the ways Jim Bob and Michelle raised their children.
Jinger said with the help of her brother-in-law, who I assume is Derrick, Jill's husband, she was able to see clearly many things that were wrong about her childhood. She realized that Bill Gothard was not a Bible teacher. I went to one of his week long conferences when I was in high school. It was like a breath of fresh air to me! All my friends in high school were fornicating and some were even having abortions. Alcohol and drugs were rampant. Most were from divorced homes. Yes, I know all about what he has been accused of doing, and he was most likely NOT the right man to teach the things he did but the churches sure were not teaching anything to help the youth be protected from the escalating wickedness in our generation.
She claimed his teachings were based on "fear, superstition, not knowing what God expected of you…The fear kept me crippled with anxiety…I had to wear dresses only to be pleasing to God…If I stepped out of this, God will be so displeased with me that I could bring harm on myself." She talked about the music they were required to listen to, the friendships they should have, and the courtship standards and that dating could lead nowhere good. She had a chaperone when courting Jeremy with no kissing before marriage. She believed these were the "only way to success in life." Plus, she was taught that drinking alcohol and using birth control were wrong.
Now, she lives in Los Angeles and called it a "busy, awesome place." She doesn't want to shelter her children from other "perspectives on life" and that "God never tells us to do this…If our girls want to go to college, we'll encourage that…see what career they want to do. I'm good with that. That's different than the setting we grew up in."
On her Instagram post about this, one woman responded: "With all kindness, if it wasn't for your family and your upbringing, you would have no platform. Your family was on TV and attracting a huge following of Christian people who wanted to see other wholesome families. Whether it was genuine or not, that's what was the appeal. You and your husband have used that popularity to gain interest in your lives and create your new 'brand.' Honestly, you have only become more worldly and distant from your original fan base. Those that cheer you on now are NOT the people who gave you your platform. They are the same people who mocked your family and all families with deeply held Christian beliefs. They will applaud you moving further away from those values and becoming exactly the same as every other social media influencer who needs constant validation from this worldly culture! The only One who needs to know your story, already does."
I agree with her. Her parents raised their children in the way they were convicted their children should go. Everything they taught their children can be backed by Scripture. God gives commands such as women dressing modestly, discreetly, and being shamefaced, so her parents believed that wearing dresses to the knees obeyed this command. God commands sexual purity before marriage, so her parents didn't want her alone with a man before marriage and felt that not becoming intimate (not even kissing) would help them reach the goal of sexual purity. They were careful what friends their children had since God warns us that bad company corrupts good morals. He commands we mark and avoid false teachers and false doctrines, not listen to other's "perspectives on life" which are most likely worldly.
Jim Bob and Michelle were simply trying to protect their children from this darkening, wicked world and raise their children to live in obedience to God. This is what all of us are called to do! We may have different convictions but they should all be based solely upon God's Word and His commands with no worldly influence at all. No, drinking alcohol isn't a sin but there are far more warnings against drinking alcohol than any saying it's okay. What about birth control? Margaret Sanger is the one who brought the birth control mentality to this land which has ended the lives of over 64 million unborn babies and has led to rampant fornication, divorce, and even couples deciding to not have children. I respect those who trust God with their wombs. I sure don't condemn them.
We must be as wise as serpents and innocent as doves, women. We must raise our children in the nurture and the admonition of the Lord. What disturbs me most about this interview and Jinger's new book is that she has thrown her parents under the bus in a most public way. The world is rejoicing! They love seeing the downfall of believers. They love that Jinger is now wearing short shorts and "living free" from the constraints her parents put upon her. I am not. It saddens me. Her parents don't deserve this. They should be honored as God commands us to honor our parents. They weren't abusive. They were cheerful and fun. I watched every TV show of theirs. Those children had wonderful lives! Yeah, some of Jinger's thinking was bad. So? Most of us had some bad thinking in our childhoods, but it doesn't mean we have to expose it publicly and make a mockery of the way we were raised.
For the grace of God that bringeth salvation hath appeared to all men, Teaching us that, denying ungodliness and worldly lusts, we should live soberly, righteously, and godly, in this present world; Looking for that blessed hope, and the glorious appearing of the great God and our Saviour Jesus Christ; Who gave himself for us, that he might redeem us from all iniquity, and purify unto himself a peculiar people, zealous of good works.
Titus 2:11-14