Keepers at Home Means to Abide in the Home
Keepers at Home Means to Abide in the Home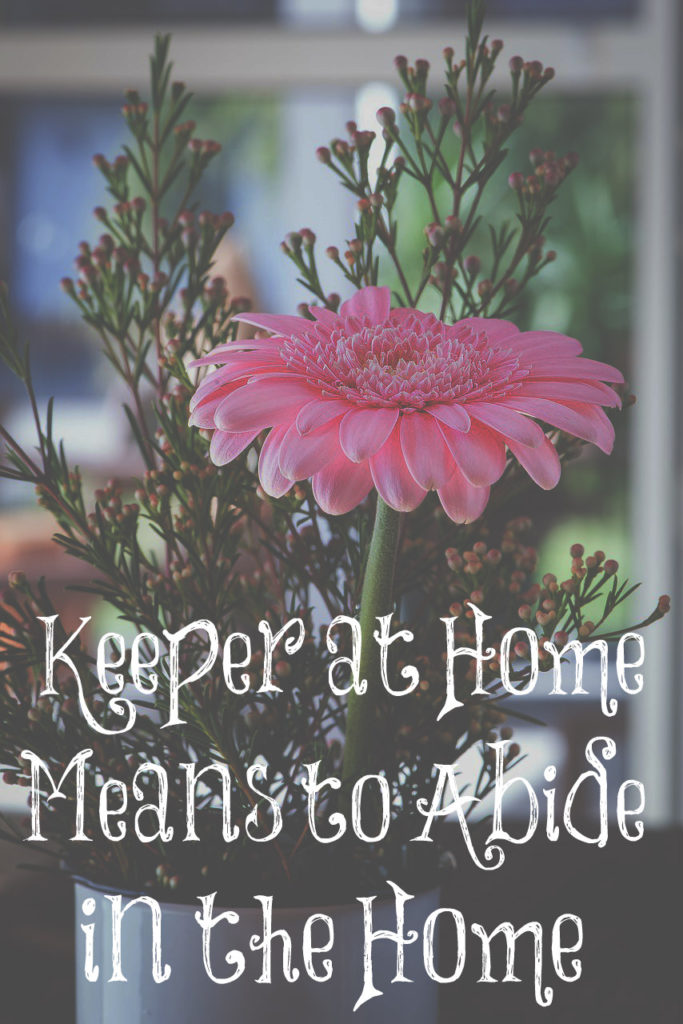 Written By Scott Coltrain "Working Women and Titus 2:5"
For over a half-century, we have witnessed our society depart from God's will in regard to the differing roles and responsibilities that individuals are to play based upon their gender. Feminism, more than any other ungodly philosophy, has motivated American and European societies to reject the fundamental Biblical teaching on gender roles. To even suggest, in this 21st Century, that there are different roles and responsibilities assigned by the Lord for each gender is blasphemous to our secular culture.
Tragically, most churches and their leaders have felt a need to downplay or even reject much of the Scriptural instruction on gender roles for fear of being labeled sexist and promoters of gender prejudice and 'oppression'. For example, decades ago, most Christian pastors, teachers, and counselors in effect tore-out of their Bibles the portion of Titus 2:5 which enjoins that women (especially younger women) are to be "keepers at home." Even those pastor/teachers who have claimed to be 'conservative' or 'fundamentalist' in their approach to the Scriptures have so distorted the meaning of the text so as to render its application void.
One must adhere to what the term meant when it was originally chosen. The fact is, "oikouros" (keepers at home) does carry the idea that the woman is to abide in the home…Does this mean that the woman is completely prohibited from leaving the home? Does this mean that the woman cannot engage in any activities outside the home? No, the term does not support that extreme position. It means that the home is the focal point of the woman's life and career. It means that the home is where the woman employs her time, energy and abilities. In his Biblical Greek Primer, William Mounce says that the woman is to be a "domestic."
Dangers of women working outside of the home:
First, married women who are in the workforce have higher rates of divorce as opposed to married women who are 'keepers and workers at home'. There are a few reasons for this. First, women who work outside the home feel that they should have greater say on how 'their' earnings are spent. This often leads to financial conflicts. Financial conflict is the second most common reason for divorces. Secondly, a married woman who enters the workforce feels less dependent upon her husband for financial/legal security and high self-esteem. Such women are far more likely to divorce their husbands. Thirdly, women who spend a great deal of time with other men in the workplace are far more likely to develop intimate relationships with them which leads to affairs and divorces. Likewise, the women at the workplace are a temptation for the men to pursue.
Secondly, mothers who choose to work outside the home harm the emotional, mental and social development of their children. A secure mother–child attachment is associated with positive peer interactions, social behaviors, emotions, and healthy exploratory behaviors. Children are most likely to experience healthy social–emotional development when they are secure in their attachment to their mothers and when their mothers exhibit attentive sensitivity throughout their childhood. When children spend more time in the care of someone other than their mothers, those mothers tend to show lower levels of sensitivity and there are fewer positive interactions between mother and child (Among those with children under age 18, 40% of working mothers say they always feel rushed). As a result, these children are more likely to experience attachment insecurity, which can lead to negative moods (depression and anxiety) and behaviors.
The top reason I hear by men and women alike to justify women working outside the home is that in our present economy it is impossible for a family to survive on a single paycheck. However, this is a very weak excuse if one is serious about living according to godly standards and values rather than worldly standards and values. A considerable number of Christian men and women have fallen prey to worldly materialism. They yearn for and seek fancy homes, plush furniture and fine home furnishings, the latest entertainment systems and programming, the most up-to-date technological gadgets, the current most popular fashions, the latest vehicle models with all of the available bells and whistles, etc. Such is a far cry from one of the most basic tenets of Christianity – live simply and invest your resources in things that will pay eternal dividends
In summation, Titus 2:5 does command that Christian wives/mothers are not to seek employment outside of the home. They are to be "workers at home." Modern research has 'discovered' the wisdom behind the Lord's injunction of women entering the labor-force. When women work outside the home it weakens marriages and harms the normal inner-development of children. It is time for pastors/preachers/counselors to stand with the Word of God rather than go along with the trends and values of our worldly culture.
Do not be conformed to this world, but be transformed by the renewing of your mind, so that you may prove what the will of God is, that which is good and acceptable and perfect.
Romans 12:2
***For those of you who don't think you can be home full time, please answer these questions: Do you want to be home full time and raise your own children? Have you sought the Lord in wisdom and asked Him to make a way for you to go home? Have you stepped out in faith and researched ways to make money from home? Do you trust the Lord as your provider and that what He commands He provides? Do you live simply and frugally so you can go home? Do you believe that with God ALL things are possible?