Godly Men Prefer Debt-Free Virgins Without Tattoos
Godly Men Prefer Debt-Free Virgins Without Tattoos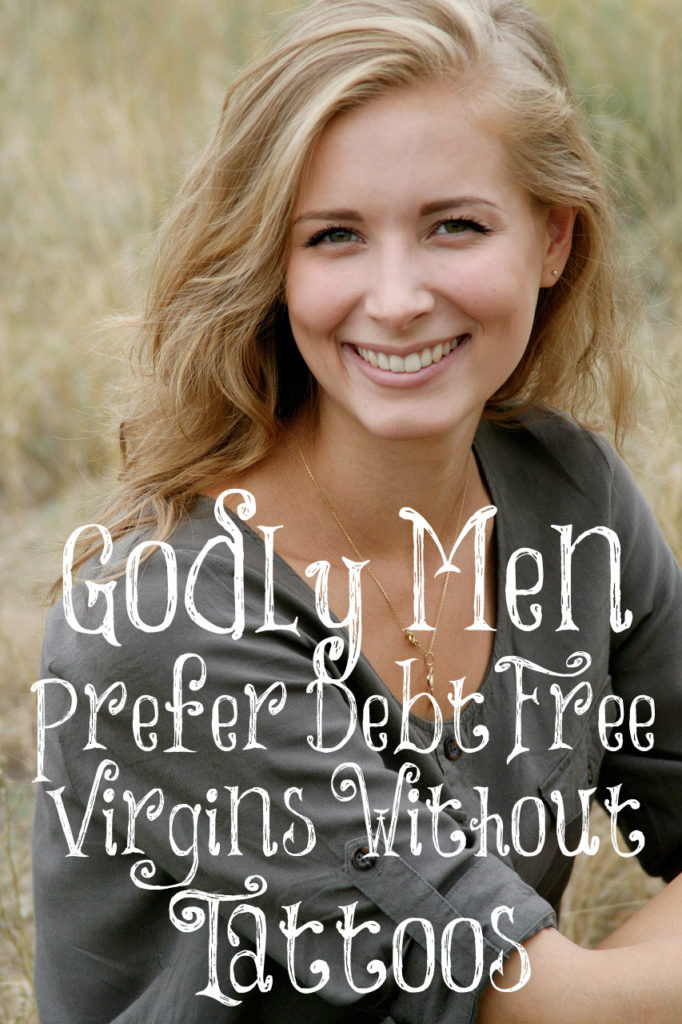 As many of you know, my post Men Prefer Debt-Free Virgins Without Tattoos went viral and is causing quite a stir. I should have definitely titled it "Godly Men Prefer Debt-Free Virgins Without Tattoos." I want to make clear that the audience I teach are those young women who want to learn biblical womanhood as according to God's instructions in Titus 2:3-5. They love the Lord and His beautiful ways.
I have received almost 90,000 comments on this post on Facebook so far and most of them hate it. (I have thousands of comments on my blog awaiting moderation for this post, so I won't be publishing any comments on my blog for a while.) To all of you who are believers in Jesus Christ who have debt and have not kept yourself pure, remember that God has made you a new creation in Christ, washed away all of your sin, and now you walk in newness of life!
One godly, wise woman, Jackie Hernandez, shared my post on her Facebook page with this introduction:
"So many women (and some men) are misunderstanding this article. I agree with it 100 per cent. I wish I had received this counsel when I was younger. So, young women, take heed. I would just add that I believe it is GODLY young men who prefer such a woman. This article will not make any sense to a worldly/carnal man, and plus, their desires are much different than that of a Godly man. So that being said, all praise, honor and glory be to God; I have learned from my mistakes (being in debt, being sexually immoral, and I used to have a desire to get a tattoo but never did). I have been delivered from my ungodly sinful past and am now striving to please Him in all things."
There were a lot of other great comments on Jackie's thread, too, that I want to share with you:
Stephanie: "I agree. Unfortunately, too many women are taught that they don't amount to much outside of a career, yes, even in the church. We need to teach our daughters the importance of being a wife and mother, not shipping them off to college because it's the thing to do. Its very hard to give up a career that you've spent so much money and time on for your family. But as a stay at home mom, who homeschools her kids, I know what even an at home job can do to the family.
"Our kids need someone there for them to help them through the stages as they get older. My quite successful at home business is the one decision I regret, even though we needed it at the time. I would rather live in a trailer and have the time to teach my kids to follow Jesus than have the American dream. I urge every Christian mom out there to not give into the temptation to work while raising your kids. If you can do it, do it. Even if it means sacrifice. You will never regret it; we must train up our children in the way that they should go.
"The world will teach them to think differently, this is a battle we must fight for. The influences are very strong, even for those who are homeschooled and active in church. The worldly influences are there, too: they're on social media, they're in worldly music, and they're in movies and TV. We are living in the days of Noah, and we need to protect our children from the evil in the world, and this is not an easy task, but I can say, that when you have done this, you will know that your children are ready to face the world with Jesus, and you will have no fear, because they are grounded in the truth. That is the best feeling ever."
Aaron: "Great post! Sure to stir up the Facebook friends.
"Tattoos are sin:
Leviticus 19:28
Ye shall not make any cuttings in your flesh for the dead, nor print ANY marks upon you: I am the Lord.
"Fornication is Sin:
1 Corinthians 7:2
Nevertheless, to avoid fornication, let every man have his own wife, and let every woman have her own husband.
"Debt is slavery:
Proverbs 22:7
The rich ruleth over the poor,
and the borrower is servant to the lender.
"This article is speaking to young ladies who might consider getting a tattoo. We know that it is better for a girl not to get a tattoo. If she has a tattoo, it is not something she should be proud of, but it should be a tool that she uses to teach other young ladies not to get tattoos. She should do her best in public to cover her tattoos up. People with tattoos go to heaven, as long as they are repentant of all their past ones, and do not glorify them in the future. Having tattoos, having drank, having smoked, having strange piercings – do any of these things discredit a repentant Christian from being all that they can be for God? No. But I am not proud of anything that I have done, or the scars that I bear for my sins. Lori Alexander spoke 100% what I would say to my future daughters as they grow up."
Jackie Hernandez to Laura who was offended by my post: "You're misunderstanding her. She is speaking to young ladies – to women who are not in debt and planning to get loans for college, etc. Those who currently do not have any tattoos and are still virgins. She is warning them and giving them counsel: encouraging them to not ruin their feminine, soft, and delicate skin, to not go into debt because bringing that in a marriage is a burden and can get in the way of raising Godly children and from having any time to please their husband and being a keeper at home, because they'll be working trying to pay off their debt and to remain pure before marriage – to be the women God created us to be for our future husbands. The way it should be. God's way.
"Sister, if we read the article in the flesh, then it will surely offend us. But if we read it in the spirit, it should not cause us any offense. I am not a virgin (I was a very sexually immoral woman), and I currently owe some debt which I hope and pray I am able to pay off before marriage because it would be a burden for not only me, but my husband and future children as well. This article did not offend me whatsoever. Pure women, debt-free, and tattoo-free are definitely more attractive and more desirable to a Godly man. The reason that is, is because it's the way God created us. It's the way God wants us to be but sadly, many of us have sinned in those areas. However, that does not change the fact that following God's ways is more attractive.
"Tattoos ruin the beautiful skin of a woman. God created us as feminine creatures with soft and delicate skin. Tattoos take that away but that is not to say we have not been forgiven. We are forgiven if we repent and no longer defile our bodies. But this is simply the truth. Also, that does not mean a Godly man will not desire you. It just means that having tattoos is less attractive because that is not the way God made us – with tattoos. The way God made us IS attractive; there is no denying that fact if we believe that everything He has created is GOOD.
"Entering into a marriage covenant in purity and becoming one flesh with only the man God gave us. It's a beautiful thing – having no other soul ties. This article actually encouraged me to teach my future daughters that God's ways are best and truly beautiful (which I wish I was taught when I was younger) and tell them about the consequences of following after the ways of the world."
Stephanie to Laura: "No one is condemning you. I don't know why you take offense to the article. A godly man may desire a woman because of her faith, despite her tattoos, debt, and lack of virginity, but he will never be attracted to her because of those things. Yet, a godly man may find a woman who has kept herself pure, her body free from worldly corruption, and free from debt attractive because it is evidence of her true faith.
"I plan to teach my daughters to think about how their actions will affect their future husbands. They are preparing to be wives and mothers. Fornicating, marking our bodies, and becoming burdened with debt (all unbiblical things) are not things that would have our future husbands in mind. You said that you teach young women, but aren't you concerned that one of these young women might be emboldened to get a tattoo because you have one?
"I hope that you are careful to cover them so that you do not cause a sister or daughter in the faith to sin, without even knowing it. Maybe someone who sees you in this position and notices your tattoos says to themselves, 'well Laura has one, so it's not really so bad,' and justifies their sin this way. Yet, if their godly mentor and teacher has kept herself pure in these things, she is a greater encouragement to the girls, because she is an example that with the Lord's power, it can be done.
"A man who has been divorced and remarried can never be a preacher or a deacon in the church. Not because he is not washed and cleansed of his previous sins, but because he is a bad example. This is not condemnation, just the fact. Would you rather not put yourself in a position to cause others to sin? So yes, we still deal with our past in a way, but we are not to judge others according to the flesh. It would not be right to judge you by your tattoos and decide you were an ungodly woman but that doesn't mean it's attractive."
Robyn: "I have a tattoo and bad pasts and I can use it all to show young ladies my regret and express to them not to make permanent decisions at a young age. And also express God's perspective on these things. It also helps me to boast in my weaknesses. And the power of grace which dwells upon me. We can't pretend the tattoos are invisible when they aren't and we also must be realistic that the consequence of such sins do follow us into the future. Though they won't go into heaven with us; we will deal with them beforehand.
"It's like having several dads to multiple children. One can repent, but the fathers don't go away and we must deal with what we have done. Our new spouses must also deal with this truth. I cover my tattoo and apologize when it shows. I also glorify God when the opportunity to speak the truth of God's disapproval on tattoos and plant that seed when it happens. All things work together for the good."
Beau: "Godly men prefer debt-free virgins without tattoos. I'm actually a godly man, and no matter how many times you tell yourself it's not true, if you are without the humility to admit the truth to yourself, you might not be as desirable as you think."
Chad: "I have a tattoo, was in debt when I married my wife, and was not a virgin and I 1000 per cent agree with the article. Every one of the items was my rebellion and sin against God and I just was blessed with my wife."
In conclusion, I want all of you to not just take what I write and believe it all to be true. Search the Scriptures for yourself and find truth there. I am human and fallible. I don't expect anyone to agree with me all of the time. I only agree with the Bible 100 percent! I try very hard to stay true and faithful to the Word of God. I have studied it for many years.
Along with teaching from the Word, I teach from my life experiences since I am 60 years old in a few weeks and have been married almost 38 years. I have raised four children to adulthood and now am enjoying being a grandmother. I am NOT the final authority on Truth. Only God's Word is so please, be a Berean and study the Word for yourself so you can easily distinguish between truth and that which is not true. Make sure your convictions are based upon the Word of God.
These were more noble than those in Thessalonica, in that they received the word with all readiness of mind, and searched the scriptures daily, whether those things were so.
Acts 17:11