Are Tattoos Sinful?
Are Tattoos Sinful?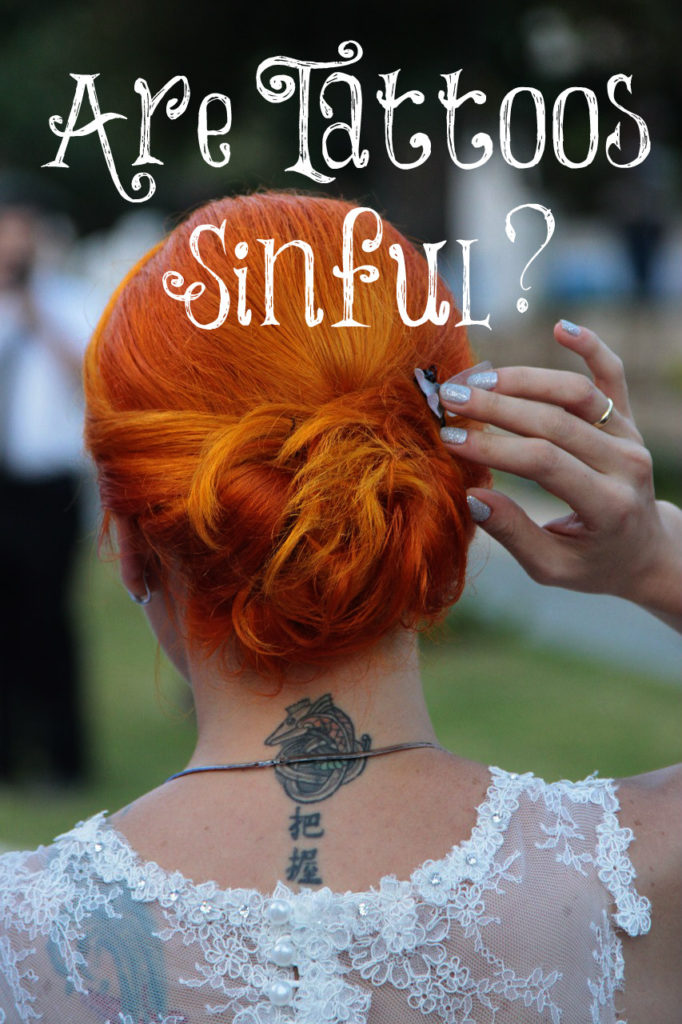 Tattoos was a hot topic of conversation on my viral post. In all of the years that I have been blogging, I have never written about this topic. I had never even thought about it much until my viral post. I do know that I have never wanted a tattoo and when I was growing up, we knew that tattoos weren't for godly women. The more I have thought about tattoos, the more solid my convictions have become against them.
I want to make sure that you all know that having one or many tattoos will not keep you from eternal life with Jesus Christ. The only way to be saved from the wrath to come is to "confess with thy mouth the Lord Jesus, and … believe in thine heart that God has raised Him from the dead" (Romans 10:9). The convictions that I am going to share are my convictions and you will have to study the Word to come to your own.
Most people today, even those who call themselves Christian, follow along too easily with the flow of culture instead of examining their actions to see if they are compatible with the Word of God. Let's first see what God's Word has to say about tattoos.
"Ye shall not make any cuttings in your flesh for the dead, nor print any marks upon you: I am the Lord" (Leviticus 19:28). Yes, this verse is from the Law which we, as believers in Jesus Christ are no longer under ("For Christ is the end of the law for righteousness to every one that believes" – Romans 10:4). However, we can know the heart of God by what is in the Law and we can see that His heart is for us to not cut our flesh or put any marks upon us (no, not even the mark of the beast!).
Secondly, women are commanded to be "shamefaced" (1 Timothy 2:9) and modest which means to do nothing to draw undue attention to ourselves. Tattoos draw attention. I always notice them on people if they are visible.
We are also commanded to be discreet. Discreet means "wise in avoiding errors or evil; cautious; wary; not rash; reserved; showing good judgment in conduct." Before we take any action, especially something like getting a tattoo, we must carefully consider if this is being shamefaced, modest, and discreet as the Lord has called us to be. Is it showing good judgment?
I know there are many reasons women have for getting tattoos and I'm not going to judge those who have them or think any less of them. I am simply appealing to those of you who are considering getting one to ponder if they are feminine and the right thing to do.
Another thing to consider is that we are the temple of the Holy Spirit. There are certainly risks in getting tattoos. They can cause an allergic reaction, skin infections, bloodborne diseases including methicillin-resistant Staphylococcus aureus (MRSA), hepatitis B and hepatitis C, and MRI complications. This is just too risky in my opinion.
There are also studies that show that men think women are more "sexually available" who have tattoos, so no godly woman would want to give the impression to men that she is sexually available by having tattoos. From Psychology Today, "While men see tattooed women as less attractive, they also see them as more promiscuous." We want to live our lives above reproach. Many regret having tattoos later in their lives and they do get uglier with age.
Whatever you do, women, make sure you study the Word and ask the Lord for wisdom. Don't simply follow our culture on the broad path that leads to destruction. We are called to be set apart and holy in all of our ways with the Holy Spirit working mightily within us. "All things are lawful for me, but all things are not expedient: all things are lawful for me, but all things edify not" (1 Corinthians 10:23).
What? Know ye not that your body is the temple of the Holy Ghost which is in you, which ye have of God and ye are not your own? For ye are bought with a price: therefore glorify God in your body, and in your spirit, which are God's.
1 Corinthians 6:19, 20