Living According to Your Nature Brings Happiness
Living According to Your Nature Brings Happiness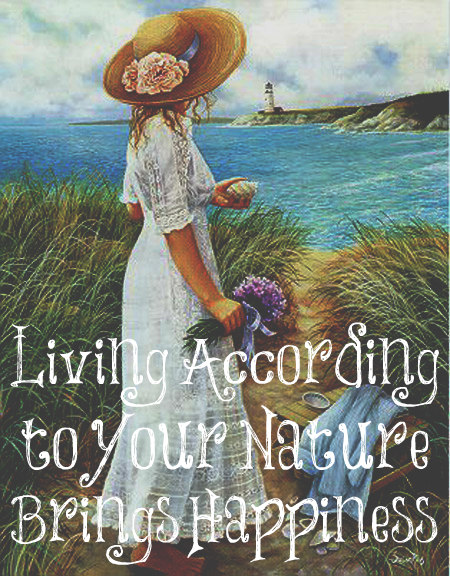 Suzanne Venker wrote a great article entitled "Four Feminist Lies That are Making Women Miserable." On her Facebook yesterday, she shared some of the comments she had received from this article. Here is one that struck me the most. There was no name listed so it will go as anonymous.
"Living in accordance with your nature is what will bring happiness. Women have no idea how to live like a man, so instead, they ape men and thereby come off as perverse and ridiculous. It is a false masculinity that brings unhappiness. Feminism caused all this dysfunction, which has made everyone unhappy. Feminism has been the single most destructive force unleashed on the West since the end of the Bronze Age, and it will be the death of our civilization. Left and Right both have completely internalized the feminist framework, which includes disdain for tradition, resentment of men, the compulsion to ape masculinity, sexual neuroticism, a victimization fetish, entitlement, the prioritization of the self over any other consideration, including husbands, children, and family, and the destruction of masculine institutions, the churches, public and private education, and Western culture."
She sure nailed it. Feminism has caused women to go far from God's will for them and caused destruction in its path. No, I don't rejoice when I see women coming back from the military to surprise their children. I grieve for the children these women left behind to do something that God hasn't called them to do. I don't rejoice when I see yet another mother going to medical school to become a doctor. I weep for the children who will receive very little of her time. God has created men to be the providers so women can be home with their children.
I tweeted this yesterday: "It's a silly thing for women to say that they don't need a man. Societies are built by men. The home/apartment they live in was built by men. The building they work in and the car they drive was built by men. Almost everything they use on a daily basis was created and made by men." Of course, women tell me all these things that women invented (which aren't many) in order to put down men's accomplishments, yet it's still men who build the factories and make these few things that women invented.
I would love to see the war between the sexes in Christian marriages and in the churches end. Let's go back to the old paths that God created for us where men and women work in harmony together. It's Satan's plan to cause division and hatred between the sexes. It's destructive when famous female "preachers" tweet about the misogyny and sexism in the churches. This only furthers the division! Instead of teaching God's role for men and women, they promote the opposite.
Wives and husbands are to work in harmony in the home together. The man being the protector and provider while the woman bears the children, cares for her husband, children, and her home. In the churches, the elders are the leaders in the churches while the women learn in all subjection as Scripture commands. In society, it should be the men leading. Women are making a mess out of everything as they are trying to lead. God never ordained them to do this. God is a God of order. Their place is in their homes with their families and creating strong families and communities.
Live according to your God-given nature, women. Love being feminine and be thankful for the masculinity of your husbands. Love being a woman. Love your husband. Love your children. Be a keeper at home. Love learning from the male elders in your churches and from your husband. Love the old paths that are good and bring happiness. In this, you shall find rest for your souls because you aren't fighting against God's perfect will for you. Sure, you will still go through times of suffering and trials. We all will but there will be a lot more joy and happiness in your life when you obey God and travel along His path that He has set for you.
Thus saith the LORD, Stand ye in the ways, and see, and ask for the old paths, where is the good way, and walk therein, and ye shall find rest for your souls. But they said, We will not walk therein.
Jeremiah 6:16