Christmas Was Not Originally a Pagan Holiday
Christmas Was Not Originally a Pagan Holiday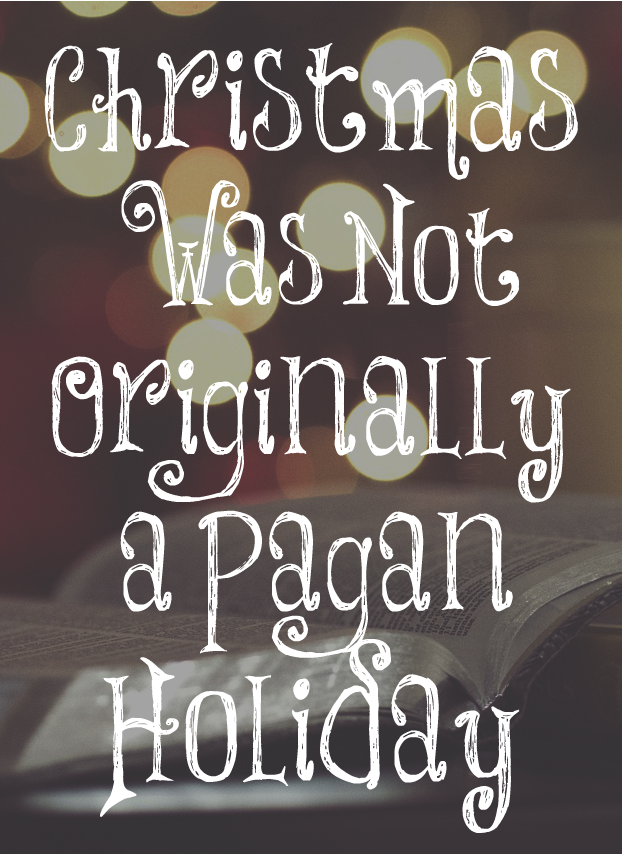 "And suddenly there appeared with the angel a multitude of the heavenly host praising God and saying, 'Glory to God in the highest, And on earth peace among men with whom He is pleased' (Luke 2:13, 14). If the hosts of heaven can celebrate Christ's birth, why can't we? So what if the date isn't exactly the same date that Christ was born? It's a day set apart to celebrate and thank God for sending His Son to be the Savior of the world. We celebrate it and the entire celebration revolves around Christ's birth and spending time with those we love. (We threw Santa out when our children were very young. We wanted them to know that Christmas was about Christ not Santa.)
Some Christians today don't celebrate Christmas because they believe that it has pagan roots. Is this true?
Here is what Lindsay Harold wrote about this topic:
"There is a myth circulating that Christmas was originally a pagan holiday. Some claim it was proclaimed by Constantine to be on or around the winter solstice in order to placate the pagans and borrow their celebration. Some claim it was borrowed from the pagan Sol Invictus festival. None of these are true, and I can prove it with a single piece of evidence.
"Here is a quote from Hippolytus of Rome in his commentary on Daniel, written around 202 AD:
"For the first advent of our Lord in the flesh, when he was born in Bethlehem, was December 25th, Wednesday, while Augustus was in his forty-second year, but from Adam, five thousand and five hundred years. He suffered in the thirty-third year, March 25th, Friday, the eighteenth year of Tiberius Caesar, while Rufus and Roubellion were Consuls."
"Here we have a claim from the very beginning of the third century that Christ was born on December 25th. This may or may not be the real date of Christ's birth. But we do know that Christians were claiming this day as the date Christ was born at least as early as 202 AD.
"The festival of Sol Invictus began in 274 AD, some 72 years later. Thus, if there were any borrowing going on, the pagans stole the date from the Christians, not the other way around.
"Constantine became Emperor in 306 AD, which was even later. He could not have been the source for the December 25th date either.
"And so dies the myth that Christmas is really pagan and we should not celebrate it because of that. Facts are often hard on conspiracy theories.
"If you would like to take a look for yourself, here's a handy online translation of the Daniel commentary written by Hippolytus. You can scroll down to page 140 to find the quote."
Another woman researched this topic and came to the same conclusion that Lindsay came to: "A lot of websites offer false beliefs about Christmas as being pagan or of pagan origins, but if one looks for valid historical sources for these beliefs, one will not find any. Such beliefs cannot be supported historically or factually. Cults promote such false beliefs, as do many non-Christians. This invalid information is taken to be true by misinformed Christians and non-Christians." (She has many links on her site for more information.)
And no, we don't worship our Christmas tree and I don't know anyone who does. It simply makes a home warm and reminds us of this special celebration. We give gifts as a reminder of the great gift of Jesus Christ. We esteem Christmas above other days as a day to remember Christ's birth. "One man esteemeth one day above another: another esteemeth every day alike. Let every man be fully persuaded in his own mind" (Romans 14:5).
For unto us a child is born, unto us a son is given: and the government shall be upon his shoulder: and his name shall be called Wonderful, Counseller, The mighty God, The everlasting Father, The Prince of Peace.
Isaiah 9:6
***Here is an informative video on this topic: Is Christmas based on pagan traditions?