The Salt and Light Argument For Public School
The Salt and Light Argument For Public School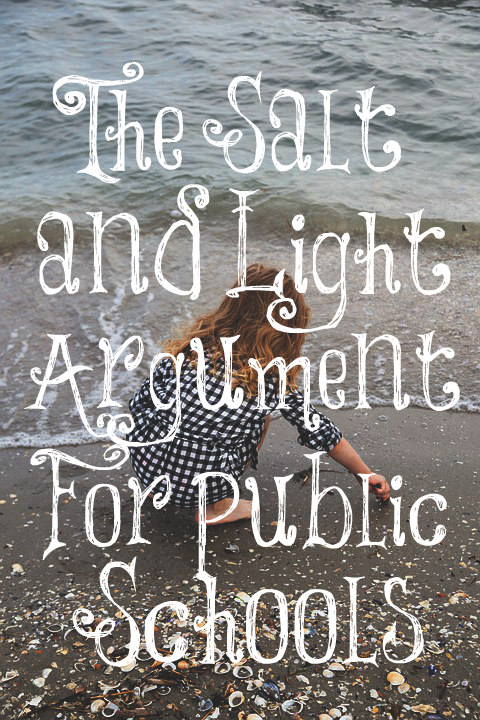 If  you watch the news at all, you can see that the public schools are allowing more and more immoral things being taught to the children. I wrote this on Facebook recently, "I see many Christian women on Facebook warning mothers about what their children are being exposed to in the public schools. Get them out! It's way past time that any Christian children should be in public schools. Your children NEED your protection."
Of course, I received a ton of comments scolding me for writing this and how their children need to be salt and light in the public schools. I asked the women in the chat room for responses to this comment and here are how a few of them responded:
Nicole: "We don't send soldiers into battle until they've been fully trained and equipped for battle. In the same way, children are not equipped to be salt and light until after they've been fully trained. They aren't prepared for spiritual battles when they are young."
Deena: "I'd tell them very bluntly, sorry, but no matter how wonderful you think Bobby and Susie are, most children are not going to be equipped to do that in the environment that public schools are. They themselves are still learning and growing in their faith. Its not just other children they will have to contend with  but educators, administrators, other staff, and godless curriculum set by the state. Why set them up for that kind of seven hour a day, five days a week, ten months out of the year onslaught?"
Kylene: " I would tell them that when I taught, I saw the opposite happen. The Christian kids didn't influence non-Christian ones. The non-Christian kids influenced the Christian ones."
Paige: "Most ADULT believers struggle to stand against the grain of popular culture. So why would you put an immature child in that position?
How is your child going to be 'salt and light' when kids make fun of them for not watching porn? How is your child going to be 'salt and light' when their teacher, who they are supposed to learn from and respect, is an atheist? How is a child supposed to argue the theory of evolution when they are not equipped to stand against the adults teaching it to them?
"How is a child supposed to be 'salt and light' when sex ed now pushes masturbation, homosexuality, and exploring which gender you want to be? "But whoever causes the downfall of one of these little ones who believe in Me—it would be better for him if a heavy millstone were hung around his neck and he were drowned in the depths of the sea!" (Matthew 18:6) This verse should put the fear of the LORD in parents. WE are responsible for protecting our children."
Lindsay: "Children are not missionaries. They are mission fields. They are pliable and ignorant and vulnerable. They need protection and training before they will be ready to stand firm for the faith and bring others to Christ. We cannot send them into hostile territory to be trained by our opponents. It is foolish and senseless. Our children will become casualties instead of warriors if we do.
"It's called rationalization. People find reasons to support what they want to do anyway. They want their children in public schools because it's easier and cheaper and gives them freedom to do their own thing during the day, so they tell themselves there is a more noble purpose rather than just convenience for sending their children into a system that teaches a godless worldview."
Meredith: "I echo what everyone above said. I'd also like to add that it took Jesus three years of day-in and day-out discipling, teaching, and training the 12 disciples (grown men who were already well versed in the Old Testament) in order to prepare and equip them for mission work. How much more should it take us to train and disciple our children for the calling God has for them? Gardeners don't transplant greenhouse plants out in the elements until their root system is firmly established; when Christians throw their spiritually naive and immature children into a powerful state school system in order to 'evangelize' they are sending them on a fool's errand."
He that walketh with wise men shall be wise: but a companion of fools shall be destroyed. Proverbs 13:20
Do not be deceived: "Bad company corrupts good morals." 1 Corinthians 15:33