Love Does Not Mean We Accept, Tolerate, or Approve of Sin
Love Does Not Mean We Accept, Tolerate, or Approve of Sin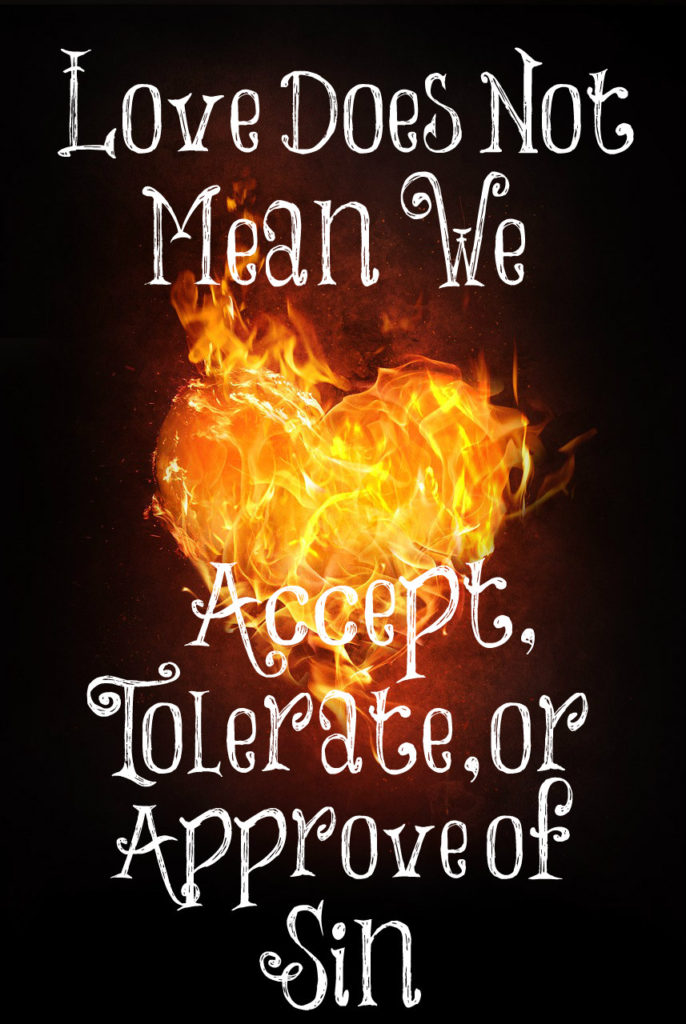 Written By David C. Cook
THE WORLD AND MANY CHURCHES HAVE A "FALSE VIEW" OF LOVE.WE MUST NOT REDEFINE WHAT TRUE GODLY LOVE IS ! TRUE LOVE IS NOT DEVOID OF THE HOLINESS OF GOD AND DOES NOT COMPROMISE WITH SIN.
A.To many 'love' means we must accept, tolerate and even approve of sin and never speak out against it and to never give a word of warning or correction concerning false doctrine or ungodly living. But this is a false worldly love.
1. True love speaks the Truth and will not compromise even if it offends others but it may convict others and set them free as they obey the Truth. Jesus Himself called men to repent or perish. Jesus Himself warned of eternal hell. Jesus said in John 7:24 to 'judge with righteous judgment.'
2.Many churches have "redefined" what real love is and will allow all kinds of sin and false doctrines to infect the church and therefore will cease to be a real church. At all costs they must stay positive and upbeat and avoid anything that deals with real serious issues.They lack real substance because they lack biblical Truth.They entertain and keep things shallow! They seek to make everyone happy even if it grieves the Holy Spirit!
3.Today it's happiness instead of holiness. Its "compromise instead of commitment" to the Truth. It's about pleasing people instead of pleasing God. What ever happened to holiness? What ever happened to preaching against sin? What ever happened to training true disciples who have a holy passion for God? What about preaching Christ and the attributes of God ?
4.When I read my Bible and read all of what Jesus taught and read all the New Testament inspired letters I see a loving, godly zeal for truth and I see many very serious warnings and rebukes along with many serious exhortations.
B.WHY DID GOD GIVE US HIS HOLY WORD?
2 Timothy 3:16″All scripture is given by inspiration of God, and is profitable for doctrine, for reproof, for correction, for instruction in righteousness.' Are we really hearing the Word of God today?
1.Doctrine – Tells us what is right.
2.Reproof – Tells us what is not right.
3.Correction – Tells us how to get right.
4.Instruction in righteousness -T ells us how to stay right. And we need all four in our lives by allowing the Word of God to teach us sound doctrine, to reprove us,to correct us and to teach us to live a godly and righteous life in a very ungodly world!
C.What does the bible say about this? 2nd Timothy 4:2-4 "Preach the Word, be instant in season, out of season, reprove, rebuke with all long-suffering and doctrine. For the time will come when they will not endure sound doctrine, but after their own lusts shall they heap to themselves teachers, having itching ears. And they shall turn away their ears from the truth,and shall be turned unto fables."
SCRIPTURES IN PROVERBS TO STUDY.
1.Proverbs 10:17 "He is in the way of life that keeps instruction, but he that refuses reproof erreth."
2.Proverbs 15:10 "Correction is grievous unto him that forsakes the way and he that hates reproof shall die."
3.Proverbs 15:31 "The ear that hears the reproof of life abides among the wise."
4.Proverbs 15:32 "He that refuses instruction despises his own soul, but he that hears reproof gets understanding." VERY FEW WANT A MESSAGE OF REPROOF. WHAT DOES THAT SAY ABOUT MOST CHURCHES THESE DAYS? A POPULAR MESSAGE IS ONE THAT PLEASES THE FLESH.
5.MANY NEED TO READ THESE HOLY SCRIPTURES OVER AND OVER AGAIN. WE HAVE MANY 'ITCHING EARS 'TODAY ! WE HAVE MANY FOLLOWING TEACHERS THAT TELL THEM WHAT THEY WANT TO HEAR AND NOT WHAT THEY NEED TO HEAR ! Notice it says 'but after their own lusts they shall heap to themselves teachers, having itching ears.'
D.Many 'professed believers' follow their own desires and do not follow Jesus and they look for teachers who will tell them whatever their itching ears want to hear. Many have a distaste for Truth and if you bring a word of rebuke or correction they will then rebuke you for not being loving.
1.You will be accused of being mean and not tolerant and having a judgmental critical spirit.
They sure show a lack of discernment and a lack of what the bible really teaches.
2.I mean read the scriptures in this post and if you do not agree with God then you have an issue with Him. The fact is many do not want the Truth,' 'they turn away their ears from the truth.' Why? Because they want to please their fleshly desires.
3.STUDY BIBLE NOTE: "Many within the churches will no longer tolerate sound biblical teaching. Those who turn from the truth will want preaching that demands less than the true gospel. They will not accept God's Word when it speaks of repentance, sin, the judgments of God, the necessity of holiness and separation from the world."
LET US PREACH, TEACH AND WALK IN THE TRUTH. OUR GOAL IS TO PLEASE GOD NOT TO COMPROMISE WITH THE CROWD.