Making It Easy For Your Husband to Not Lust
Making It Easy For Your Husband to Not Lust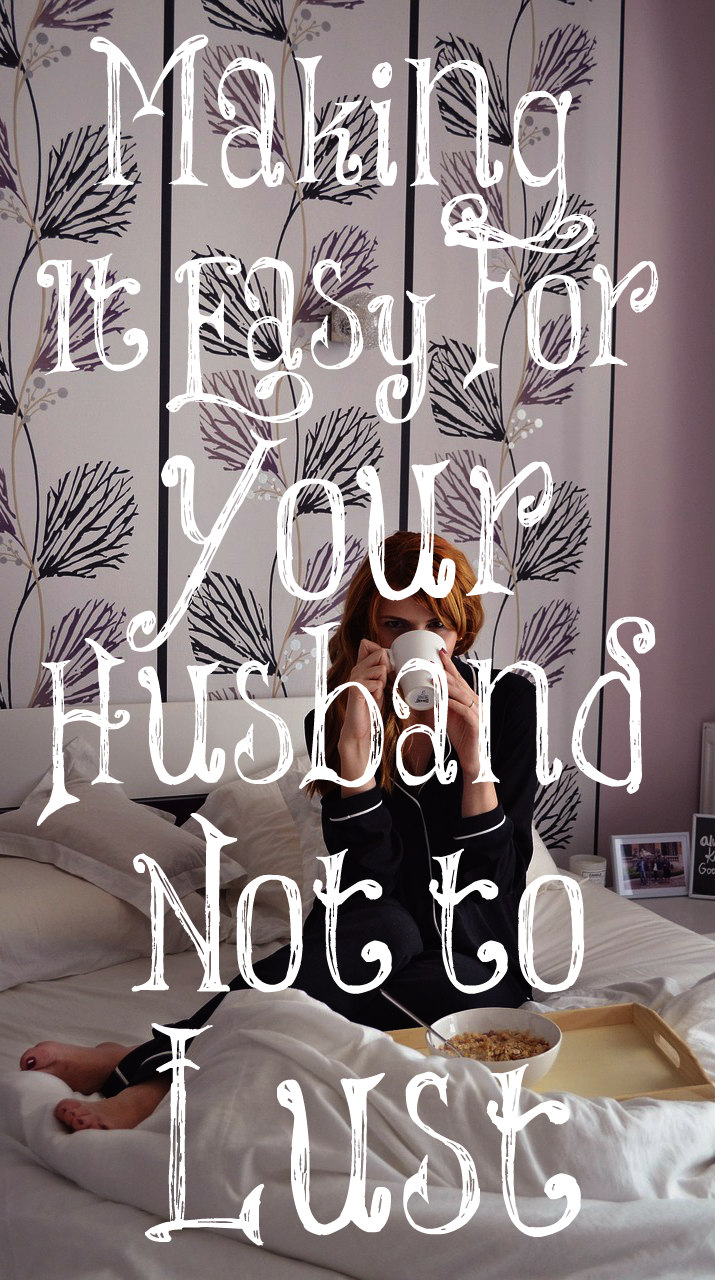 Written by Trey 
It is possible for a Christian man to train himself and his eyes to not look at and lust after another woman but I will tell you the best way that a wife can help her husband to win in this never ending battle. By being obedient to scripture, she actually can make it easy for him to not be tempted to look at and lust after other women. If she is disobedient to the scripture, she makes it much more difficult for him to win this battle. Wives, you were created to be a helper suitable for your husband. Here is one of the primary ways that you were created to help him.
1 Corinthians 7:3-5 – The husband should fulfill his marital duty to his wife, and likewise the wife to her husband. The wife does not have authority over her own body but yields it to her husband. In the same way, the husband does not have authority over his own body but yields it to his wife. Do not deprive each other except perhaps by mutual consent and for a time, so that you may devote yourselves to prayer. Then come together again so that Satan will not tempt you because of your lack of self-control.
Proverbs 5:18-19 – May your fountain be blessed, and may you rejoice in the wife of your youth. A loving doe, a graceful deer— may her breasts satisfy you always, may you ever be intoxicated with her love.
A wife should absolutely make it one of her highest priorities to keep her husband 100% sexually satisfied at all times. She should do this by visually pleasing him (your husband takes pleasure in seeing you in various states from all the way clothed to completely naked and every way in between), physically satisfying him (sex in all of its lawful forms), and emotionally nourishing him (your arousal, participation and response). All of these are critical. Your husband should sexually want for absolutely NOTHING…. ever, as long as you are not Providentially deterred (injury, sickness, etc.).
By doing this, you will make winning this battle (against lust) for your husband infinitely easier (almost effortless in most cases). Failing to do your "duty," will make your husband's life much more difficult (miserable) and he will be unnecessarily forced to (wastefully) expend energy to win the (never ending) battle against lust that he could be (gainfully) spending on other things, like serving the Lord, ministering to others and loving, caring for and nourishing you and your children.
Wives, you hold the keys to so many of the riches and blessings that can come from a Godly marriage if you will just choose to be obedient and do it.
Ken's additional comments on this subject:
Trey is speaking of an important Biblical truth that has been lost in many Christian marriages. Regular intimacy two to three times a week is God's prescription to vaccinate a marriage against infidelity and porn. The gift of a sex drive that God has been given to create closeness between husband and wife is often trampled upon by long hours at work, stress, and the challenges of every day life. For this reason, the spouse who wants sex needs to say so, and the other spouse oblige in as timely a manner as possible, just as God has proscribed.
If a spouse is withholding regular sex, they are living in sin and selfishness; barring injury, sickness or extraordinary circumstance. I am not talking about the occasional headache or "not now honey," but the regular denial of sex that violates one's wedding vows to love and serve the other. It's easy to mistake that such sins only affect the bedroom when in reality they affect all of a marriage and family life. It is true that each spouse must own their own sin, and withholding of sex can never be justification for the sins of fornication by the offended spouse.
But when Christian couples are not doing things God's ways, Satan can take the stronghold and wreak havoc on a marriage and in turn the entire family. How many children are gravely harmed by a mother who refused to love dad the way she promised she would on her wedding day, or dad who felt betrayed seeking sex elsewhere, only to find that the fleeting moments of sex has destroyed his family?
Thank you, Lord, that even in the midst of our disobedience to the Word, you beckon us to quickly return to your will and ways, and from the ashes of our sins you can and will redeem us! Wife or husband, if you are withholding sex, or into porn, don't walk, but run to the one you have harmed and beg their forgiveness. Find joy in serving your Lord and in turn honoring Him at His Word. He will then honor you, and not turn his back on you in the day of judgment.
Do not be one of those "christians" who go to church every Sunday arms in the air and singing His praises all the while carrying hidden rebellion in your heart. For sin and Christ are not compatible, and God's blessings are not derived from sin but from living out righteousness from our love for God.
 Choose you this day whom ye will serve; but as for me and my house, we will serve the LORD.
Joshua 24:15