Feminists' Leaders Had Terrible Mothers
Feminists' Leaders Had Terrible Mothers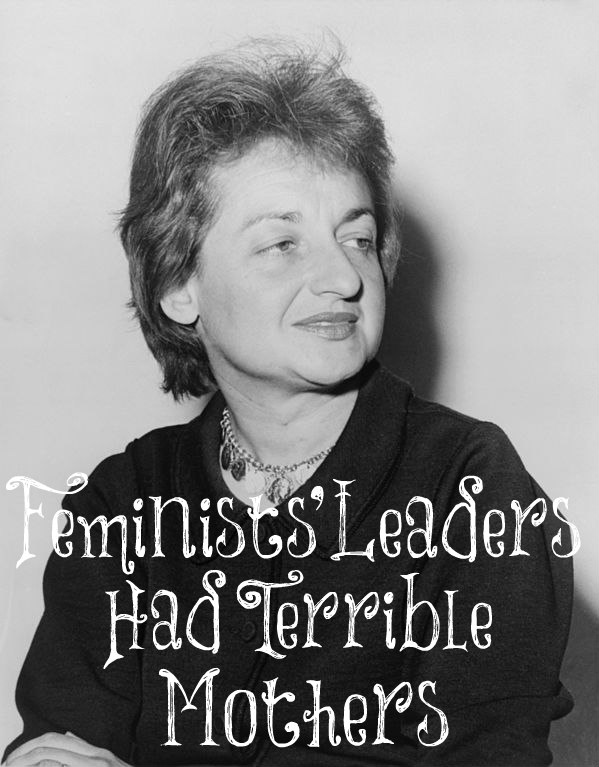 Did you know that the modern feminist movement began with three women who had terrible childhoods. "How ironic that these three intelligent women (Betty Friedan, Germaine Greer, and Gloria Steinem), none of women is currently married, have so influenced our current notions of family and motherhood" (Dr. Brenda Hunter).
In the chat room, we have been discussing the book Home By Choice by Dr. Hunter. If you ever want to be convinced of the value of mothers at home with their children, I encourage you to buy this book and read it carefully. Dr. Hunter was raised by a single mother and tells of the fear and loneliness she felt growing up without a mother at home most of the time.
She also explains how children need a mother at home whether they are an infant or a teenager. The infant needs all of their needs taken care of and the warmth of a mother to bond with and a teenager needs a mother at home to guide and encourage them through the turbulent teenage years.
A mother at home is a steady, comforting presence for her husband and her children. But she must be a wife and mother who is actively involved in their lives and looking well to the ways of her household. She must be willing to take time to listen to them, look them in the eyes, and show them plenty of love and affection.
In her book, Dr. Hunter shares that when children don't have a mother at home, there is a much greater possibility that they will become involved in sex, drugs, and alcohol. I saw this happening to the peers in my high school who had working mothers. Their lives seemed aimless and empty so they filled it with things that harmed them. I never wanted to do any of those things because I knew it would hurt my mother badly and I loved my her deeply. She was there for me my entire childhood and thus, I grew up to be loved and secure.
Yes, the three major women who began the modern feminists movement came from broken homes and had distant mothers. They had never experienced a warm and loving mother with intact parents. Yet, they were used by the enemy to cause dissatisfaction among millions of mothers who left their homes and gave their children the same lonely childhoods that these three women experienced. Tragic.
Go home, mothers, and nurture your own children. If you are a single mother or widow, ask the Lord to make a way for you to go home since your children need you there regardless of your circumstances. Trust God and then step out in faith believing that He will provide what He has commanded.
As for God, his way is perfect: the word of the LORD is tried:
he is a buckler to all those that trust in him.
Psalm 18:30