Mothers are Happier as Homemakers. Surprise!
Mothers are Happier as Homemakers. Surprise!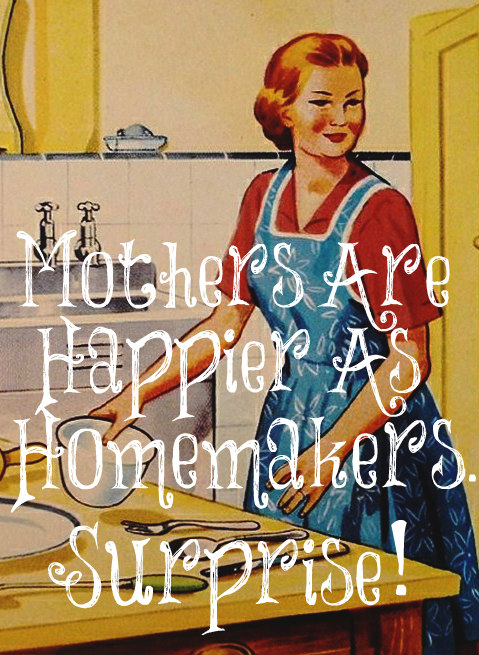 There was a time when the prophet Elijah was grief-stricken and thought he was the only one who worshiped the one true God. "Lord, they have killed thy prophets, and digged down thine altars; and I am left alone, and they seek my life" (Romans 11:3). How did God respond to him? "I have reserved to myself seven thousand men, who have not bowed the knee to the image of Baal" (Romans 11:4). There will ALWAYS be a remnant, women. "Even so then at this present time also there is a remnant according to the election of grace" (Romans 11:5) and it's always a time of rejoicing when we remind ourselves of this fact!
There was an article written on the Daily Wire that asked, "Are Mothers Happier Being Homemakers or Working Full Time?" which stated, "Despite the onslaught of propaganda telling young girls otherwise, a recent research paper distilling data from over 30 European countries concluded that mothers find homemaking preferable to working full-time."
Many women feel very alone in being full-time homemakers and mothers. They don't have many, if any, friends. The homes in their neighborhoods sit empty all day long while they alone are busy in their homes raising their children.
While reading the comments on Ben Shapiro's Facebook page where he shared this article, you will definitely see a remnant who values the things that God values. Yes, I will share a few negative comments as well.
Here is the most popular comment with close to 3,000 likes written by Marsha: "I would have killed to have the traditional family. Father working. Mother at home raising the children and keeping the household intact. Clean house. Home-made meals. Children taken care of by a mother and not a babysitter. This is the way it was supposed to be before women's liberation became popular and ruined everything." (A hearty amen!)
 Dean: "The death of the nuclear family is a major reason why there is so much confusion and also crime. In my opinion, it is women who choose to be stay-at-home moms who have a very fulfilling life taking care of their family." (I love to see men chip in with wisdom!)
Maria: "I have just come to a realization that I am fine concentrating 100% on my kids, my husband, and running my home as my 'career' at the moment. I tried it the other way and worked outside of the home but there was never any balance. Either the kids and the household lacks attention or it's going to be your career or profession that you're in. I have chosen my kids, husband, and our home full time. Now my situation could be different because I have five kids and maybe someone can do it if they have one maybe even two kids but I think that would be difficult enough and something's always going to be lacking your full attention."
Natalie: "Depends on how a woman defines happiness. If she's materialistic and wants things, it's a job. If it's nurturing and watching your children grow and develop, it's a homemaker. It's really dependent upon the woman's values." (Of course, she got nailed by the feminists who read her comment who value their own happiness over what is best for their children.)
Abigail: "Loved staying home and raising our babies. We went without a lot. I invented refrigerator soup. That's when you take bits and pieces from the fridge and make soup. Once, we had one catfish fillet to feed all five of us. It made great soup! Happiest days of my life: raising three kids on no money, but loads of love! The kids are gone, but the love remains…" (Her family was blessed!)
Monica: "I have done both, and can say with great conviction that I was happier staying home with my kids. I hate working outside the home. I stayed at home when my older two were younger, but had to work when my youngest was younger. I feel like I've missed out on so much of her life. It makes me sad…." (I missed out on the first two years of my oldest daughter's life and will always regret this.)
Lisa: "I would be happier (and am) working full time. I was not meant to be a mom even though I am. I need the break from my kid. But I would like it if one parent could stay home. I think a lot of problems in the world are caused by both parents working." (Yes, Lisa, you are the one that God has called to be home full time and you were created to be a mom since you have children.)
Mona: "I loved being a wife, mother, caregiver, seamstress, lover, nurse, teacher and cook. I think my children benefited from me always being there for them. They have grown into parents themselves and make sacrifices for their children as I did." (They absolutely benefited!)
Linda: "I always wanted to be a stay at home mother and wife. But feminism has forced women into the workplace (financially), and shamed them if they did decide to stay at home. Pretty sad that the 'be who you want to be' feminists don't really mean what they say. You fit in their 'box' or you're unacceptable. That and women are also forced by men that decided it was easier on them if the women worked. Just saying…." (She nailed it with this one, sadly.)
Stephen: "It's not that they are happier being stay-at-home moms, working full-time, or doing a combination of both lifestyles. It's a cultural war that has made it not honorable for women to want to stay home and raise children. Maybe I'm an on old fashioned misogynist but I can't think of anything more honorable than a mother being a mother raising strong well-adjusted children." (No, Stephen, you are not an "old fashioned misogynist." You are a wise man who wrote truth.)
Melissa: "Bull – Every woman is different. Some enjoy being stay at home mothers – finding fulfillment that way. However, I know that I was not happy staying home full time- was bored out of my mind and felt like I was cut off from the rest of the world. I also had problems with not having my 'own' money. Money I didn't have to feel guilty about spending. Guess I'm too independent." (This is why God has commanded that older women teach the young women to love their children and be keepers at home since He knows that many will rebel against this and live their lives selfishly for themselves instead of what is best for their families.)
Lizzie: "I tried being a SAHM and hated every minute of it. I'm a better mom, wife, and all around person when I work! So to the the people who say "I've never met a mom who didn't enjoy being a homemaker overall…' maybe you should get out more." (This is a make believe world she is living in if she thinks that she's a better wife and mother by being away from her home and children all day long.  God is the one who created her to be a keeper at home regardless of what she wants.)
Tara: "Everything isn't always about being happy in life and that's why so many people are depressed. They're fed this lie that every woman is supposed to have white teeth, no grey hair, be perfectly toned and have amazing clothes. That's not what life is all about. This is an illusion the media has fed us over and over again. Life is a struggle with some happiness thrown in. It's about what's right and raising your own children and doing your own housework instead of letting someone else do it for you and is the most important job for a woman IMO. Yes it might not be rainbows and unicorns most of the time but it's the way it's supposed to be for you & your children." (Amen, but happiness is a choice and as believers in Jesus Christ, we should choose to be happy; for happy is that people, whose God is the LORD! – Psalm 144:15)
He maketh the barren woman to keep house, and to be a joyful mother of children. Praise ye the LORD.
Psalm 113:9