Mothers Forgetting Their Nursing Babies
Mothers Forgetting Their Nursing Babies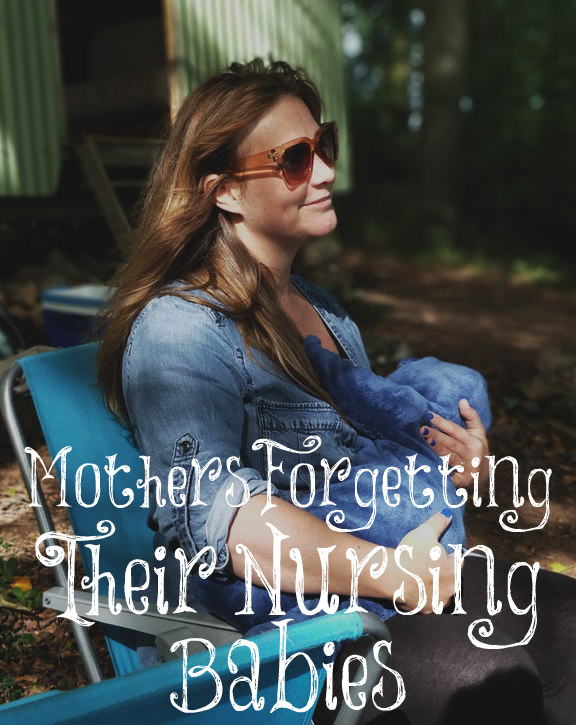 "Can a woman forget her sucking child, that she should not have compassion on the son of her womb? yea, they may forget, yet will I not forget thee" (Isaiah 49:15). Many women forget their nursing babies. They get up each morning and hustle to get out the door for work. They drop their babies off at daycare where a daycare worker feeds the baby a bottle. After spending all day at work, they pick up their babies from daycare and come home exhausted. They aren't the ones home rocking, cuddling, nursing, and caring for their own babies all day long. No, they have been made to believe that their value comes from making money rather than raising children. Feminism has taught women how to forget their babies – leave them all day long and work for a paycheck.
Women who do this don't think they are forgetting their babies. They usually feel guilt for leaving their babies with others but it's all they know or they've decided that they are worth more than being stuck at home all day with a baby. The babies feel forgotten by their mothers since they rarely see them during the work week. They crave being with their mothers but their mothers have more important things to do. Mothers need to begin having compassion on their babies and children and come home full time. Their children need them.
Most young girls are being trained to be career women while few are being trained to be wives and mothers. Feminism teaches that women have a greater impact having careers while God tell us that we have a greater impact being wives and mothers. Most young women were never trained to be homemakers and work hard at home, either. Most of their life is spent being trained to be a career woman and that their value is in their paycheck instead of the children they raise.
Part of what makes women feminine is their ability to bear children, nurse, and raise children. Feminism fights against everything that makes women feminine. It fights for birth control, abortion, careers, and daycare. Our culture doesn't need more women in the workforce. It needs more married women bearing children and being home full time with their own children; raising them in the ways of the Lord!
God commands young women to be keepers at home. Many continually give me examples of "career" women in the Bible. There were no women in the Bible who left their homes all day long, their children in the care of others, and worked for a boss. Yes, some made money from home and that's great but it's not something mothers need to feel that they have to do in order to have value. Our culture puts this burden upon mothers. God doesn't. He wants mothers home raising their own children.
If you are a single mother or a wife who must work in order to help pay the bills, I encourage you to read The Tightwad Gazette and seek the Lord for wisdom. What He commands, He provides. Ask Him to make a way for you to make some money from home. There are many ways to do this and the greatest way is to learn to live simply and frugally; for a penny saved is a penny earned. Even the poor in this country are richer than most people who have ever lived on this planet. Nothing besides food and clothing is more important for children than their mothers being home full time with them.
He maketh the barren woman to keep house, and to be a joyful mother of children. Praise ye the LORD.
Psalm 113:9