When Women Didn't Leave Their Kitchens
When Women Didn't Leave Their Kitchens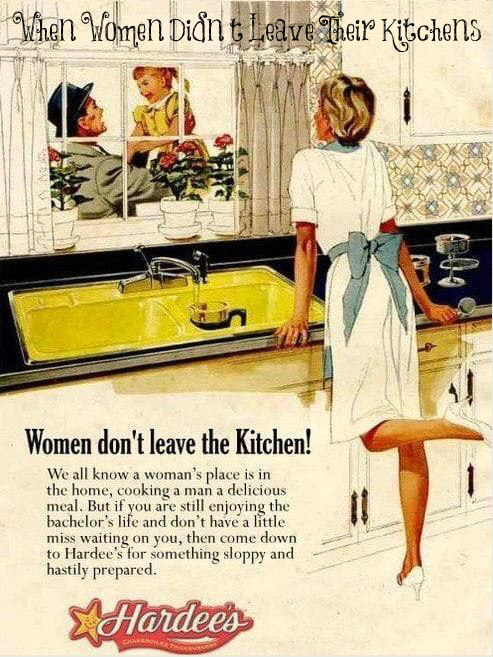 This is a fake advertisement for Hardees made to mock the gender roles of the past. It states, "Women don't leave the kitchen! We all know a woman's place is in the home, cooking a man a delicious meal. But if you are still enjoying the bachelor's life and don't have a little miss waiting on you, then come down to Hardee's for something sloppy and hastily prepared."
God tells us a woman's place is in the home. It's the best place for us to be! We have been called to be our husband's help meet and a keeper at home, therefore, we are responsible for fixing them food and taking care of them. Yes, we are to serve them. Many, even Christian women, hate this concept but they will leave their homes all day and serve a boss and/or their clients willingly and happily. What's up with this? Why is it so easy for them to serve everyone but their husbands whom they have chosen to love all of their days? One reason – rebellion.
God commands wives to submit to and obey their husbands. He doesn't command them to submit to and obey their bosses but this is what many choose to do. They submit to and obey their bosses' wishes all day long but refuse to come home and serve and submit to their husbands. They want to be boss. They want to control their husbands. They want their way. (I know. I used to be this way.) It's that simple but God tells us something entirely different.
He tells us that the greatest of all is the servant of all. I can tell you, women, from experience that the more I have learned to serve my husband and not expect to be served, the better our marriage has become. It's so easy to take our husbands for granted and think they will always stay with us since they put a ring on our finger and made a vow to God, whereas a boss can fire us whenever he wants, so we seem to have more incentive to please our bosses rather than our husbands but God wants us pleasing our husbands. Our husbands are the only man that God has commanded that we submit to!
If you can submit to and serve your boss, you can submit to and serve your husband. It's a matter of attitude and changing your stinking thinking. Your husband is who you are one flesh with. He is head over you as God has ordained. You will understand all of this as you grow older, have raised children together, and see the importance and beauty of the marriage bond and God's will in it. It is good.
For the husband is head of the wife, as also Christ is head of the church; and He is the Savior of the body.
Ephesians 5:23