Men are Attracted to Women Who are Feminine, Cheerful, and Good Cooks
Men are Attracted to Women Who are Feminine, Cheerful, and Good Cooks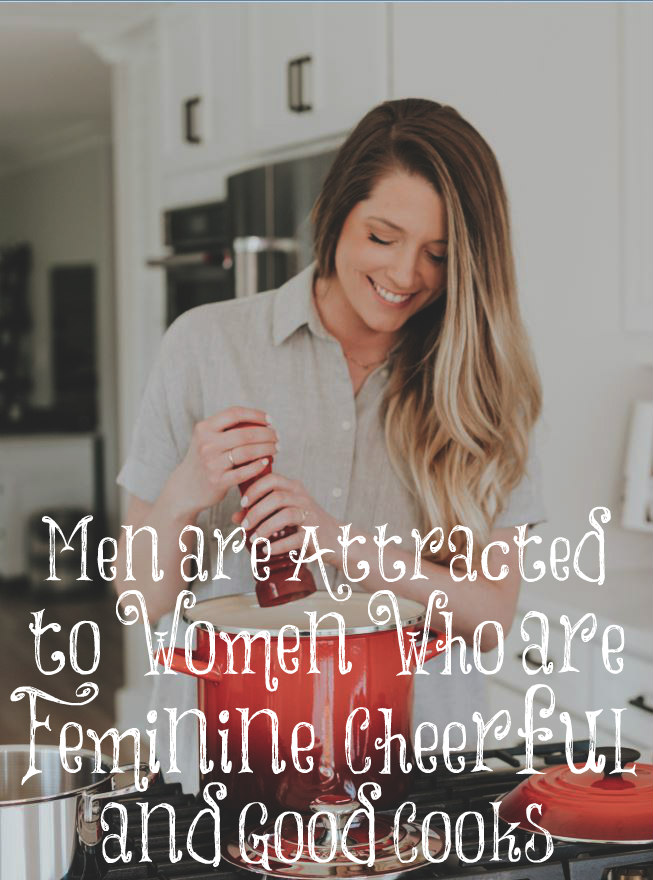 Brometheus tweeted this recently: "Steps for women looking to get engaged: 1) Wear a nice sundress; 2) Smile a lot; 3) Carry a plate of bacon; 4) When people mention the bacon, say, 'Yes, I made it.' Men will instantly rate you far above the vast majority of modern women. This ain't rocket science. It's that simple."
Most men aren't that complicated. Women are much more complicated because we tend to be led by our emotions and feelings which change frequently. I know there are many young women who would love to be married so this is great advice for you!
Many women don't dress feminine anymore. Most wear leggings ALL the time which are NOT feminine. Everywhere I go, women are wearing leggings. On a few women, they are very sexy since they outline the body parts clearly. On other women, they are not attractive at all. Few women have perfect bodies. Women, leggings are not feminine nor modest in the least. A pretty sundress or skirt are much more feminine and attractive to men.
Men worldwide have been asked what they find most attractive in a woman and almost all of them respond, "A woman who is cheerful." Cheerfulness comes from having a thankful heart. You can't be cheerful if you aren't thankful. Instead of looking at what you lack in life, look at all of the good in life! Dwell on the lovely and the good. Read uplifting books. Be in the Word daily and meditate upon it. Smile when you walk by people and learn to be friendly. Look in their eyes and ask them how they are doing. Love people.
Many women don't cook these days. Either they go out to eat all of the time or they eat food already prepared. If you don't like to cook or don't know how, learn to cook! Men like to eat good food. Home-cooked food is healthier since you know exactly what is in it. It's cheaper, too. My husband loves me to make my freshly ground whole wheat bread for him so I have been doing this for years. I make a large salad almost every day for us to eat with my homemade salad dressing. I have a bunch of my family tested and loved recipes on my old blog. Find joy in cooking and keeping your home clean and tidy. Praise the Lord while doing this and thank Him for giving you good food and a home to care for.
Did you notice that feminism has created women who are mostly the exact opposite of these traits? Feminism makes women angry because their minds are not on what is good in life but what is not "fair" and how they need to make it right. It teaches women to hate men, marriage, children, and seek their own dreams. (Read the feminist leaders' words for yourself.) I am sure many feminists will balk at the title of this post because they have no desire to attract a man, be feminine, cheerful, or learn how to cook. They don't need a man nor do they care what they think.
They are missing out on the greatest treasures in this life. Building a family is a blessing that goes on and on. When Ken was doing so poorly in the hospital, it was his family that loved and supported him the most. It was his wife and children that were the most concerned and wanted him better. When we arrived home from the hospital, the grandchildren took turns jumping into his arms and wrapping their arms and legs around him. They cuddled in his lap until they went to bed. He felt so loved by everyone.
Finding a godly man isn't easy in this culture, I know, but there will always be a remnant (Romans 11:5). Always dress and act feminine. Learn to be cheerful and cook good food. Ask the Lord to bring a godly man into your life and then wait upon Him. Find the best Bible believing and teaching church around and get involved. Do what you can and leave the results up to Him. In the meantime, concentrate on being holy in body and spirit as God commands (1 Corinthians 7:34). Oh, and most men do prefer debt-free virgins without tattoos!
A merry heart doeth good like a medicine: but a broken spirit drieth the bones.
Proverbs 17:22