No One Cares What Men Want?
No One Cares What Men Want?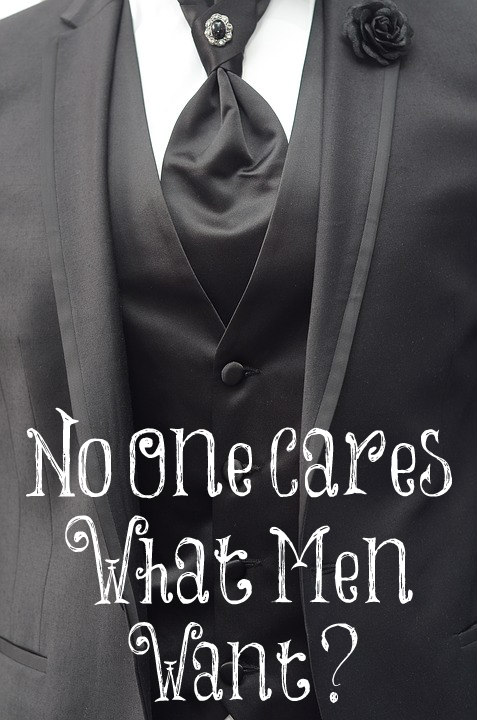 "No one cares what men want." This is what one woman wrote on my Facebook page under the following tweet that I posted.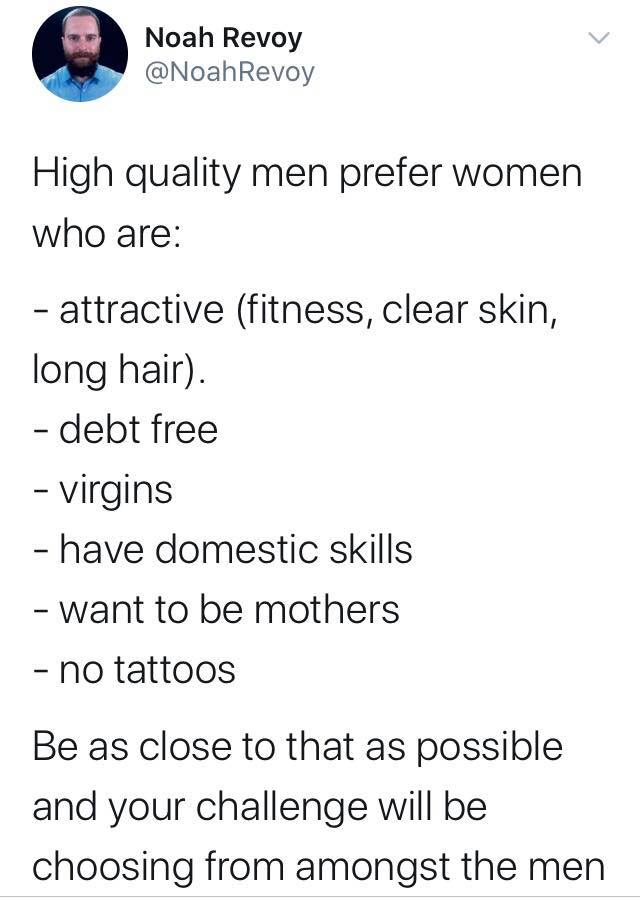 Do women no longer care what men want? From the reaction from my viral post and this tweet by Noah, you would think that they don't since feminism seems to have caused many women to despise men. If you are a Christian young women who would love to be married, have children, and be home to raise your children, you should care what good men want in a wife when what they want lines up with God's Word. All of these traits that Noah listed can be backed up by Scripture.
1. Attractive. We're the temple of the Holy Spirit (1 Corinthians 6:19). We are to discipline our bodies and bring them into subjection (1 Corinthians 9:27). Long hair is a woman's glory (1 Corinthians 11:15). We're to be temperate in all things (1 Corinthians 9:25). If you do all of these things, you will most likely be attractive no matter how much natural beauty you do or don't have. (Your chances of having clear skin are much greater when you're eating healthy and have cut out the junk food and sugar. It worked for me when I was a young woman!)
2. Debt Free. The Bible calls debt bondage. "The borrower is servant to the lender" (Proverbs 22:7) and "Owe no man any thing, but to love one another: for he that loveth another hath fulfilled the law" (Romans 13:8).
3. Virgins. God commands us to FLEE fornication (1 Corinthians 6:18) and be chaste (Titus 2:5). Sex in His design is only for marriage.
4. Have Domestic Skills. Women are to be "keepers at home" (Titus 2:5) and "look well to the ways of their household" (Proverbs 31:27).
5. Want to Be Mothers. Young women are to "marry, bear children, guide the home…" (1 Tim. 5:14). God created marriage. He said it was not good for man to be alone so he created a help meet for him (Genesis 2:18) and told them to be fruitful and multiply (Genesis 1:28). Nothing has changed. "Notwithstanding she shall be saved in childbearing, if they continue in faith and charity and holiness with sobriety" (1 Timothy 2:15).
6. No Tattoos. Older women are to teach young women to be discreet and shamefaced (not wanting to draw attention to themselves) (Titus 2:5 and 1 Timothy 2:9). The Church was very much against tattoos until recently. They're also detrimental to one's health.
If you don't care what men prefer, care about what God commands, young Christian women. I know the feminists women among us take offense to all of this since it's opposite to what they've been taught their entire lives but as godly women, you understand that God's ways are for your good and they are perfect.
I also know that some of you have already blown it in some of these areas. You aren't a virgin. You have a mountain of debt and so on. Once you believe in Jesus Christ and are filled with His Spirit, all of your sins are forgiven and you are a new creature in Christ. It doesn't mean that you are now a virgin and your student loan debt is wiped clean. Some men may still choose to not marry you due to these issues and it's their right. But it doesn't mean you will never get married and it doesn't mean that you can't have a wonderful life being a wife and mother some day. God is in the business of transforming lives!
This post and others like it are not to condemn those who fail to meet these qualities but to warn young women to not fall for the lies and traps of culture/feminism. It's for their protection. Surely, no one can fault us for this. Someone needs to tell them that God's ways are perfect.
Enter ye in at the strait gate: for wide is the gate, and broad is the way, that leadeth to destruction, and many there be which go in thereat: Because strait is the gate, and narrow is the way, which leadeth unto life, and few there be that find it.
Matthew 7:13, 14