Our Hope in Times of Trouble
Our Hope in Times of Trouble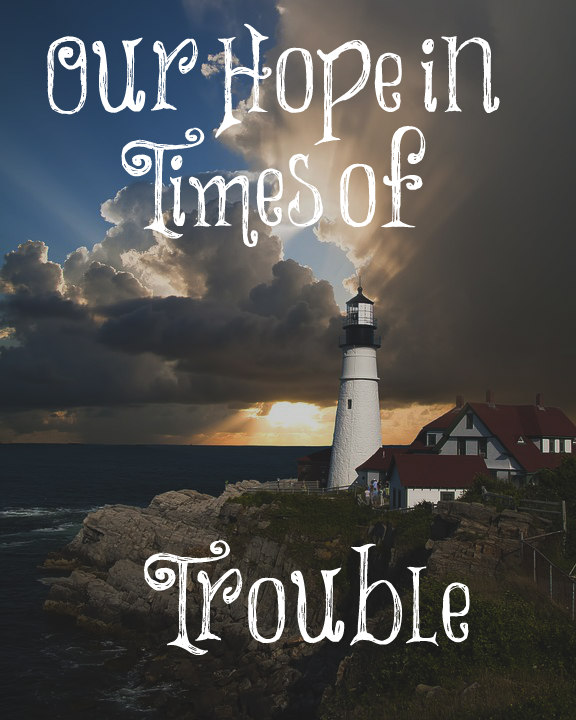 Written By Ken
The story of life since the beginning of time is one of hope in a time of trouble. Inherently built into man is the strength and ability to adapt, change, and overcome one's circumstances. Just think about all of the turmoil of past centuries and then realize that the last hundred years of America have been perhaps the very best utopia mankind has ever experienced. Unfortunately, this past election and all the turmoil that goes with it has left far too many Christians in despair, sometimes us included.
"This is not our home" is something Lori says often and is so true. If you want to know why Biden won think no further than that God is refining His children and judging the Church for its falling away from His Word and His ways. If all who call Christ their Savior in this nation had voted for the one trying to hold back the tidal wave of secularism, lawlessness, and hedonism, instead of throwing their hat in with "woke" secularism… But the Church failed its children as it tries to have one leg in each world.
Let's face it. The tidal wave of immorality has been advancing at record speed even with our guy in the White House. The American Church as a whole has lost its salt. Apart from revival and repentance in most churches, our country is headed to the same junkheap of all once great nations. So how does the true Believer keep hope and faith alive during these dark times? By remembering God at His Word:
We are God's Workmanship and Belong to Him
Let us never forget that we belong first and foremost to the King of Kings and "we are His workmanship." Whatever He has in store for us He has uniquely built us and gifted us just for this exciting time in human history. Being Americans denotes much that we can be proud of "in the land of the free and brave," but our realm of life is outside this country. Christ is seated on the throne on the right side of God and we are there with Him.
"By grace ye are saved; And [God] hath raised us up together, and made us sit together in heavenly places in Christ Jesus" (Ephesians 2:6).
"Who hath delivered us from the power of darkness, and hath translated us into the kingdom of his dear Son: 14 In whom we have redemption through his blood, even the forgiveness of sins" (Colossians 1:13-14).
When you see the evils of politics and this world coming at us, please be certain to remember who you are in Christ Jesus. You and I are the children of God and no longer belong to this world that is decaying. Our Father promises He will never leave nor forsake us, and will carry us through whatever circumstances we find ourselves. These are the true and trustworthy promises of God! Let's believe them.
We are Called to Be the Salt and Light of the World
Our calling in Christ has never been about us but about Him. The world was thrown into chaos and sin with the very first election when Adam chose to eat the apple instead of vote with God. Since that moment in time, it is really just a story of mankind turning to evil over good, and God redeeming a few who choose to love Him. The flood did not happen because mankind found a way to get along and do good, but rather the evil in the world was so bad that the only way to save the world was to redeem one family and start over again. God is redeeming one family in Christ Jesus for a New World of no sin and despair ruled by our God.
In this world of sin and evil, God has throughout His-story chosen a few to be His salt and light to a dying world. Light is a great disinfectant and salt a long time preservative. These two qualities also speak of our shining God's love and goodness to the world; and in doing so help preserve much of the best of life in family, faith, friendships, and law and order. Let's us not live in despair but in the hope of our calling to be soldiers of the cross serving as He chooses for our lives.
We Have Been Promised the Suffering of Christ
Imagine what it must have been like for the early Christians under persecution from the Jews, evil men, harsh masters, and Roman rule that saw Christianity as some strange religion that posed a threat to their power and way of life: Much like many Democrats see the Christian today. The many admonitions of the apostles now become keenly in focus as we see persecution of Christians intensifying. What we once thought was just rude hate in the comments we received online when sharing God's ways is quickly turning to a call to ban our voices completely, cancel our businesses, and put us into reprogramming camps. And what is the wisdom of God for these trying times?
"Blessed are they which are persecuted for righteousness' sake: for theirs is the kingdom of heaven. 11 Blessed are ye, when men shall revile you, and persecute you, and shall say all manner of evil against you falsely, for my sake" (Matthew 5:10,11).
"And he said unto me, My grace is sufficient for thee: for my strength is made perfect in weakness. Most gladly therefore will I rather glory in my infirmities, that the power of Christ may rest upon me. Therefore I take pleasure in infirmities, in reproaches, in necessities, in persecutions, in distresses for Christ's sake: for when I am weak, then am I strong" (2 Corinthians 12:9-10).
"Beloved, think it not strange concerning the fiery trial which is to try you, as though some strange thing happened unto you: But rejoice, inasmuch as ye are partakers of Christ's sufferings; that, when his glory shall be revealed, ye may be glad also with exceeding joy. If ye be reproached for the name of Christ, happy are ye; for the spirit of glory and of God resteth upon you: on their part he is evil spoken of, but on your part he is glorified." (1 Peter 4:12-14).
We are to Live with Joy and a Heart at Peace
Christian, if our hope is firmly planted in a faith that knows that God is always on the throne and that Jesus returns victorious in the end, let us not despair but rejoice! We are to live with all of the fruit of the Spirit as we walk moment by moment in Christ. James says it best when he writes,
"My brethren, count it all joy when ye fall into divers temptations; Knowing this, that the trying of your faith worketh patience. But let patience have her perfect work, that ye may be perfect and entire, wanting nothing" (James 1:2-4).
Going through trials helps grow us up into Christ Jesus to become who He wants us to be. We do not know exactly how the story of earth will end, but we know that God always keeps a remnant that walks by faith. Read Hebrews 11 and see that at least so far, most of our tests of faith are small compared to the many who have gone before us and triumphed in faithfulness in times of their despair.
"Wherefore seeing we also are compassed about with so great a cloud of witnesses, let us lay aside every weight, and the sin which doth so easily beset us, and let us run with patience the race that is set before us, looking unto Jesus the author and finisher of our faith; who for the joy that was set before him endured the cross, despising the shame, and is set down at the right hand of the throne of God. For consider him that endured such contradiction of sinners against himself, lest you be wearied and faint in your minds" (Hebrew 12:1-3).
Never lose heart, Christian, and never lose faith in our Savior. God did not just save us for a future with Him, but also for the here and now. We who believe must set our sights on being in the Word and prayer daily. When those waves of hopelessness try to envelope us we must say, "Get behind me, Satan" knowing that the only control the Devil has over us is to cause us to fear. We shall never give up hope because "hope" is simply another word for faith.
You and I have been called for just such a time as the here and now to shine Christ to a fallen world. Let us not be found lacking because we buried our talent and hid our testimony under a bushel. Let our testimony first speak of the great love and grace of our Lord Jesus before our desire to blister with our words of our nation's and Churches' great sins. "They will know us by our love" must be true of us more than ever before. Embrace those on the other side of the fight as friends who desperately need Jesus and are not the enemy. Sin and Satan who controls them are the true enemy.
There is a reason why the true Church begins to thrive in times of persecution, and it is because the Spirit of God becomes our Comfort, Encouragement, and Guide in times of need like never before. When we need God most, He is there for us, and all we have to do is to believe Him at His Word and promises to walk in them, no matter where that takes us or our families. Learn to be nimble, focus on family and friends, turn off the news and the noise, and seek peace with all men so much as it depends on you. But never, ever, ever compromise the Word of God and His ways in our lives, no matter what. For we are those who will endure to the end for our faith insists upon it.
 For his anger endureth but a moment; in his favour is life: weeping may endure for a night, but joy cometh in the morning.
Psalm 30:5