Our Souls are Vexed
Our Souls are Vexed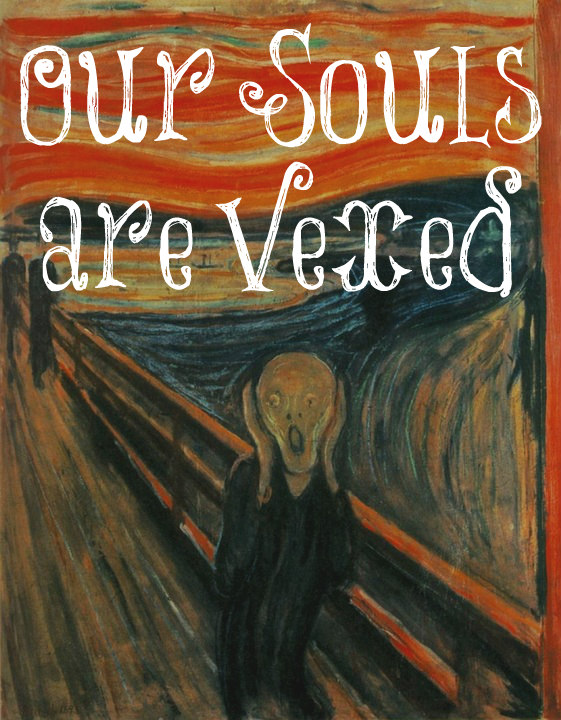 "For that righteous man dwelling among them, in seeing and hearing, vexed his righteous soul from day to day with their unlawful deeds" (2 Peter 2:8). Lot's soul was vexed from all of the evil that was happening around him in Sodom and Gomorrah. Our souls are vexed (tormented) from all of the evil happening around us. The leaders of New York clapped and celebrated that the lives of babies could be brutally murdered in their mother's womb up until birth. They clapped! They clapped the murder of unborn babies! This is too difficult and evil to even fathom. Yes, Satan and his agents are alive and well.
Parents are being allowed to change the gender of their young children. They don't even have to put on the birth certificate what gender they are. We know who they are fighting, yes? They are fighting God. God made them male and female and hundreds of years after these people who have "changed" their gender die, the DNA in their bones will clearly show if they were male or female.
There is so much perversion and evil in our nation right now, dear women. It's heart wrenching. How are we supposed to deal with this? "The Lord knows how to deliver the godly out of temptations, and to reserve the unjust unto the day of judgment to be punished" (2 Peter 2:9). God will deliver us (for He promises to never leave nor forsake us) and those who continue to do evil without repenting and believing in Jesus Christ will be punished. God is a righteous judge and we can trust Him.
"The Lord is not slack concerning his promise, as some men count slackness; but is longsuffering to usward, not willing that any should perish, but that all should come to repentance" (2 Peter 3:16). God wants ALL to come to repentance and believe in Him. We live our lives loving those around us and speaking the truth in love – planting seeds of truth wherever we can. People need Jesus!
All of this evil reminds us that this isn't our home. We are truly strangers and aliens in this land. Our hope is in Christ. "Seeing then that all these things shall be dissolved, what manner of persons ought ye to be in all holy conversation and godliness"…for we "look for new heavens and a new earth, wherein dwelleth righteousness" (2 Peter 3:11, 13). This earth and everything in it is going to burn. Satan is the prince of the power of the air but God will deal with him. God commands that we have holy behavior and live godly lives. Therefore, we spend daily time in His Word, renewing our minds with truth and being transformed into His image. We live by faith and not by fear.
"Therefore, brethren, stand fast, and hold the traditions which ye have been taught, whether by word, or our epistle" (2 Thessalonians 2:15). What are the traditions we have been taught? If God continues to bless your womb with babies, raise those babies for Him. If you are married, continue to be a godly, loving help meet to your husband. If you are a keeper at home, do it with all of your might. If you are single, make sure that in everything you do you remain holy in body and spirit. If your children are all grown up, use your time to minister to those around you, your grandchildren, and those in your church. Stay focused upon what God has called you to do and don't allow the evil around you to steal your joy. We know how it will all end! King Jesus reigns and will forever.
The LORD shall reign for ever and ever.
Exodus 15:18