The Backlash of Women in the Workforce
The Backlash of Women in the Workforce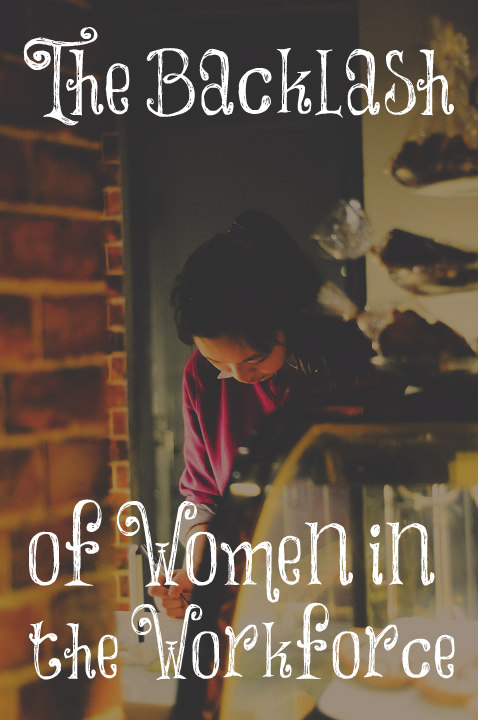 "Cameron recalled Anna once commenting that the war (World War II) would change the situation of women because they were now handling duties once solely male dominated. Of course this boon could well have a certain backlash, but for now Cameron knew to ride with the positive wave of it." (Judith Pella "Forward the Sunrise")
What are the backlashes to women handling duties that were once solely dominated by men? "The demise of our society and family values started with women in the workplace." I agree with this comment made by a man whose wife sadly divorced him. Women weren't created to be in the workplace especially if it meant leaving their children in the care of others. Yes, wars have forced this upon them in the past but it still doesn't mean it was good for the children. Then feminists convinced women that being out of the home was a good thing which it is not!
"That (women in the workforce) leads to greed, affairs, and children being raised like animals by other women not even in the kids' family." It definitely has led to greed. Many men now want their wives to work for the paycheck they bring home so they can buy more stuff. Women feel emboldened by bringing home their own money to buy more stuff. Yes, few must work to make enough money to provide essentials for their children but these are the exceptions rather than the rule. (Remember, exceptions don't negate God's clear commands.) There are many women who live frugally and simply within their husband's income because they know the value of being home to raise their own children.
Working outside of the home has also led to more affairs. Women and men working in close quarters day in and day out is a recipe for affairs. I personally know a few women who were bored at home, left their children in the care of others, and then had affairs. They went on to divorce their husbands and I was devastated! The harm to their families was terrible. A mother at home doesn't have the same opportunities to be with other men day in and day out like career women do. She is too busy caring for her children and her home, if she is a good wife and mother.
What ever convinced women that it's better for strangers to raise children rather than their own mothers? Whether it be nannies, daycare teachers, or school teachers, none of them love and care for the children as much as their own mothers do. They don't have the time to discipline and train the children they care for or teach. Daycare and schools are not biblical concepts. They are man made ones that have had terrible consequences since they give mothers more reason and incentive to get out of their homes and hand their children over to strangers for their childhoods.
"There is no way they have your kids' best interest at heart if they have 20 others to watch and if your kid is a little rambunctious, then they probably get tons of time alone in 'time out.'" This is a sad truth with daycare and schools. Too many boys are being put on drugs since they can't sit in a chair for hours a day. They weren't meant to do this! Schools were designed with girls in mind. Boys are meant to play, run, jump, climb, and be outside whenever they can. Girls are, too, but they don't suffer in a school setting as much as boys.
"And yes, the worst thing that ever happened to the western world is feminism/women's suffrage/whatever you want to call it." Feminism/women's suffrage happened because women wanted to lead. They felt they could do a better job of it. "Oh, but they have accomplished some great things like protecting women!" Oh, really? Over a million of would be women are murdered in their mother's wombs each year because of feminism. This doesn't sound like protection to me! Many children aren't being raised by their mothers. This doesn't sound like protection to me. No, nothing good has come from the women's movement and I will never support any of it.
"Women going to work to pay other women to watch their children. It's absolutely disgusting." If a mother works outside of the home, then yes, she is paying other women to watch her children, either directly from her paycheck or from her taxes. A paycheck is worth being away from one's children and allowing others to fill their impressionable minds with who-knows-what? What about the peers they are surrounded by? Who knows what they are saying and showing to their children especially with the advent of smart phones.
God commanding younger women to be "keepers at home" is not burdensome, dear women. It's not to keep you in bondage away from pursuing your dreams. No, it's what's best for you and your family. You were created to be your husband's help meet, your children's mothers, and the homemaker in your home. You are the one called to train, discipline, and teach your children. They need you emotionally, physically, spiritually, and mentally. It's proven that children who have been raised by full-time mothers are more emotionally stable and secure than those who were not. Trust God. Trust that His ways are best. Go home. if at all possible, and remember that with God ALL things are possible, especially His will for you.
That they may teach the young women to be…keepers at home…that the word of God be not blasphemed.
Titus 2:4, 5