"Preach the Word"…Wait, Women are Called to Preach?
"Preach the Word"…Wait, Women are Called to Preach?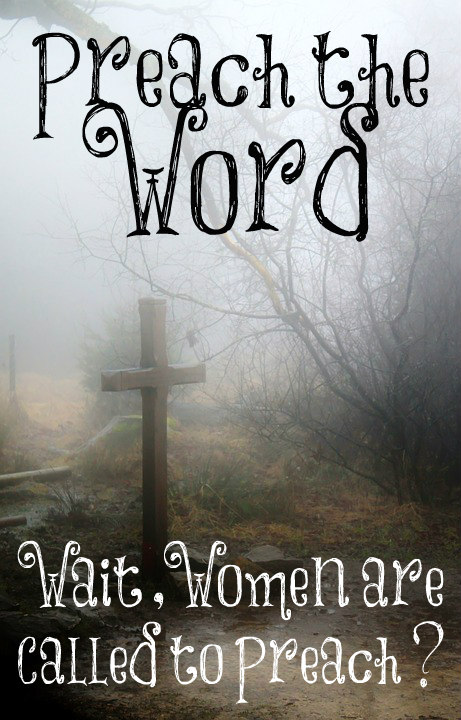 There's a video out by John Bevere, Lisa Bevere's husband, where he is defending women preachers (his wife is a preacher) and he uses this verse: "Preach the word; be instant in season, out of season; reprove, rebuke, exhort with all longsuffering and doctrine" (2 Timothy 4:2). What do the commentaries of old have to say about preaching the Word back in the days when everyone knew that women weren't called to preach? Is this a command for women, too? I believe women preachers have watered down what preaching actually means and have confused people. Women have accused me of being a preacher when I am not and never will be.
"Preach the word.—The language of the original here is abrupt and emphatic, written evidently under strong emotion and with intense earnestness. St. Paul charged his friend and successor [Timothy, a man] with awful solemnity, as we have seen, 'preach,' or proclaim. loudly and publicly, as a herald would announce the accession of his king. The exact opposite to what St. Paul would urge on Timothy is described by Isa. (Isaiah 56:10), when he speaks of God's watchmen as 'dumb dogs, who cannot bark, sleeping, lying down, loving to slumber.'" (Ellicot's Commentary)
"Preach the word – The Word of God; the gospel. This was to be the main business of the life of Timothy [and all preachers (men) of the Word], and Paul solemnly charges him in view of the certain coming of the Redeemer to judgment, to be faithful in the performance of it." (Barnes' Note)
"Preach—literally, 'proclaim as a herald.' The term for the discourses in the synagogue was daraschoth; the corresponding Greek term is applied in Acts to discourses in the Christian Church. Justin Martyr describes the order of public worship, 'On Sunday all meet and the writings of the apostles and prophets are read; then the president delivers a discourse; after this all stand up and pray; then there is offered bread and wine and water; the president likewise prays and gives thanks, and the people solemnly assent, saying, Amen.' The bishops and presbyters had the right and duty to preach, but they sometimes called on deacons, and even laymen, to preach. Eusebius; in this the Church imitated the synagogue (Luke 4:17-22; Acts 13:15, 16)." (Jamieson-Fausset Brown Commentary)
"Preach; proclaim like a herald, cry like a common crier in the hearing of a multitude. Thus God to Isaiah, Isaiah 58:1: Cry aloud, spare not, lift up thy voice like a trumpet. The word; the word of truth, Isaiah 2:15, or the gospel, called the word by way of emphasis: see Matthew 4:23 24:14 Mark 1:14 13:10 16:15. The word of God, not old wives' fables, endless genealogies, perverse disputings, unedifying questions. This precept reflects upon unpreaching ministers, and impertinent, vain preachers." (Matthew Pooles')
These commentaries clearly show that the ministry of preaching the Gospel has been given to men and explains what it is. Since women are to learn in all subjection, be silent in the churches, and even told that it's shameful for them to speak in the churches (1 Corinthians 14:34, 35), preaching the Word of God has not been given to us as many want to proclaim. Yes, we can share the Gospel with whomever God puts into our path and always be prepared to give a defense for our faith, but preaching has been given to men. Period.
The Apostle Paul tells us that he was appointed a preacher. "Whereunto I am ordained a preacher, and an apostle, (I speak the truth in Christ, and lie not;) a teacher of the Gentiles in faith and verity" (1 Timothy 2:7). We are told of no woman preacher or any woman who was ordained to preach in the Word of God. (Women prophesying is different from preaching, and it's forbidden for women to prophesy in the churches since they are not to speak.)
Jesus could have easily chosen one female disciple to preach but he didn't. He chose 12 men as His disciples and they were the ones He ordained to preach. "And he ordained twelve, that they should be with him, and that he might send them forth to preach" (Mark 3:14). And the elders of the churches (the preachers) are to be the "husband of one wife" (1 Timothy 3:2).
Older women are to TEACH the young women biblical womanhood. Women are to learn the Word of God from men who have solid biblical doctrine, and learn biblical womanhood from women. It is shameful for women to get behind pulpits in front of congregations and preach the Word. This ministry has not been given to them.
The Apostle Paul who wrote the letters of 1 and 2 Timothy and gave the instruction to Timothy to preach, also gave these instruction to women:
 Let the woman learn in silence with all subjection. But I suffer not a woman to teach, nor to usurp authority over the man, but to be in silence. For Adam was first formed, then Eve. And Adam was not deceived, but the woman being deceived was in the transgression.
1 Timothy 2:11-14
***Here's a video I made explaining why NO woman has ever been called to preach.