Preaching and Teaching are Different
Preaching and Teaching are Different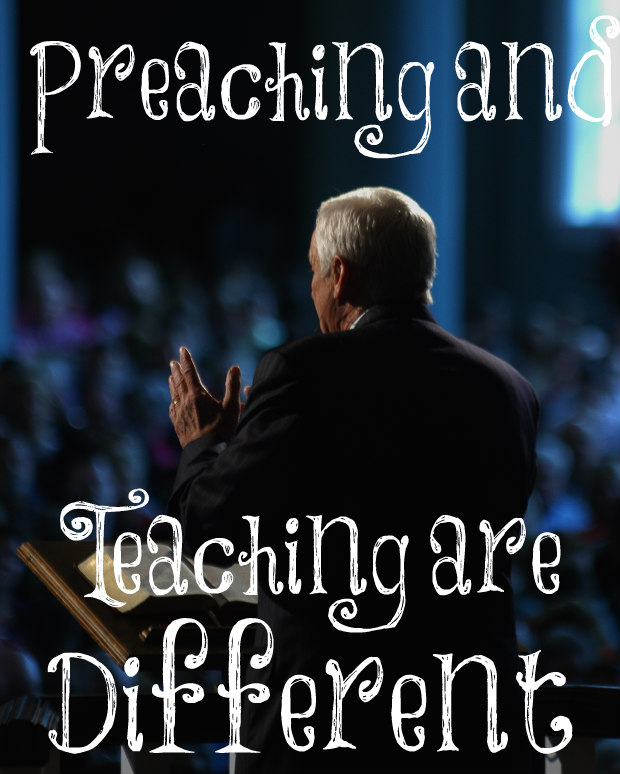 Last week, I made a YouTube video called God Has NEVER Called Women to Preach. Many have responded to me and told me that I preach, which I do not, and that preaching and teaching are the same things. They are not!
I love God's Word. I knew instinctively that preaching and teaching couldn't be the same things. As I have been reading through the book of Matthew, God made clear to me that they are different. We are told that John the Baptist preached. "In those days came John the Baptist, PREACHING in the wilderness of Judea, And saying, Repent ye: for the kingdom of heaven is at hand" (Matthew 3:1, 2).
Then we are told that Jesus preached. "From that time Jesus began to PREACH, and to say, Repent: for the kingdom of heaven is at hand" (Matthew 4:17). Jesus later ordained His disciples to preach. "And he ordained twelve, that they should be with him, and that he might send them forth to PREACH" (Mark 3:20). We are also told in Matthew 12:41 this: "The men of Nineveh shall rise in judgment with this generation, and shall condemn it: because they repented at the PREACHING of Jonah; and, behold, a greater than Jonah is here." Jonah preached repentance in Nineveh.
So we see that Jonah, John the Baptist, Jesus, and His disciples preached. How do we know that preach and teach are different? We know by this verse in His Word: "And it came to pass, when Jesus had made an end of commanding his twelve disciples, he departed thence to TEACH and to PREACH in their cities" (Matthew 11:1). God clearly distinguishes between teaching and preaching in His Word and so should we!
In Timothy 4:2, the Apostle Paul wrote this to Timothy, "Preach the word; be instant in season, out of season; reprove, rebuke, exhort with all longsuffering and doctrine" (2 Timothy 4:2). Timothy was an early Christian evangelist and the first Christian bishop (elder) of Ephesus. God commanded that he preach along with all of the male elders ("husband of one wife) in the churches.
The 1828 Webster Dictionary defines "preaching" this way: "To discourse on the gospel way of salvation and exhort to repentance; to discourse on evangelical truths and exhort to a belief on them and acceptance of the terms of salvation. This was the extemporaneous manner of preaching pursued by Christ and His Apostles. (Matthew 4, 10 and Acts 10, 14)."
The same dictionary defines "teaching" in this way: "To instruct; to inform, to communicate to another the knowledge of that of which he was before ignorant."
God has given men the command to preach. There's not one place in the Bible where women were given the ministry of preaching since they are to be silent in the churches and they are forbidden from teaching men. Jonah, John the Baptist, Jesus, His Apostles, and the Elders of the churches have been given the ministry of preaching. They spoke in front of crowds of people and exhorted them to repentance and belief in Jesus Christ, as are the Pastors of the churches called to do these days. Women have nowhere been called to do this nor does the Bible refer to one woman who "preached."
I don't preach. I TEACH women biblical womanhood as God commands in Titus 2:3. I have never stood in front of a crowd and exhorted them to repentance and belief. I teach women to become godly woman as God has commanded that I do. Yes, I share the Gospel at times but I don't preach it. I'm not standing in front of a crowd of people preaching and I never will. Feel free to share the Gospel with your neighbors, friends, strangers, and family, but this isn't preaching. Women aren't called to preach.
Why do I care about this so much and why have I made such a big deal about this topic? Why do I want you to know the difference between preaching and teaching? Because I want to warn you about the many female preachers and try to explain to you that what they are doing is wrong. God has never called women to preach as many women do these days. He has called older women to teach younger women biblical womanhood. That's it.
Most women's Bible studies are using female preachers' study books which means that most women's Bible studies support female preachers. These female preachers have no problems standing up in front of crowds and preaching to men during church gatherings. We should do nothing to support what God has condemned. Women are called to be silent in the church gatherings, learn in all subjection, and it's shameful for women to speak in the churches (1 Corinthians 14:34, 35). They are not to teach nor have authority over men because Adam was created first, proving that men are the ones that God has ordained to be in authority, and Eve was deceived, proving that women are more easily deceived (1 Timothy 2:12-14).
As women, let's stick to doing what God has commanded that we do. Let's stop learning from female preachers. Let's learn from God ordained male preachers of the Word. Let's learn biblical womanhood from older women who have the experience and wisdom behind them. Let's trust God at His Word and believe that His ways are best for us.
Your word is a lamp to my feet And a light to my path.
Psalm 119:105