Feminism's Terrible Legacy for Women
Feminism's Terrible Legacy for Women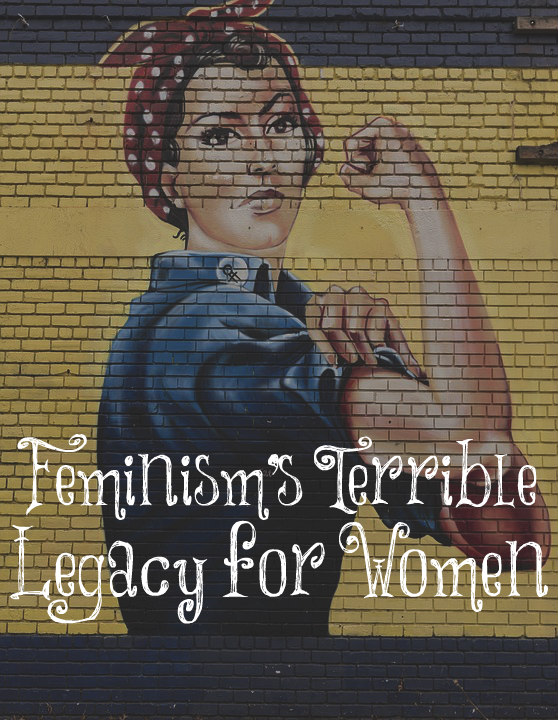 Dennis Prager wrote an article about the Four Legacies of Feminism. I never fell for any of these lies of feminism. I am not sure why since I was a product of the public school system, went to college, and even had a career, but feminism never held any appeal for me. Being a wife, mother, and keeper at home is all I ever wanted even though biblical womanhood was never taught to me.
Thankfully, I never drank the feminist koolaid. I never slept around with guys before I got married. I knew I wanted to save myself for the man I would one day marry. I figured there was more to sex than just sex (and I can tell you that I wasn't the smartest teenager around nor taught a lot of wisdom but I trusted that God knew what He was commanding me to do). I never had a heartbreak after giving myself to a guy who didn't truly love me enough to marry me. I never had to suffer through STDs. I never had to worry about getting pregnant outside of marriage. I never had to worry about comparing my husband to other guys I had slept with and I didn't have to worry about him comparing me to other girls he had slept with. We were both virgins on our wedding night, praise the Lord!
I never fell for the feminist lie that a woman should have an established career before getting married. Yes, I did go to college but married soon after graduating from college. I went to college only because my dad wanted me to go and to hopefully find a husband. I did find a husband but it wasn't until the second semester of my senior year. God had mercy upon me! I never dreamed about having a career. I didn't want a career. I wanted a husband and children!
I never fell for the feminist lie that women should work outside of the home. I never wanted to work outside of the home. I worked as a waitress during my high school and college years and then as an elementary school teacher after marriage but I never wanted to do this. When I became a teacher, I only taught for a few years and during this time, I was either pregnant or nursing a baby. The moment when I knew this was completely unnatural was one day when I was in the principal's bathroom during break, as I did every break, pumping my breasts. I knew and wanted so badly to be home with my baby feeding her at my breast.
I never fell for the feminist lie of never needing a man. I wanted a man to provide for me and protect me. I wanted him to eventually provide for my children, too. I knew I needed a man for many things. He can't have the children but I can and he can do the providing while I care for the children. God gave us each different but equally important roles!
How about you, young women? Have you fallen for the lies of feminism? Biblical femininity is completely opposite of feminism. The only thing that feminism truly fought against was God and His will for women. We have nothing to thank feminism for except for the destruction of marriage, family, children, and culture.
In conclusion, I want to give some words of encouragement to those of you who fell for the lies of feminism and have suffered for it. God is great at restoring the years the locusts have eaten! At any point in your life, you can repent (do a 180) and turn to the Lord and His beautiful ways. Sure, you may bear scars of sexual immorality and the loss of your children's childhood and maybe even a marriage, but God can still use you in mighty ways when you turn to Him and allow Him to work in and through you; for He makes all things new!
And we know that all things work together for good to them that love God, to them who are the called according to his purpose.
Romans 8:28