Are Most Men Oppressed in the Churches?
Are Most Men Oppressed in the Churches?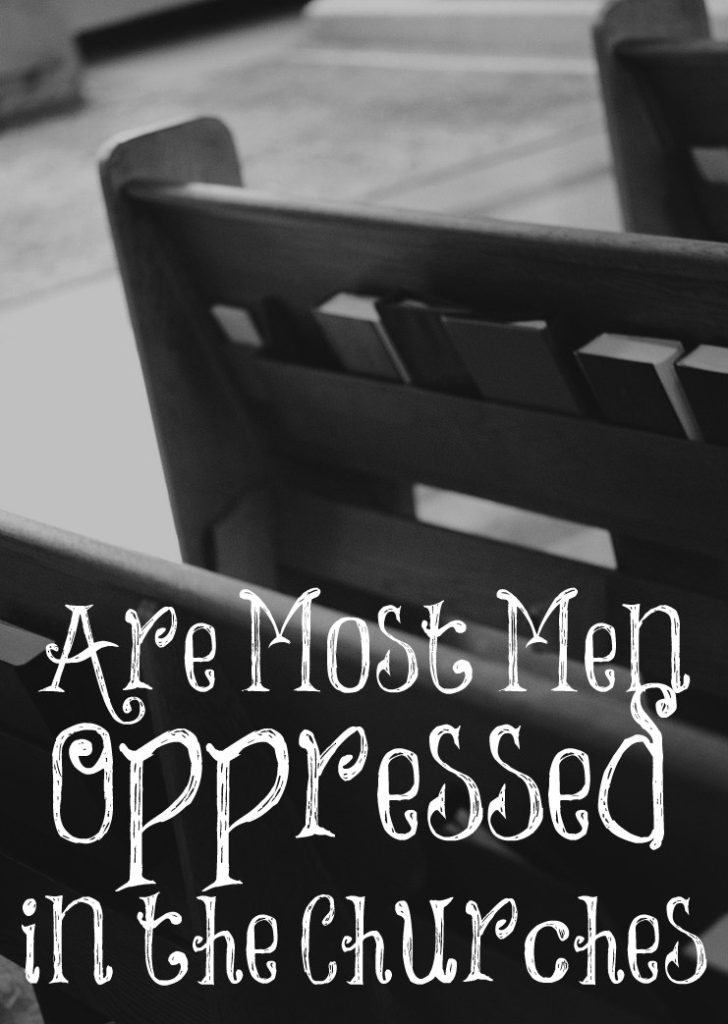 Written By Ken
As we headed to church last Sunday, Lori told me about an article she had just read about how women are oppressed in the Churches because they are not allowed to preach or be in leadership. We reflected on how oppressed we are by the church we attend. Why would we go to a church where I don't preach and am not an elder? Why is it that over 99 percent of those sitting in the congregation are not leading or preaching and half of them are men? Are these men oppressed too? What should we call this type of oppression? Perhaps the oppression that is happening in almost every organization in the world? The Oppression of Opportunity?
 I find it all a bit comical, yet alarmingly biblically ignorant when someone teaches that women are oppressed in the churches because they cannot lead or teach men. Why do they find God's perfect order in the home and the Church so oppressive? Perhaps they are just women wanting once again a taste of forbidden fruit and unwilling to accept that what God says is good for them. But then, when I was shown the article I was shocked to learn it was a man espousing this crap of oppression and basing it on a set of lies and fallacies while claiming study and scholarship.
This man wants things to be different in Church leadership when he writes:
"Consider that with 40 authors writing the Bible over a period of 1,450 years in several countries and multiple cultures, in various situations and in the Old and New Covenant, only one man seems to restrict women from leadership and teaching—the great apostle Paul."
This is simply blatantly false! God created Adam first and then made Eve his Helper. From the very beginning, woman was made for man, not man made for woman. Then throughout the Bible, God regularly instituted men as the leaders. They were kings, prophets, patriarchs, and the entire cast of priests were all men. By any account, overwhelmingly male leadership is in every book of the Bible, not just coming from one author. There is no true biblical leadership position held by women in the Old Testament except for Deborah, and she arrives on the scene in the messed up time of Judges where "everyone did what was right in their own eyes."
The minor exceptions only serve to prove the rule of almost 100 percent male leadership in the Bible. How about all of the authors of the Bible being men, the forerunner of Christ a man, Christ Himself, His twelve disciples/apostles, and all the elders of the Church throughout history until now, all men. Even when a disciple's spot was open, the choice was only between two men. The women in leadership in the Bible are few and far between, and being the first to the tomb or announcing Christ is risen does not make one a leader or preacher.
How can anyone in their right mind overlook all of the overwhelming mountain of evidence that the Bible speaks almost exclusively of male leadership? Worse yet, this author claims to have spent hundreds of hours studying women in leadership in the Bible to prove his point.  Talk about missing the forest through the trees! Just like the Evolutionary Scientist who spends hours looking for the evolutionary links all the while missing the obvious that all the evidence shouts that his hypothesis of no Creator God is intellectually dishonest and false. This is someone who is grasping at straws to try to prove a position he has already assumed and is unrelenting in trying to hold onto it. So he will point to the .1 percent of exceptions to try and disqualify a clear set of commands from God.
"Old Testament women were empowered to be prophetesses, judges, queens, and leaders."
Okay, we can name a number of very important women in the Bible but assigning leadership to any but Deborah is nebulous. Yet not one was King over Israel or High Priest or any type of priest. Do you recall a woman prophet recognized as a leader in the major and minor prophets? If you are arguing for putting women on the boards of Christian parachurch organizations, maybe you have a wrinkle of an argument we can discuss, but where in God's Word and Church History do we find anything but a fraction of a percent exception to the rule of God's design and commands for male leadership of Israel and His Church?
It is so frustrating having to waste time talking about minor exceptions when the clear rule is so clearly stated, "I do not permit a woman to teach or to exercise authority over a man; rather, she is to remain quiet" (1 Timothy 2:12). And the apostle appeals to the time before culture existed to make his argument for why men are to be the leaders. And why? "Because it was Adam who was formed first and the woman who was deceived" (1 Timothy 2:12-14). I am not making this stuff up but it is there in black and white. Oh yes, but that was Paul!
So can the apostle Paul be disqualified as the only one who taught male leadership? No way! Saint Peter taught that a wife was to be submissive to her husband and obey him, which would create an upside-down relationship for any man married to his leader in his church. Male leadership is primary all throughout the Word, if anyone who reads it cares to open up their eyes and acknowledge it. The early church and the rest of church history until feminism clearly acknowledged this fact and followed God's clear instructions, again barring a few minor exceptions. And one should acknowledge that the apostle Paul, writing under the inspiration of the Spirit of God, has given us more than half of the Church's doctrinal theology. So if you want to throw Paul out, you are left with very little understanding of what Christ has done for us or who we are in Christ Jesus.
"If God wanted to restrict half the population from leading or teaching men (kind of a big deal, I think), then why are 39 authors virtually silent on the issue, while Paul seems specifically to restrict women?"
Most men aren't leading or teaching men but quietly following and listening in the Church. Are all who are not gifted with the gift of teaching oppressed? Why is it only "empowerment" to be leading and teaching men? This is feminist brainwashing at its best. And we have already disproven the false notion that the other 39 authors are silent on the matter, but have you ever considered that in most cases few authors re-state the obvious that men have been almost always the leaders in God's story?
"And once more, why does Paul write to nine different churches or church leaders, but only restrict women in three locations? Why does Paul empower women in some places and limit them in others?"
And no, Paul was not "only restricting women in three locations" as we know his letters were being passed around from church to church. Besides, why would the apostle be expected to repeat himself on every issue in every letter with precious space of parchment and time of the scribe? But here is your proof that the restriction was for "all of the churches of the saints." The apostle could not have been clearer that this applies to all.
"For God is not the author of confusion but of peace as in all churches of the saints let your women keep silence in the churches for it is not permitted unto them to speak but they are commanded to be under obedience as also saith the law. And if they will learn anything, let them ask their husbands at home: for it is a shame for women to speak in the church." (1 Corinthians 14:33, 35).
"I'd like to propose that the cultural context of the letters which restrict women is the key to understanding Paul's instructions."
At least in this argument he comes to the only intellectually honest defense of his position. That is not to say it is valid, but at least he has stopped lying to himself in getting to his conclusions. He wants Paul's instructions to the Church to be placed under the "cultural" label to disqualify it. If it is cultural and we now live in a new Feminist culture, should not Feminism control the conversation and lead to changes in the Church?
The "cultural" argument is an argument from silence as there is zero proof for such an opinion, and that is all it is. One's guess or hypothesis on a matter that the scriptures are not just silent but speak directly against. It's a convenient opinion when the Word of God does not give you the answer you are looking for to call  it "cultural."
Yet, there are some valid reasons to reject this opinion of "cultural" that is couched in pseudo-scholarship. First, have you ever noticed that when the apostle Paul is expressing an opinion that he is not certain is from God that he clearly states that this idea, like headcoverings, is not to be disputed but his thoughtful opinion on the matter and not a directive from the Lord. Pay special attention to what the apostle Paul says just after he commands women to be silent in the Church. He says that this is a clear command from God:
"If anyone thinks himself to be a prophet or spiritual, let him acknowledge that the things which I write to you are the commandments of the Lord. But if anyone is ignorant, let him be ignorant" (1 Cor. 14:37).
Is this not the real problem with the modern church when it comes to many "Scot-Free" sins? Sexual promiscuity, premarital sex, homosexuality, drinking to excess, parenting without discipline, divorce, women dropping off their babies in daycare for most of the year, and the list goes on and on of what the Church wants to now call "cultural" and offer their opinions on what God should be thinking.  After all, it is so convenient to have the one word "cultural" wipe out almost anything you do not like that the Bible teaches, especially "submission to your husband." It's no wonder that some have decided that all that matters are the "Red Letters" of the Bible. Well, guess what? Neither do the words of Christ defend you.
God's ways are perfect. They're not restrictive in any way! If you love the Lord and His will, you are content with it and are thankful since you know that He knows best. When the Apostle Paul wrote that women are not to exercise authority over men in the church, to be silent in the churches, and that it's shameful for them to speak in the churches, he did it for a reason. And the reason has nothing to do with trying to oppress women, but instead to protect women and protect His Church from disorder. It is the same reason God desires husbands to be heads of their homes and Christian wives to live in submission to their husbands. It is for the order that He desires to model the order of the Trinity and God's created order in nature.
The God I know well and worship is not an author of confusion but speaks clearly to mankind through His Son and His Word.  He is not one who would allow a mistake of male leadership in Isreal and the Church, or for that matter throughout His-Story, and then all of the sudden be happy that modern woman has finally figured out that which He had left so unclear. Such an impotent God is not one that I or most of Christendom know as omnipotent, yet was somehow unable to communicate clearly His will for mankind and His Church until Feminism arrived. No way!  Especially not something so important as women in leadership ministry. He would have given us one verse, or one woman as a disciple, and not had Paul be as plain as day when he speaks to order in the churches.
Beyond this, whenever I hear of another Christian leader or teacher teaching this false doctrine I cringe, knowing that within a few years the hole they have now opened in their views of the inerrancy of the Bible will soon be larger and larger until there is little left for them to trust or believe in God's perfect instruction manual. It almost always begins with, "That apostle Paul!" and ends with accepting a myriad of sins as acceptable, particularly their own sins. One cannot throw out the apostle Paul's writings as cultural and stay true to the inerrancy of the Word.
Women we are NOT oppressed just because God wants to have male leadership in the Church and in the homes. We live in the most free country that has ever existed. Women go off to their jobs every day and never once think about how oppressed they are to be working for their boss who may be a man or woman. But in the churches, these women want to give you a victim mentality that is very insidiously destructive. "Just one bite of the apple; it's only fair!"
Instead, learn who you are in Christ and that your value and worth come from HIM! His ways are good for you and the Church of God. They are beautiful, as we are free in Christ. But let us use our freedom to walk in a manner worthy of our calling in obedience to God's Word. Be careful not to be pulled in by the lies that want to erode God's Word and Ways.
Beware of false prophets, which come to you in sheep's clothing, but inwardly they are ravening wolves. Ye shall know them by their fruits.
Matthew 7:15, 16