Promoting Breastfeeding as Natural May Be Ethically Problematic?
Promoting Breastfeeding as Natural May Be Ethically Problematic?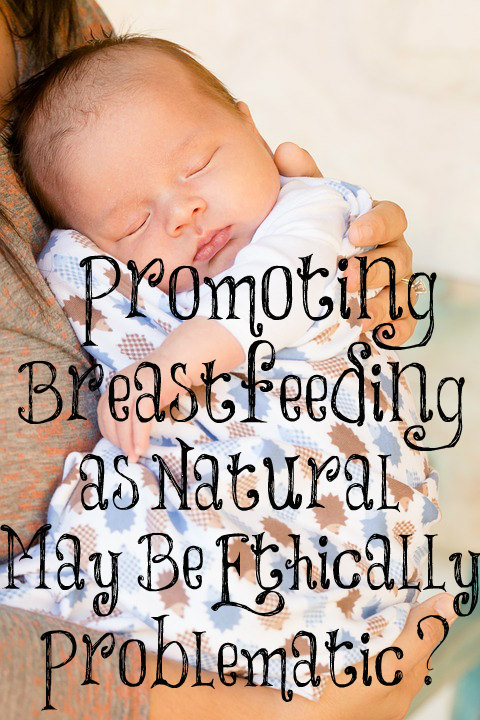 Jessica Martucci PhD and Anne Barnhill PhD wrote an article that was published for the American Academy of Pediatrics (AAP) explaining to health professionals why they need to stop describing breastfeeding as 'natural.' "Promoting breastfeeding as 'natural' may be ethically problematic, and, even more troublingly, it may bolster this belief that 'natural' approaches are presumptively healthier." They fear that because vaccinations aren't natural, then those who are into "natural" won't vaccinate their children, therefore, they want pediatricians to stop using the word "natural" when describing breastfeeding. Wait, it gets worse…
"These pockets of antivaccination sentiment tend to overlap with reliance on and interest in complementary and alternative medicine, skepticism of institutional authority (public schooling), and a strong commitment and interest in health knowledge, autonomy, and healthy living practices." They worry that those who are into "natural" will want to use alternative medicine, homeschool their children, and actually study for themselves ways to be healthy apart from medicine. Do you know how manipulative all of this is?
"This embrace of the 'natural' over the 'unnatural' appears in a variety of contemporary scientific and medical issues beyond vaccination, including rejection of genetically modified foods, a preference for organic over conventionally grown foods, and rejection of assisted reproductive technologies, as well as concerns over environmental toxins and water fluoridation." Where is freedom of choice? I try to stay away from GMOs since man has changed the way God made food. I eat organic food because I don't want my food sprayed with toxic chemicals. I am concerned with the long-term side effects and moral implications of assisted reproductive technologies. I do my best to use non-toxic cleaners in my home and am against water fluoridation. This is all wrong in their eyes?
"Coupling nature with motherhood, however, can inadvertently support biologically deterministic arguments about the roles of men and women in the family (for example, that women should be the primary caretakers of children)." So modern medicine wants to manipulate language to get people on board with all they promote, even going so far as saying that women shouldn't be the primary caretakers of children? When I read this, I didn't know if I wanted to cry or be angry. This is heartbreaking! We must wake up to Satan's deceptions going on all around us, women, including in the medical profession and drug companies!
"Referencing the 'natural' in breastfeeding promotion, then, may inadvertently endorse a controversial set of values about family life and gender roles, which would be ethically inappropriate. Invoking the 'natural' is also imprecise because it lacks a clear definition." It's clear that they believe that having a father and mother in a home with children is "a controversial set of values about family life and gender roles" and this is "ethically inappropriate"? I weep for this culture and the children. Please, women, protect your children from this insanity.
Doctors aren't gods. They don't know everything. This is why they are known for "practicing medicine." They are mostly taught drugs, radiation, and surgery in medical school. People depend upon them entirely too much for their health, in my opinion. It's natural to not inject your body with poisons. Vaccinations aren't natural. I don't think anyone would argue with this. They are created in laboratories by men. They have ingredients in them that aren't created for the human body and there's a lot of speculation that aborted babies are used to study and make them.
Whether you vaccinate your children or not is entirely up to you and your husband. This topic shouldn't cause dissension among believers. We must allow others to come to their own conclusions and do what they feel is best without becoming contentious, angry, and mean. My conclusion is that vaccinations are not natural nor are they healthy but breastfeeding my babies didn't cause me to come to this conclusion. Many women who breastfeed their babies vaccinate their children.
Breastfeeding IS natural! It's the food that God created for babies to live on the fist year of their lives or so. It's perfect for them! Man cannot make anything close to as good as breast milk from a mother's breast. Mothers have been nursing their babies since Eve had her first baby! It's also natural for mothers to be home with their babies and children full time. Mothers instinctively know this no matter how hard they try to ignore it or say it isn't so.
I believe that mothers need to do in-depth research to have healthy families instead of always depending upon their doctors. Eat food the way God created it to be eaten! My dad has been in the hospital or skilled care facility since December 30th. He seems to slowly be recovering at this time but it changes almost daily. He is almost 88 years old! A doctor told him he needs to drink four bottles of Ensure every day. Have you read the ingredients on the Ensure label? Some of the first ingredients listed are corn syrup, sugar, canola oil, and soy protein isolate. All of these are health destroying. They are not nourishing to the body. I would never drink these!
Whenever a doctor wants to give you a drug or do some type of test on you, research it! Research vaccinations, their ingredients, and side effects. Don't just trust doctors at their word. Many don't seem to understand the healing power of the body. They don't spend hardly any time studying nutrition or what makes a strong immune system. I have been able to heal many things, that most people would take drugs for, without drugs but I do appreciate doctors for emergency situations and for diagnosis.
Doctors are taught in medical school that all drugs are toxic to the human body so be your own family's advocate, women. Ask the Lord for wisdom in your decisions. He will give it! Do your best and leave the outcome in the Lord's hands. If you want to live as naturally as possible, by all means do so regardless of what the medical profession wants you to believe!
But we proved to be gentle among you, as a nursing mother tenderly cares for her own children.
1 Thessalonians 2:7