Provoking Men to Wrath
Provoking Men to Wrath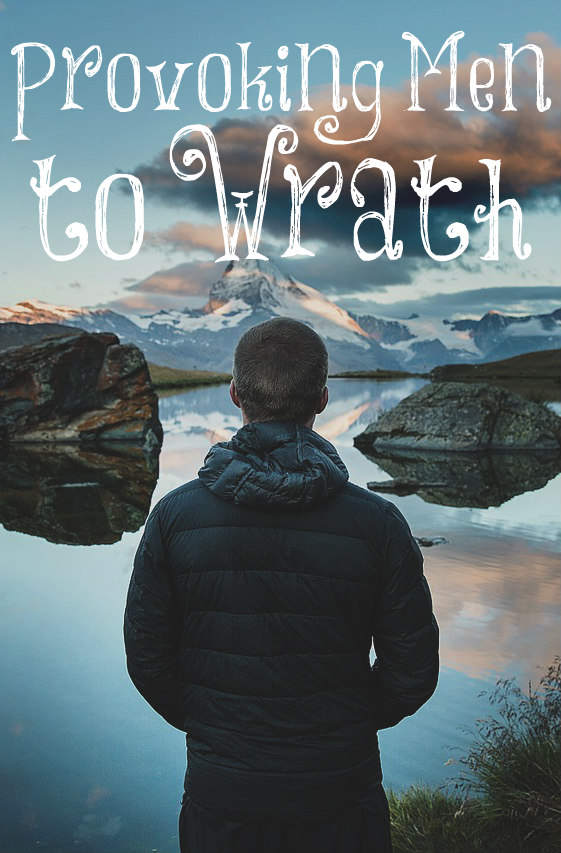 The other day, I tweeted this: "A wife has a much greater chance of being abused if she is quarrelsome, contentious, and abusive towards her husband rather than if she is kind, loving, and submissive. God's ways are for our good, NOT for our harm." It's an eternal principle. We will reap what we sow but as so many hate God, they hate His principles. As expected, this tweet received a ton of outrage. (It's easy to outrage and offend women these days. You would think they would simply ignore me as I ignore them.)
If women think that they can never provoke men to wrath, they're fooling themselves. Jesus was even provoked to wrath! No, it doesn't give men an excuse to be physically abusive but women should be a whole lot more careful about the way they treat their husbands. I provoked my husband to wrath on numerous occasions but thankfully, I married a man who can control his anger and would never harm me. Unfortunately, some men weren't raised to control their anger.
My tweet wasn't to give men the green light to physically abuse their wives. I don't teach men. My tweet was to encourage wives to NOT provoke their husbands to wrath. Yes, we are responsible for our actions just as men are responsible for theirs, but some women today falsely believe that women can do no wrong. This is foolish thinking. Continually quarreling and being contentious can provoke a man to wrath! This is why the Bible speaks about foolish women tearing their homes down.
If you are being physically abused, please go here. Seek protection. There is never any excuse for a man to physically abuse a woman but we live in a fallen and sin-infested world, so this will happen until God decides to burn this earth up. In the meantime, we, as godly women, need to do our part to live peaceably and gently with our husbands in all submission and kindness. We are only responsible for our behavior not anyone else's, but let's not cause others to stumble in any way with our misbehavior.
Wives are commanded to submit to their disobedient husband. They are told to live in subjection to them without the word and with godly behavior (1 Peter 3:1-6). However, submission doesn't cause abuse as many want to claim. A wife never has to submit to abuse. Never. It's a mean, angry, or evil man who physically abuses his wife. These men need help but in the meantime, the wife needs to seek protection. But I do want to make this very clear: an abusive man will abuse his wife whether or not she is submissive.
Submission has NOTHING to do with abuse. This is why I don't write about abuse every time I write about submission. They aren't linked together as many want it to be. God commands wives to be submissive because it's His divine and perfect order for marriage. Many wives have even won their disobedient husbands to the Lord and to them by living in subjection to them. God's ways are for our good.
It is better to live in a corner of a roof than in a house shared with a contentious woman.
Proverbs 21:9