Male Preachers Calling Out Female Preachers
Male Preachers Calling Out Female Preachers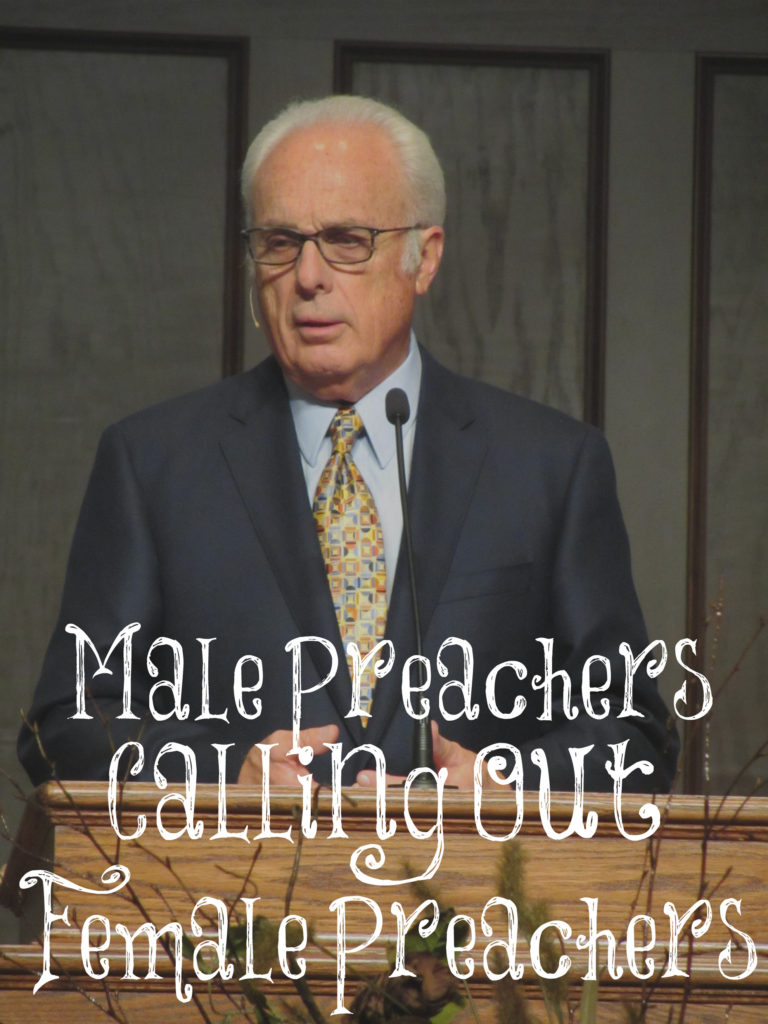 As I am sure you have all heard, John MacArthur was asked what he thought about Beth Moore and he responded, "Go home." Many were up in arms over this statement and especially that people laughed after he said it. I listened to it right after it was posted and before seeing how others responded to it. When he said, "Go home," I laughed and clapped my hands. I thought it was a perfect answer!
It's a sad day in the Church age when prominent, well-known godly preachers of the Word like John MacArthur can't tell female preachers to go home when God commands that women go home. He wants them to be keepers AT home (Titus 2:5). He wants them to look well to the ways of their household (Proverbs 31:27). He commands they guide the home and He wants younger women to bear children (1 Timothy 5:14). He wants older women to teach young women biblical womanhood (Titus 2:3-5). He NEVER commands women to preach, no, not even to other women.
If women are not to teach or be in authority over men because they are more easily deceived (1 Timothy 2:14), then what right do they have to teach any biblical doctrine other than what God has specifically commanded they teach (biblical womanhood – Titus 2:3-5)? We can see almost all of these women Bible preachers/teachers leading many astray with their nonsense and they never teach what God has commanded them to teach.
The older I get, the more I see the wisdom in all of this. God gave men the ministry of teaching the Word of God (elders are to be the "husband of one wife"). He gave them the ministry of teaching the major doctrines of the Word. He gave men the strong, low voices to preach behind the pulpits in the churches. He tells women that if they have a question to ask their husbands at home NOT learn the Word of God from other women.
I try very hard to stick to biblical womanhood. I know this is what God has called me to do. When I stray from this path, I feel guilt since I know it's not my place to teach biblical doctrines of the faith. My husband will write some posts about the doctrines but then I will get involved in the comment section and I shouldn't. I am not perfect at this but I will continue to try to do my best since I know that I can do all things through Christ who strengthens me.
Women need to learn biblical womanhood. They can learn the Bible from their pastors at church and the many great male preachers of the Word on the radio or YouTube from other churches. Women need to learn to love their husbands and children, be discreet, chaste, good, sober, obedient to their husbands, and keepers at home. They can know biblical doctrine inside out and backwards but if they aren't living in submission to their husband and aren't being keepers at home, they are blaspheming the Word of God (Titus 2:5). Most female Bible teachers are blaspheming the Word of God.
I won't learn the Bible from any woman. I want to learn it from men of God. God gave this ministry to men and I don't want to overstep the boundaries God has given to me. I will continue to teach biblical womanhood as long as the Lord gives me the ability to do so. There are few who teach this but many who try to teach the Bible. (It's a lot easier to teach the Bible to women than it is to teach biblical womanhood, that's for sure!) Women today need to learn the ways of the Lord concerning womanhood. Marriages need to be stronger. Mothers need to be home raising their children. Women need to dress modestly, be chaste, be good, and sober. This culture would be a lot better if women began living out God's perfect will for their lives because they were being taught by older women.
For God is not the author of confusion, but of peace, as in ALL THE CHURCHES OF THE SAINTS [these verses are for ALL the churches of the saints! not just for those back then as many will try to convince you]. Let your women keep silence in the churches: for it is not permitted unto them to speak; but they are commanded to be under obedience as also saith the law. And if they will learn any thing, let them ask their husbands at home: for it is a shame for women to speak in the church.
1 Corinthians 14:33-35
***Here's a great article on this topic: Beth Moore, John MacArthur, and Clobbering Girls in Football.