Psychotherapy Does Not Come From God
Psychotherapy Does Not Come From God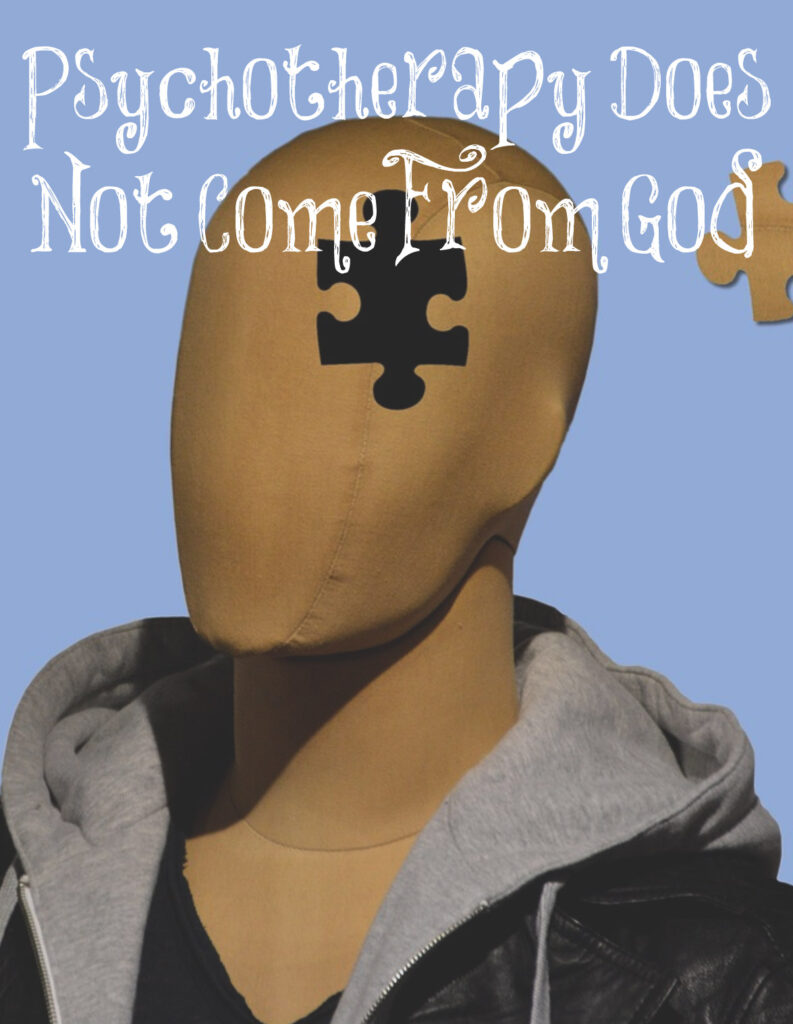 Written By Wesley Norris
I'm old enough to remember when "Christian" psychology was permeating the Church and being promoted all over Christian radio and bookstores across America. Christians were eating this stuff up like it was the best thing that's happened to Christianity. I'm thankful that dangerous period of time is over bu I've seen a few people promoting it again on social media.
Christians should know that psychotherapy does not come from God. In fact, this field of fake science is antichrist and anti-Bible. It is wisdom from the world, not God's wisdom from His Word. Christian psychology is an attempt to integrate atheistic theories from people like Sigmund Freud, Carl Jung, and Carl Rogers into the minds of susceptible despairing Christians.
Psychotherapy didn't exist until Sigmund Freud (an atheist and admirer of Darwin and Nietzsche) popularized the practice in the early 1900s. Freud stated that belief in God was basically "collective neurosis" and that Christians possessed a "longing for a father" complex. This coming from a man who believed that sexual drive is the primary motivational force in everyone's life.
Christian psychologists who use Scripture to talk through issues in a person's life are attempting to combine various schools of atheistic thought with biblical theology; a dangerous mixture indeed because the actual "science" behind psychology is pagan. Most of what plagues humanity is not a condition of psychosis, imbalance, or disorder, but a condition of habitual self-centeredness and sin!
To teach that mankind, particularly the Church, requires psychotherapy in order to determine what mentally troubles a person undermines the sufficiency of Scripture. Peter stated that God's "divine power has granted to us everything pertaining to life and godliness, through the true knowledge of Him who called us by His own glory and excellence" (2Pt 1:3). The power of the Word is what provides everything we need for life, including diagnoses of what ails the man.
Additionally, what can a psychologist do for you that the Word of God cannot do? A pastor or an elder who "rightly divides the word of truth" (2Timothy 2:15) and is able to admonish you in the faith (Romans 15:14, nouthetic counseling) is infinitely more effective in counseling than the theories of atheistic psychotherapy. If Christians were able to conquer ailments of the flesh for nearly 1900 years – without the pseudo-science of psychotherapy, why does the Church need it today? It doesn't, and it's wrong to use it.
God's Word is sufficient; man's wisdom is feeble. Psychotherapy is ungodly, unbiblical, and should be rejected by all in the Church. What fellowship can light have with darkness?
How blessed is the man who does not walk in the counsel of the wicked,
Nor stand in the way of sinners,
Nor sit in the seat of scoffers!
But his delight is in the law of Yahweh,
And in His law he meditates day and night.
Psalm 1:1,2