Pursue a Spouse, Not a Career
Pursue a Spouse, Not a Career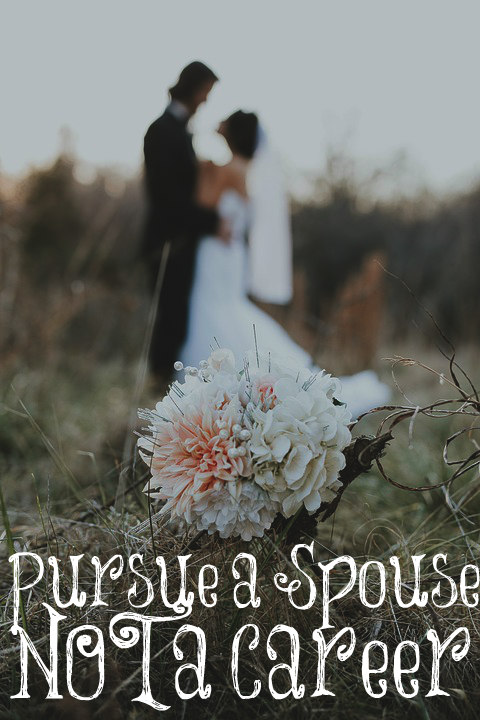 Preached By John MacArthur
Now there are some people who have a gift for singleness that means a spiritual–unique spiritual capacity to remain single for the purpose of serving the Lord. Unless you have that gift and it's clearly defined for you, then you need to be married. I don't need to remind you that in biblical times people were married by the time they were fifteen or sixteen. Some of you are way overdue. Get married. Many of you are focused on pursuing a career, pursue a spouse. This is a very good place to find one because we have a huge number of single people who need to be married; they need to be married, for every reason that you can think of, but mostly for the reason that this is a gift of God called the grace of life.
I'm not sure why in this particular Christian culture in which we live that we are prone to follow the habits of the world and remain single for long periods of time, but that is a worldly kind of life, taking people who should be married and having them try to survive as single people when they are wired, hard wired and even given the opportunity by God to be married. Stop waiting for the Messiah, ladies. He came and went. Settle for somebody less. And, men, stop looking for the Proverbs 31 woman. That is an ideal to which women aspire. And the truth of the matter is, find another Holy Spirit-led, loving Christian, and get married.
Now on that basis, you can listen to what I'm going to say because if you're not married, you're going to be getting married. And if you're married and you haven't had children and the Lord enables you, you're going to be having children, so this is all very urgent for you.
I'm asking you to do something very foundational and you laugh because it sounds humorous. But there's so much truth that we have a society of people who way over exaggerate singleness, who way over extend singleness and make it very difficult on themselves and develop habits of singleness that make it harder to come together with another person because the groove keeps getting deeper and deeper out of which you have to get yourself out and walk together with someone in unity and love. Your singleness should be as short as possible. Marriage as quickly as possible. And once you've picked the right one, engagement as brief as possible.
And all of this, of course, is against the grain of our culture. I've been around long enough to know that people used to get married in their late teens and early twenties. That was the norm. And now the society perpetuates singleness out of its own selfish preoccupations and it's fraught with all kinds of things, not the least of which is immoral behavior. And we are living in time when way too many people are single and single because they are selfish and because either no one can live with them in their selfishness or they're not willing to give someone else the opportunity to intrude into their agenda.
We are watching the death of marriage. And you could say while we're watching the death of marriage because of divorce and you would be right. Or you could say we're watching the death of marriage because of homosexuality and you would be right. And we're watching the death of true marriage because we're watching the rise of homosexual marriage, and you would be right. You could say we're watching the death of the family because of sterilization and abortion. But we're also watching the death of the family because of an over-extended, preoccupation with selfish desires and personal agendas that push people into some perpetual singleness.
I will therefore that the younger women marry, bear children, guide the house, give none occasion to the adversary to speak reproachfully.
1 Timothy 5:14