Why are Women SO Offended When Told Leggings are Immodest?
Why are Women SO Offended When Told Leggings are Immodest?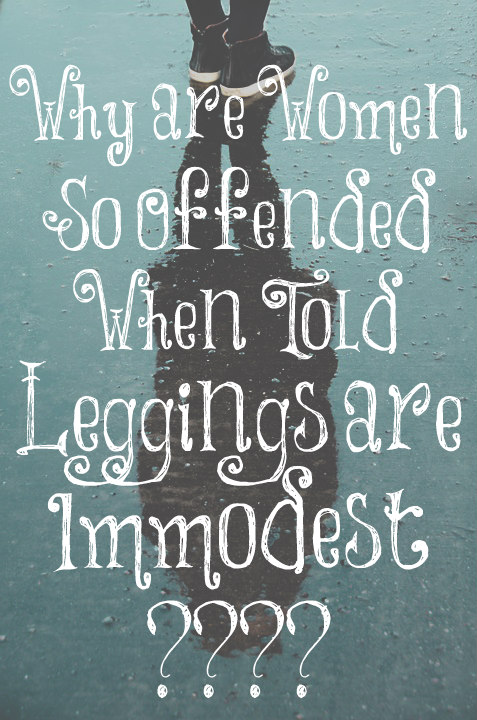 Yesterday, my post was about leggings being immodest and young teenage girls being told to wear a long shirt to cover them up. This caused an outcry among women and many were offended. Women are offended whenever I write about leggings being immodest so I asked the wise women in the chat room why they thought this was the case and here are some of their answers. (We must remember that whatever we do, we are to glorify the LORD and love others, even concerning what we wear.)
Lindsay: "Leggings can be modest as long as they aren't worn as pants. Leggings are not pants. They're just warmer pantyhose. They're undergarments, not outer garments." I agree. Most women that I see wearing leggings wear them as pants. Their entire front and back side are clearly seen. If we think of them as undergarments, then we will wear something over them, preferably to the knees since this is a good length to wear dresses in order to be modest.
Debbie: "Because they are wearing them and don't have correctable spirits. They are rebellious. And I'm talking about ones that wear the butt shapely ones uncovered." This is so true. Many women today don't want to be told what to do, no, not even by the LORD. They want to wear what they want to wear regardless of how it affects the men around them. They idolize their comfort over the love they should be having for their brothers in the Lord around them.
Michelle: "I think there are two main reasons: 1) Pride; 2) They're being asked to consider men's feelings (and in our current society, it seems that men are expected to sit down, shut up, and let women do as they please)." Women in our culture are taught to despise men. This is the feminist agenda. They not only want to be like men, they want to be superior to men and dictate to men how they should be. The article I referenced yesterday has feminists saying that teenage boys need to be taught not to be "gross sexist pigs" but said nothing about teenage girls dressing like "harlots." All the blame is placed on men and boys instead of placing any on women and girls.
Cathy: "I think it's because leggings are in style, they're cheap and comfortable, and so many women wear them. I also think most women do not feel a sense of personal responsibility (as in, not causing a brother to stumble) and generally, lack a sense of modesty." This is where we need to be careful as godly women to not simply go along with the flow of our wicked culture but do everything to please the LORD and not ourselves. It's loving the men around us more than we love ourselves when we dress modestly and appropriately.
Cheyenne: "Like the answers above, pride. And they want to do what they want with no regard for men. A wise women taught me in my teen years to dress the way I want other women to dress around my (then, future) husband. The problem I'm seeing with this is that apparently some women don't care if another woman causes their husband to stumble, and don't care if they cause another woman's husband to do the same." Women who don't mind causing other husbands to stumble are being inconsiderate. Yes, some do it out of ignorance but others do it knowingly. They must see the way they are dressed catches other men's eyes.
We must be wise as serpents and innocent as doves, women! Dress modestly and glorify the LORD with your clothing.
In like manner also, that women adorn themselves in modest apparel, with shamefacedness and sobriety; not with broided hair, or gold, or pearls, or costly array; But (which becometh women professing godliness) with good works.
1 Timothy 2:9, 10